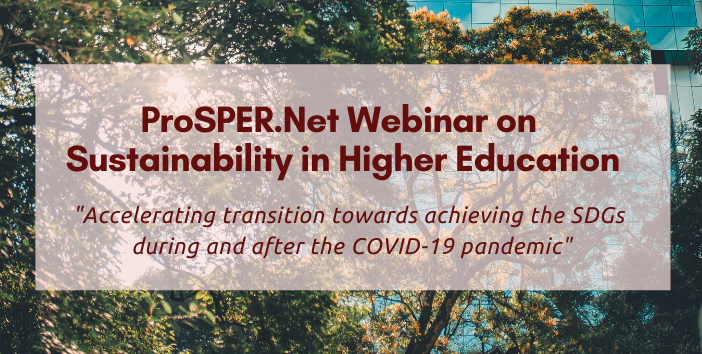 Organised by the United Nations University Institute for the Advanced Study of Sustainability (UNU-IAS), the ProSPER.Net Webinar on Sustainability in Higher Education was held on 16 October, 2020, under the theme 'Accelerating transition towards achieving the SDGs during and after the COVID-19 pandemic'. 
Bringing together over 160 participants worldwide, the event featured an esteemed panel across the higher education sector, who shared their experiences along with the challenges and opportunities for higher education institutions from a short-, mid- and long-term perspective during and post the COVID-19 era. The session also provided the opportunity to explore options for the academic and science communities to "build back better" in order to accelerate actions toward achieving the SDGs.  
Opening remarks from Prof. Shinobu Yume Yamaguchi (Director, UNU-IAS) addressed COVID-19's impacts on higher education institutions, including their need to adapt to this unprecedented situation in the areas of teaching and learning, research, and community engagement, including the redesign of strategies to cope with the challenges resulting from the pandemic. Speaking about the ProSPER.Net network, of which the Secretariat is hosted at UNU-IAS, Prof. Yamaguchi noted recent survey results regarding the pandemic's impact (conducted within the network) has indicated the reorientation of the higher education system is paramount, which requires the need to incorporate systems thinking in order to build back better.  
This was followed by a message from Ms. Kiyoka Miki (Director, Office of Environmental Education, General Policy Division, Ministry's Secretariat, Ministry of the Environment, Japan) who thanked the ProSPER.Net network for their efforts in promoting ESD to realise a sustainable society, and its initiatives and activities which serve to broaden networks and strengthen partnerships.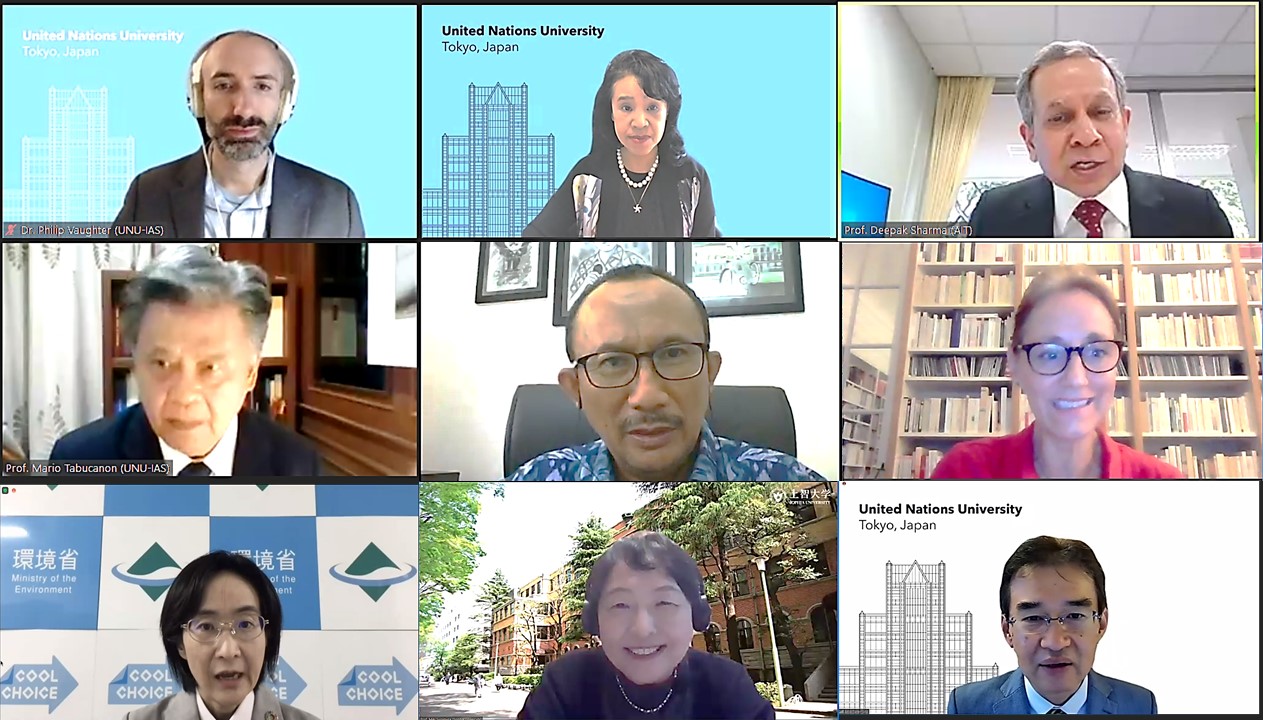 A panel discussion moderated by Prof. Mario Tabucanon (Visiting Professor, UNU-IAS) addressed a wide range of issues on sustainability in higher education, including the pandemic's impacts on the SDGs, along with strategies affecting research, education, outreach and how institutions can coordinate within, to build back better. 
Dr. Hilligje van't Land (Secretary General, International Association of Universities (IAU)) provided an overview of the impact of COVID-19 on HEIs, including insights from an IAU survey that was conducted a few months prior. The survey highlighted how the crisis has affected all institutional activities, with the resulting move to online overall reactive, which has brought about challenges to quality, equality, and access. However, it also has demonstrated the resilience of HEIs and their recognition by governments as a source of expertise and the opportunities from technology-driven education and research. Universities are now moving from a crisis management situation into one where new opportunities lie, such as increased access and equality, as well as further global engagement and local and societal relevance. 
Dr. Philip Vaughter (Research Fellow, UNU-IAS) shared some perspectives gathered from a recent survey conducted amongst ProSPER.Net members, including challenges and opportunities. Results indicated how the pandemic has significantly impacted teaching (such as campus closure or moving classes online), whilst members are most concerned with the implementation of international programs, the delays in the academic year, and the impact of a global recession on students' futures. With the shift to conducting lectures online, many members expressed a need for training in effective delivery of virtual lectures. In response to educational inequalities faced during the pandemic, many members felt strategies to enhance international learning and cooperation (given the inability to travel), as well as online forums for networking and support would be useful. As to how universities can co-ordinate in building back better, members expressed the importance of continuing to communicate, the need to address mental well-being in students and staff, and most importantly, the need for a uniform call for the redesign and reorientation of higher education. 
Prof. Irfan Dwidya Prijambada (Director of Community Services, Gadjah Mada University) spoke about a range of Student Community Services Learning subjects offered at Universitas Gadjah Mada (UGM); one in which students are required to work in teams, from a range of disciplines, to work with their community in overcoming issues related to local problems; and another whereby students stay within a community for two months, immersing themselves and solving a real-life problem within that community. The subjects allow for the transfer of knowledge, skills, and creativity, in turn promoting community empowerment and benefitting that community. With the arrival of the pandemic, the mode of the program has had to shift online, and adapt through utilising methods or communication tools such as apps and information leaflets to continue engaging with the community, though online communication has been an obstacle for some of the communities. 
Prof. Deepak Sharma (Vice President for Academic Affairs, Asian Institute of Technology), shared the viewpoint of HEIs in accelerating the transition towards sustainable development. Prof. Sharma discussed the historic role of HEIs in promoting sustainability, how the pandemic has affected the ability of HEIs to deliver on sustainability, and the response of institutions and way forward. The pandemic has raised questions about the relevance and viability of the current university model, and led us to reflect on its incompatibility with sustainability. HEIs have taken several measures and initiatives; those to ensure the continuity of education (e.g. increasing online content of online courses, hybrid education); and academic transformation. He explained that a complete metamorphosis on the way of thinking is needed, one that develops alternative types of educational narratives and supports curricula and courses on sustainability. 
Prof. Miki Sugimura (Vice President for Global Academic Affairs, Professor of Faculty of Human Sciences, Sophia University) spoke about the challenges the pandemic has brought about, namely institute governance (university management, changes to teaching, learning and research), and external governance (mobility and collaboration). Prof. Sugimura also spoke about the wide range of international and collaborative programs the university offers, which have been affected and have had to adapt under the pandemic, and the Collaborative Online International Learning (COIL) program, which provides opportunities for international collaboration. The university has focused on modifying its offerings, incorporating blended/hybrid education and "internationalisation at home" to enable flexible and diversified qualitative learning within higher education towards sustainable development. 
Following the panel presentations, a Q&A session delved deeper into some of the aforementioned topics. Asked about what would be the one major challenge moving forward, Dr. Hilligje van't Land mentioned the difficulty in getting sustainable development at the forefront of the agenda of HEIs. Despite that, many panellists in the webinar represented universities which have managed to move sustainable development into strategic development priorities within HEIs, which is encouraging. Whilst many universities are grappling with how to survive, how to maintain students and a level of quality education, the link between those issues and sustainable development can be lost. In terms of short-term impacts which may prove more permanent, the move to online has been seen as an opportunity, which was previously resisted. After seeing what is possible however, and the ability to cater to those at a distance, it is expected that online learning will feature in long-term strategies, however further innovations will need to address how to make those connections as valuable as they are in person. 
Looking at areas that require systemic changes in the medium to long-term, Dr. Philip Vaughter spoke about the more integrated approach that will include the welfare, including mental health, of staff and students. On the subject of online tools, other forms of engagement (when online is not an option) need to be addressed in the long-term, especially given the digital divide, which is an issue in many parts of the world, even in developed nations. In line with this, Dr. Hilligje van't Land spoke about the importance of advocating at the national level for digital transformations and better connectivity. 
Another challenge the pandemic has posed is the impact to international programs, which was apparent in both the ProSPER.Net and IAU survey results conducted during COVID-19. Asked about how AIT has overcome this, given that nearly 70% of their students are international, Prof. Deepak Sharma explained a number of steps the university has taken; shifting to online delivery at the start of the pandemic, to delivering a hybrid-delivery platform in the form of smart classrooms that are capable of providing as close to the face-to-face experience as is possible. Their innovative response has been reflected in increased enrolments for this current Fall semester compared to last year. There are however limitations when it comes to online learning. Difficulties in conducting physical-based lab experiments is one such limitation, of which AIT is looking into AI and other technologies to develop simulations to overcome some of the difficulties. 
Despite many challenges, there are also opportunities which lie ahead. Prof. Irfan Dwidya Prijambada explained that through new ways of operating, they have proven that they can assist people in remote areas via online, and in the long-term planning of the villages they assist, this modality has given all members in the community a voice. Communication is more direct, and ideas amongst community members can be sourced more easily. 
Finally, Prof. Miki Sugimura stressed the need for governance for collaboration, highlighting the importance of sharing the same aim and plan across faculties, and outlining the shared positive outcomes that initiatives can achieve, both in terms of student learning and academic research. 
Summarising the session, moderator Prof. Tabucanon explained how COVID-19 has hampered the efficacy of education as an enabling mechanism for all of the other SDGs. Despite the pandemic harming prosperity-related SDG targets, its impact on planet-related SDG targets has been positive, further demonstrating that the current methods of achieving prosperity are in conflict with a healthy planet, and that the pandemic has exposed the weaknesses of current socio-economic systems. Speaking about the role of HEI's, he stressed the importance of enabling a "Green Economy", whereby prosperity and environmental degradation are decoupled. The current situation presents a great opportunity to rethink, redesign, and reorient higher education, with HEI's adopting a "Whole Institution Approach" that requires coordination across faculties and departments to foster education, research, and outreach to communities. 
Prof. Akio Takemoto (Programme Head, UNU-IAS) delivered closing remarks, thanking all in attendance and outlining ProSPER.Net's role in promoting ESD and continued efforts to contribute to the achievement of "ESD for 2030". 
The ProSPER.Net Secretariat would like to thank all panelists, moderator, and attendees for their insightful presentations, discussions, and comments and active participation, as well as the Ministry of the Environment, Japan for their continuous support. 
A video recording of the webinar is available to view here. 
---
Presentations:
'ProSPER.Net Webinar on Sustainability in Higher Education – IAU presentation' presented by Dr. Hilligje van't Land 
'Sustainability in Higher Education – UNU-IAS presentation' presented by Dr. Philip Vaughter 
'Student Community Services Learning during Pandemic Era' presented by Prof. Irfan Dwidya Prijambada 
'Sustainability in Higher Education: A Viewpoint' presented by Prof. Deepak Sharma 
'Diversified Qualitative Learning in International Higher Education towards Achieving SDGs at Sophia University' presented by Prof. Miki Sugimura