Curriculum Development for Sustainability Education
Mohammad Ali (UPI Press, 2017)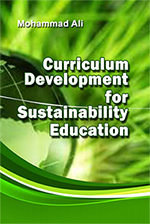 This book aims to facilitate an understanding of what, why, and how to address the task of developing appropriate and relevant curricula for the achievement of the Sustainable Development Goals (SDGs).
Sustainability education and its curriculum is discussed, followed by chapters on curriculum development; foundations, procedures, objectives, content, organisation, and evaluation.
Download the publication here.