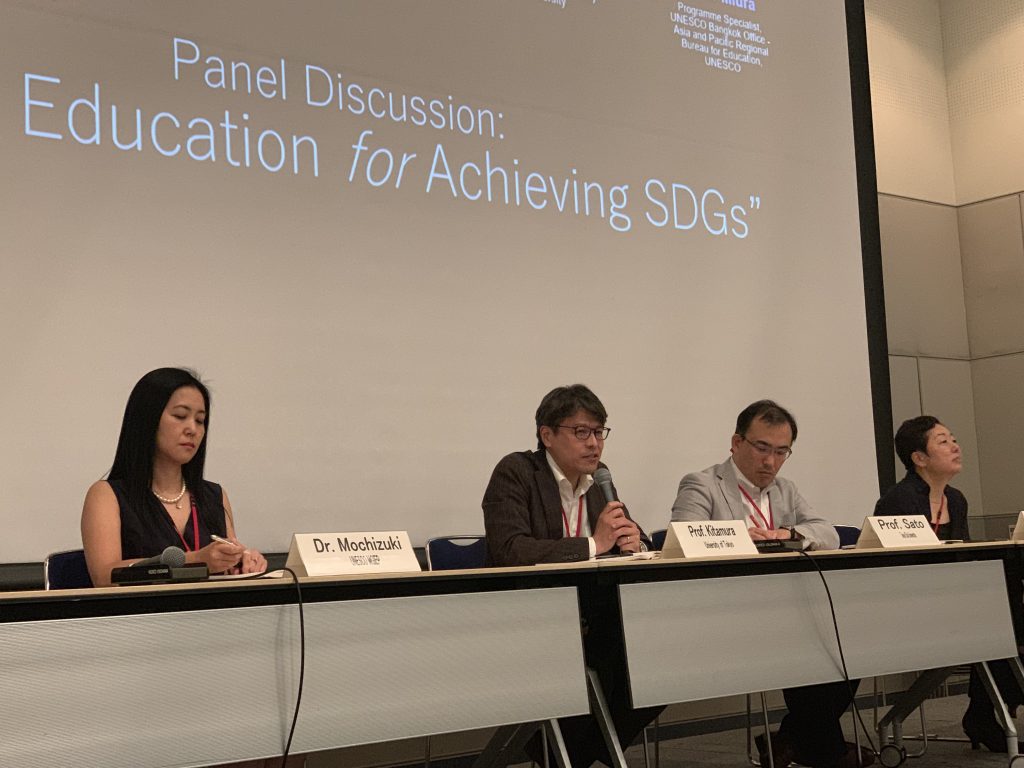 On 30 July, 2019, the UNU-IAS ESD Project presented a session, 'Next Step of ESD for Achieving the SDGs', in cooperation with the Overseas Environmental Cooperation Center (OECC), at the 11th International Forum for Sustainable Asia and the Pacific (ISAP2019), held in Yokohama, Japan.
Attended by over 70 participants, the session highlighted the transformative role of ESD and the way forward towards 'ESD for 2030', as focus turns to the post-GAP period ahead.
The event provided an opportunity for participants to hear from key experts from around the world, covering the contributions of ESD for achieving the SDGs, the challenges and lessons learned from recent ESD practices, as well as monitoring and evaluation frameworks.
The keynote speaker, Anantha Duraiappah, Director, UNESCO Mahatma Gandhi Institute of Education for Peace and Sustainable Development (MGIEP), presented on human behaviour within ESD and how to manage cognitive dissonance. The fact that behaviours are not changing indicate there is a greater need to make a connection between individuals and issues, by capturing and teaching the relevance of actions to their lives. Linked to these concepts is the need to take into account the emotional, rather than purely rational aspect and reconsider how education can deliver outcomes that instill emotional intelligence and critical inquiry.
Following this presentation was a panel discussion focusing on the 'Role of Education for Achieving the SDGs', with a distinguished panel of guests that included: Yuto Kitamura, Associate Professor, Graduate School of Education, University of Tokyo; Ushio Miura, Programme Specialist, UNESCO Bangkok Office – Asia and Pacific Regional Bureau for Education, UNESCO; Yoko Mochizuki, Head of Programme, Rethinking Policy, UNESCO Mahatma Gandhi Institute of Education for Peace and Sustainable Development (MGIEP); Masahisa Sato, Professor, Faculty of Environment, Tokyo City University; and moderating the session, Mario Tabucanon, Senior Visiting Professor, UN University Institute for the Advanced Study of Sustainability (UNU-IAS).
Throughout the panel discussion, the notion of the whole brain approach was reinforced from the keynote presentation. Ms. Miura spoke about teaching and learning and its power to transform people and society. This was followed by a presentation by Prof. Sato on learning to transform oneself and society, presenting another exemplar of changing mindsets. This message was also a key takeaway in Associate Prof. Kitamura's presentation, where the importance of changing the system was advocated in order to achieve a change in mindset. Finally, Dr. Mochizuki spoke about the need to rethink pedagogy and the purpose of education, along with the current model of progress.
Given SDG 4's ability to act as a key enabler to all other SDGs, it is clear why the messages from the keynote and panel discussion all described the transformational power of education. The session exposed participants to tools, frameworks, and technologies in pursuit towards achieving the SDGs, whilst also noting the changes in system required, in order for ESD to lead to creating sustainable and peaceful societies.
---
Presentations:
The Inconvenient Demands: Managing our Cognitive Dissonances – Anantha Duraiappah, Director, UNESCO Mahatma Gandhi Institute of Education for Peace and Sustainable Development (MGIEP)
Education for the SDGs: What Teaching & Learning for "Transforming Our World"? – Ushio Miura, Programme Specialist, UNESCO Bangkok Office – Asia and Pacific Regional Bureau for Education
DESD/GAP Lessons Learnt & Points to be Considered for Further Implementation – Masahisa Sato, Professor, Faculty of Environment, Tokyo City University
Education for Sustainable Development (ESD): How Can We Change Our Mindset? – Yuto Kitamura, Associate Professor, Graduate School of Education, University of Tokyo
Role of Education for Achieving SDGs: Rethinking Pedagogy – Yoko Mochizuki, Head of Programme, Rethinking Policy, UNESCO Mahatma Gandhi Institute of Education for Peace and Sustainable Development (MGIEP)