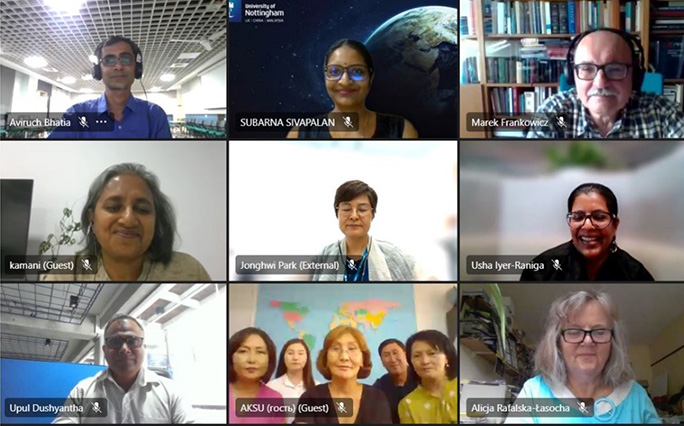 The linear economy has recognised limitations in supporting the decoupling of economic growth from finite natural resources. In contrast, the circular economy offers a promising model to overcome these limitations and assist in achieving the sustainable development goals (SDGs). One of the primary barriers is the limited level of Circular Economy (CE) awareness with many equating it to waste management and 3R strategies "reduce, reuse and recycle". Education plays a crucial role in expanding the understanding of CE concepts and clarifying its distinction from sustainability.
A ProSPER.Net joint research project focusing on CE education was developed and conducted through a collaboration between five universities: RMIT University (Australia), TERI School of Advanced Studies (India), Arabaev Kyrgyz State University (AKSU) (Kyrgyzstan), University of Peradeniya (UoP) (Sri Lanka), and Asian Institute of Technology (AIT) (Thailand), with visiting guest/advisor from the University of Nottingham, Malaysia. The education of CE concepts was undertaken at the five universities either as an independent course or integrated into sustainability-related courses.
The research outcomes highlighted a significant advancement in the understanding of the CE amongst teachers, learners/students. It is demonstrated through their ability to design or brainstorm CE models and develop strategical CE plan/s tailored to particular contexts that are aligned with their professional roles, experience, and backgrounds.
Webinar: Circular Economy Education Research Project and Guidebook Launch – Experience and Lessons Learned
On 29 June 2023, a webinar was held to share experiences in CE education across five universities, with more than 80 participants in attendance.
The webinar commenced with a welcome from the lead of the research project – Prof Usha Iyer-Raniga (RMIT University). This was followed by an introduction to the research project with a focus on the role of education in transitioning towards circularity. Experiences of educating CE at different universities were shared through the presentation of each university. A question and answer (Q&A) session was moderated with discussion between attendees and panelists by Dr. Jonghwi Park, Academic Programme Officer and Head of Innovation and Education at UNU-IAS. The webinar closed with highlights of key takeaways from the project lead and special guest Assoc Prof Subarna Sivapalan from University of Nottingham, Malaysia.
The highlight of this event was the launch of a Teaching and Learning Guidebook for circular economy in the built environment,  which can be accessed here (under the 'Outputs' tab).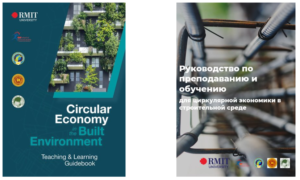 The Guidebook is designed based on an easy-to-understand approach to cater to a wide range of readers. It can be used as a reference for initial understanding of CE concepts and for designing a CE-related course. This Guidebook may be used as a precursor to a textbook for CE education.
Watch a video of the webinar here.
For further discussion on CE education and the Guidebook, feel free to contact Prof Usha Iyer-Raniga.
(Photo credits: RMIT University)