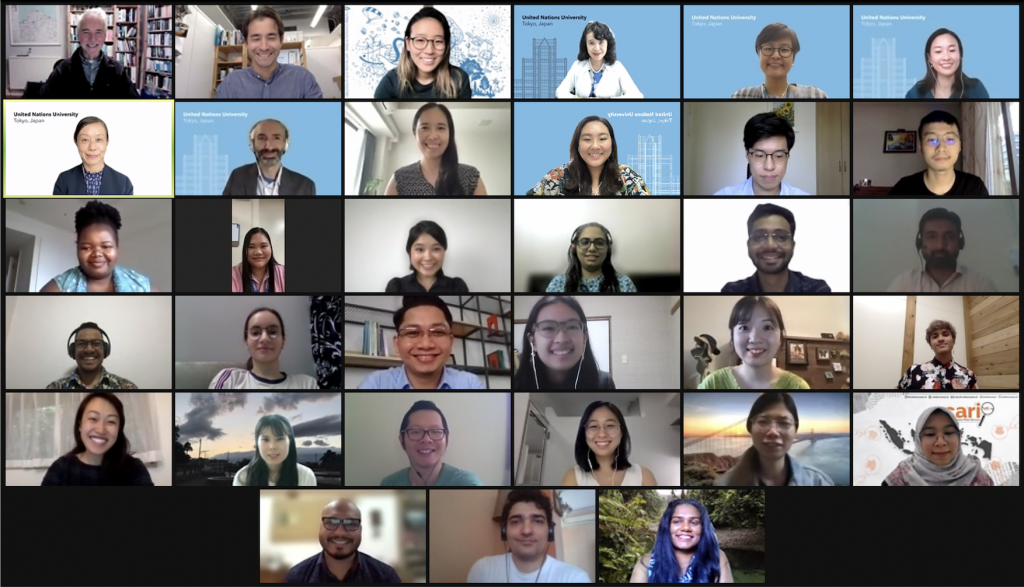 Highlights:
Twenty-four participants from ten countries across the Asia-Pacific region participated in the 2021 ProSPER.Net Leadership Programme.
Over the 11-day programme, participants attended lectures and workshops, built leadership skills and explored interdisciplinary solutions to the climate crisis.
The design thinking process was integrated across the programme structure and assignments. Participants presented prototypes in response to a climate challenge, in areas such as energy, waste management, and education.
The 2021 ProSPER.Net Leadership Programme (LP) was held from 14th – 24th September, 2021, hosted by UNU-IAS and Social Innovation Japan. Bringing together 24 participants from 10 countries from across the Asia-Pacific region, the virtual programme included a series of lectures and workshops under the theme 'Climate Change: Global issues, local actions and transdisciplinary solutions'.
Participants included young professionals and emerging leaders in academia, the public sector, the business community, and civil society, who over the course of the 11 days, built leadership skills and explored interdisciplinary solutions to respond to one of the most pressing threats facing communities around the globe – climate change.
In opening remarks, Prof. Shinobu Yume Yamaguchi (Director, UNU-IAS) welcomed all participants to the programme, underlining the innovative and creative leadership that is crucial to transforming the planet. Prof. Yamaguchi noted the opportunity the LP provides, both to build strong networks, and to develop new skills, enabling participants to become change agents and accelerate collective actions.
The first keynote, 'The climate crisis, sustainable development and the role of leadership, 'followership' and collective action' by Prof. Peter Higgins (Professor of Outdoor, Environmental & Sustainability Education, University of Edinburgh, RCE Scotland), underlined the importance of education, nature-rich climate solutions, and engaging and working together with local communities in order to tackle the climate and biodiversity crises; both wicked problems. In finding solutions and bringing about change, Prof. Higgins noted the contextual nature of leadership, 'followership' in engaging with communities, and understanding the impact of trust and how crucial it is to be well-informed and to make sustainable decisions.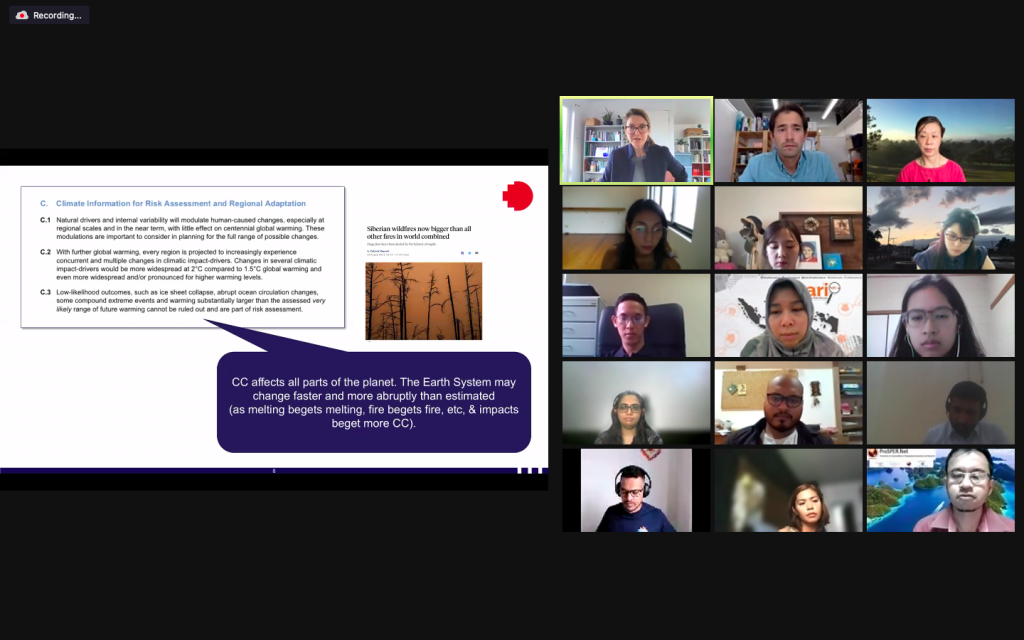 The second keynote by Prof. Lauren Rickards (ECP Director, Urban Futures, RMIT University / ProSPER.Net member) emphasised the need for a systemic approach to climate action. Participants learned about the current state of the climate through the IPCC reports, the impacts and risks of climate change, and the implications for adaptation, highlighting the importance of how adaptation is done and of working together. Prof. Rickards also underlined how vital learning, leadership, and collaboration are to our ability and willingness to act differently as we move forward.
Throughout the LP, the design thinking process was integrated across the programme structure and assignments. Mr. Robin Lewis (Co-Founder & Director, Social Innovation Japan) led participants through a series of workshops on the design-thinking approach, taking them on the journey of the Ideathon process, which participants used in the development of a prototype to address a pressing climate-related challenge in a local community context.
As part of the design-thinking workshops, groups developed empathy maps to aid in understanding the people at the centre of the 'Challenge' they chose to tackle. Next they defined the problem, whereby groups worked to craft effective problem statements focused on users, to provide a clear objective to guide teams through to the next stage. The ideation stage was a chance for participants to think outside the box as they brainstormed solutions, before selecting one idea to take on to the next phase, taking into account the impact and feasibility of the ideas generated. The prototyping stage allowed participants to get their creative juices flowing, building a version of their idea to bring it to life, in order to test and gain feedback in order to improve their idea.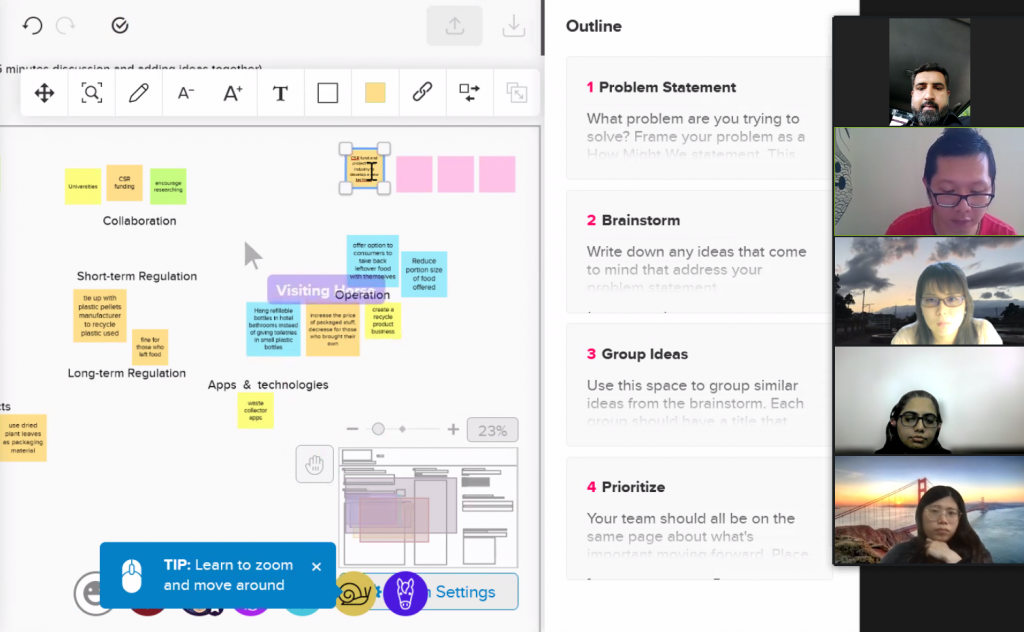 In a panel discussion moderated by Dr. Philip Vaughter (Research Consultant, UNU-IAS) on 'Exploring Climate Action: Multi-Stakeholder Dialogue', participants heard from a range of practitioners involved in policy, the business sector, NGOs, and youth. Looking at the role of governance and policymaking, Ms. Arumningsih Sudjatma (Ministry of National Development Planning/Bappenas) discussed the pentahelix collaboration model for enhancing climate action at the local level, emphasising the cooperation of actors working together to optimise collective outcomes. Speaking from a youth perspective, and considering what other generations can do to support youth as well as themselves, Mr. Ian Shimizu (Founder, WeMori) urged all to think from the perspective of intergenerational equity, and the legacy we all leave, which should inspire a sense of responsibility to take action. To bring more youth to participate in climate action, Mr. Shimizu stressed the importance of positive encouragement coupled with seeking out communities of like-minded people, and funnelling those bonds and energy into activism. Looking at the challenges for the business sector in taking action on climate change, Ms. Trista Bridges (Principal & Co-founder, Read The Air) spoke about the issue of mindset, with some businesses yet to see the business case for change. In addition, we as consumers send mixed messages to businesses, with our expectations of them not aligning with our consumption and investment choices, providing excuses for businesses to continue inaction. There are opportunities however, in new products and services that leave less footprints, and companies that take action are seeing benefits both externally (e.g. attracting capital from investors), and internally (e.g. higher loyalty from employees). Mr. Ramon Mapa (People's Initiative for Learning and Community Development) outlined the diverse role NGOs can play in developing and implementing solutions to climate change, from raising awareness and advocating policies, to supporting the implementation of climate change adaptation and mitigation, all whilst facilitating an inclusive approach.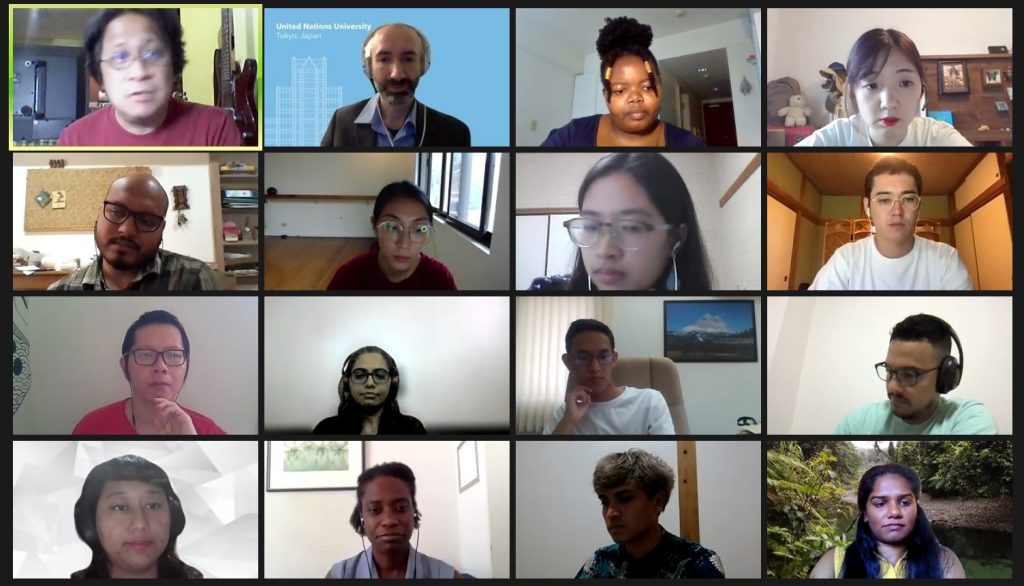 In a workshop on 'Leadership for Sustainability' led by Dr. Fumiko Noguchi (Research Fellow, UNU-IAS), participants completed an exercise in identifying stakeholders and vulnerable groups, as well as the potential conflicts and how they could be overcome. Participants also learned about the role of facilitation, coordination, and conflict resolution which is needed in effective leadership. Another workshop presented by Mr. Lewis focused on maximising impact, taking participants through the Theory of Change in order to map out the linkages and ensure activities and resources are aligned to the outcomes and consequentially the impacts of a project.
The final day of the programme saw groups present their solutions to five climate challenges; (i) an app utilising an eco-system approach to educate households on clean energy, making it easier for people to adopt energy products and solutions; (ii) a sustainability research and community centre based in Yakushima, Japan, to equip and engage youth and the community with knowledge on climate action; (iii) an eco-branding service aimed at small businesses to tackle the issue of plastic pollution in Kyoto, Japan; (iv) an integrated capacity building program for community and practitioners in Fiji to build understanding of climate change and disaster risk management, and develop confidence to take action; and (v) an advocacy campaign encompassing a holistic approach towards sustainable hotels in Bali, to foster sustainable waste management practices.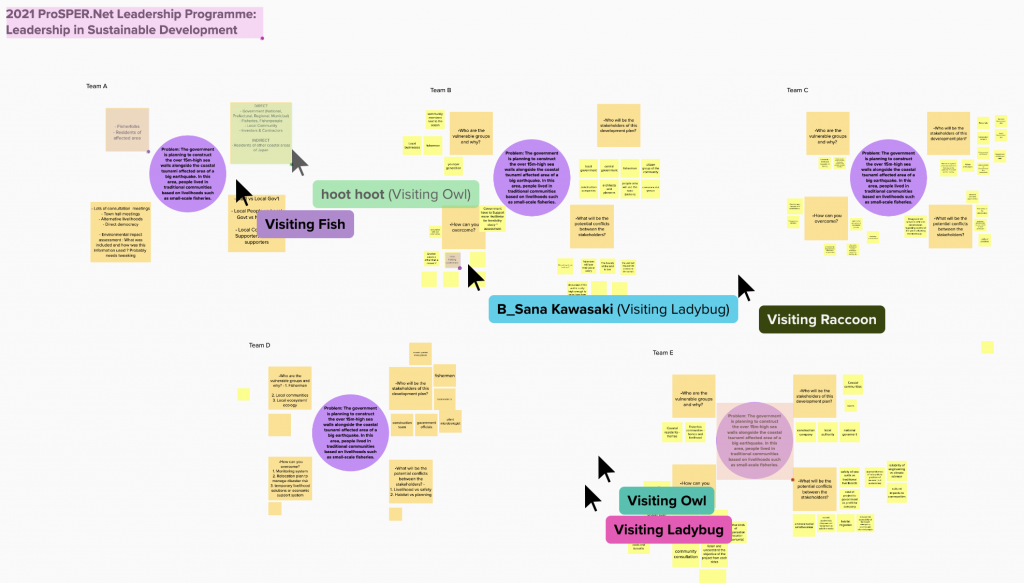 Evaluations of the group projects by a panel focused on feasibility, impact, innovation, the presence of multi-stakeholder partnerships, in addition to how well groups displayed critical and systems thinking. Dr. Akio Takemoto (Programme Head, UNU-IAS) congratulated all participants for their outstanding teamwork on a broad range of topics, and their relevance to emerging issues both locally and globally. In closing, Dr. Jonghwi Park (Academic Programme Officer and Head of Innovation and Education, UNU-IAS) commended participants for their enthusiasm and dedication in the programme, part of one step on their way to becoming future climate leaders.
The ProSPER.Net Secretariat at UNU-IAS wishes to thank the co-hosts, the team at Social Innovation Japan for their wonderful support and efforts in making this programme a success, and for the participants for their passion, engagement, and active participation throughout the programme.
For further outcomes from the programme, view the event page here.