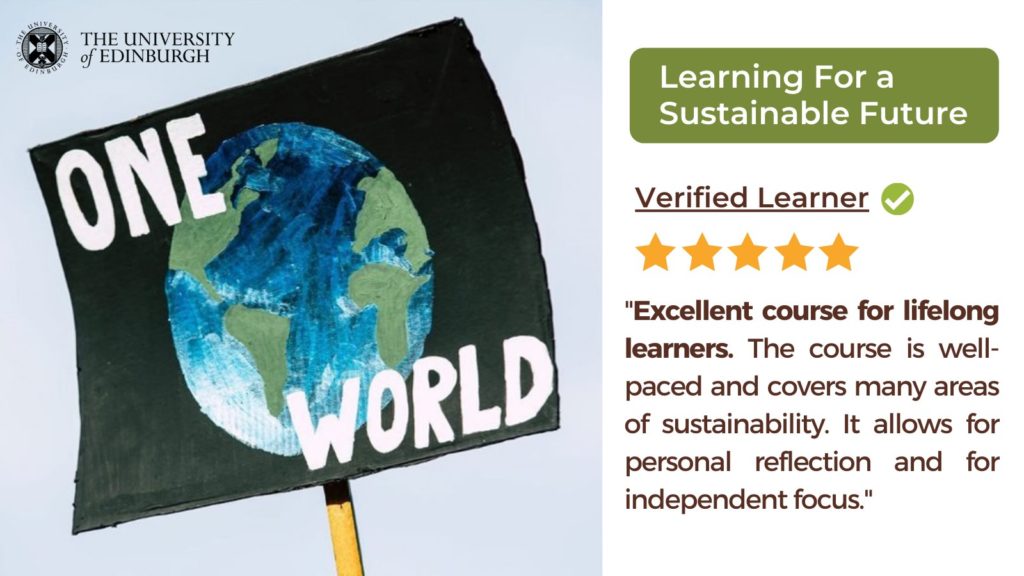 How should we take positive action towards a sustainable future? RCE Scotland, in partnership with the University of Edinburgh and the British Council, have created two free, short, facilitated online courses; ideal for anyone interested in sustainability and of particular interest to educators.
Learning for a Sustainable Future (starting 23 October)
Climate change, gender equality, health, social equity, and inclusion are issues that affect us all, impacting human and wider planetary well-being. How to live a sustainable life affects – and connects – everyone. Join RCE Scotland on a personal and professional learning journey towards a sustainable future. Taking a personalised issue-based approach, this free, 5-week, facilitated course supports you to reflect, investigate, discuss and develop an informed personal response to major contemporary challenges faced today. Sign up here.
Learning for a Sustainable Future: Live at COP28 (starting 30 November)
Explore global issues during COP28 and be part of the call for collective action. Find out more about the key international frameworks that support action on climate change, and explore national and international responses to the conference themes from children and young people, community groups, and ministerial bodies. Engage in community discussion and share your perspectives and ideas for the future. Sign up here.
Participants can sign up at any time, however those enrolling before 26 November for the 'Learning for a Sustainable Future' and 14 December for 'Live at COP28' course, will be entitled to a free certificate.
(Image credit: The University of Edinburgh)