ProSPER.Net E-Bulletin Issue 90 (July 2020)
Message from the ProSPER.Net Secretariat
Dear Colleagues and Friends,
Greetings from the ProSPER.Net Secretariat! We hope all of you within the network and your communities are staying well and remain in good health.
Thank you to all of our members who completed the ProSPER.Net COVID-19 survey which was recently distributed. Your responses helped us to report on the issues universities in Asia and the Pacific are facing in regards to the pandemic at the High-Level Political Forum to the United Nations in a special side event held earlier this month. See below for further details.
For members who are planning to submit a proposal for our open call for ProSPER.Net Joint Research Projects, please note the deadline is at the end of this month, on 31 July, 2020. Please see below for further details and the themes currently being accepted for these proposals.
In other news, we would like to take this opportunity to extend a warm welcome to our new Programme Head who will be leading the ProSPER.Net Secretariat – Dr. Akio Takemoto, who has started with us this month. On this note, we would like to sincerely thank Dr. Hiroaki Takiguchi for his contributions leading the Secretariat over the past two years as Project Director, overseeing the ProSPER.Net network.
If you have any news, open calls, upcoming events, or publications to share via this bulletin, we would love to hear from you! Please complete this form and email your submission to the ProSPER.Net Secretariat at ProSPERNet@unu.edu (submissions close on the 15th of each month).
Sincerely,
ProSPER.Net Secretariat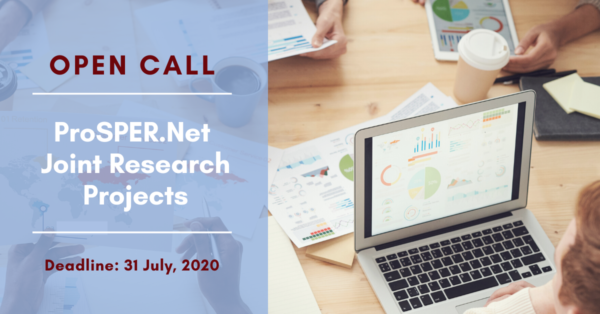 Last Chance: ProSPER.Net Joint Research Projects

Since its inception, ProSPER.Net member institutions have launched a wide variety of joint projects ranging from the creation of an online postgraduate programme in public policy and sustainable development practice to the integration of sustainable development in business school curricula.
For this year's ProSPER.Net joint project call for proposals, ProSPER.Net members are invited to submit joint project proposals for 2020 – 2021 with the aim of designing and conducting researches by taking a multi-disciplinary approach to integrate sustainable development into post-graduate education and curricula and various learning initiatives.
Research proposals should include an education component, exemplifying how Education for Sustainable Development (ESD) can be used to educate students and/or community members on the topic and the findings of the research. The following topics related to ESD are welcomed:
• Water or Governance from the Perspective of Sustainability
• Biodiversity and Eco-system Services
• Disaster Risk Management
• Climate Change
• Traditional/Indigenous/Local Knowledge
• Community Participation and Governance
Due consideration will also be given to any project proposal that incorporates the impacts of the COVID-19 pandemic on ESD. Due to the pandemic, online and distance learning modalities for education modules – such as online courses, online training videos, and online manuals – are highly encouraged outputs.
Proposals are being accepted until Friday 31 July, 2020 (11:59pm JST). For more information on the selection process, funding, and how to apply, view the open call here.
Join In: My COVID-19 Story #YouthOfUNESCO Campaign
UNESCO is inviting young people to submit their stories about their COVID-19 experiences in written or video format, sharing any actions they have taken or creative ideas developed to face these challenging times. Stories will be disseminated through UNESCO's social media channels and will also contribute to the upcoming 'Youth as Researchers - COVID-19 project', which will collect and consolidate knowledge and data on, by and with young people around a series of key issues arising from the COVID-19 crisis (e.g. inequality and discrimination), as well as examine the impact of the crisis on young people (especially young women - who are out of school or unemployed because of the crisis). Read more
Call for Papers: Special Issue on Pandemics, Socially Equitable Economic Advancement, and Resilient and Sustainable Systems
Sustainability: The Journal of Record invites contributions to a special issue focused on pandemics, socially equitable economic advancement, and resilient and sustainable systems. The special issue will explore the impacts of the pandemic, how it has revealed injustices across economic advancement and other sustainability measures, and how it may inform risk-based and opportunity-based best practices that move communities toward sustainable prosperity. The deadline for abstract submissions is 18 August, 2020, with paper submissions due by 14 October, 2020. More details are available here.
Have Your Say: Environmental Education Experiences at the Time of COVID-19

The World Environmental Education Congress (WEEC) Network has launched a call to educators and environmental educators for testimonials and stories on how their way of working and providing environmental education has changed, as well as what strategies and tools have worked in this period. The objective of this call is to conduct a comparison on the good practices that have emerged and the methodologies adopted. The testimonials and experiences collected will be shared in future events from the WEEC Network in 2020. The deadline for submissions is 31 August, 2020. Read more
HESI Special Event Looks at Higher Education's Role in Rebuilding for the Future

On 8 July 2020, UNU-IAS co-organised one of six Special Events of this year's UN High-Level Political Forum on Sustainable Development (HLPF). The Higher Education Sustainability Initiative (HESI) Special Event focused on how higher education can be redesigned to support sustainable development and regeneration, as well as how the COVID-19 pandemic has affected the higher education sector. Read more
UNU-IAS Joins Universities in Supporting UN Secretary-General's Call for a Decade of Action on the SDGs
In an online meeting on 9–10 July 2020, UNU-IAS joined universities from across the globe in discussing support for the Decade of Action to deliver the SDGs by 2030. By generating and mobilising knowledge, the world's leading universities are uniquely positioned to accelerate progress on the SDGs. This role is more important than ever as COVID-19 threatens to reverse decades of progress on sustainable development, with disproportionate impacts on the most vulnerable people.
The meeting was hosted by the Sustainable Development Solutions Network (SDSN), in partnership with the Rockefeller Foundation and Columbia University. It engaged over 200 participants from more than 65 countries, comprising university presidents, chancellors, and vice-chancellors, as well as senior UN leaders. The discussion highlighted the commitment of universities to the SDGs, and their role as independent institutions that innovate in the interests of humanity. Read more
HESI Roundtable Considers Next Steps for Redesigning Further Education
Building on the discussions from the Higher Education Sustainability Initiative (HESI) Special Event held at the UN High-Level Political Forum on Sustainable Development (HLPF), a HESI Roundtable event was held on 15 July 2020 to reflect on the discussions and work towards actionable next steps. The event engaged various stakeholders in higher education to outline their role and contributions in redesigning higher education for sustainable development and to collectively outline a path forward to support this vision. A total of 17 HESI members gave presentations describing the steps their organisation has taken thus far, as well as the future directions planned, including how they hope to engage with the HESI community. Read more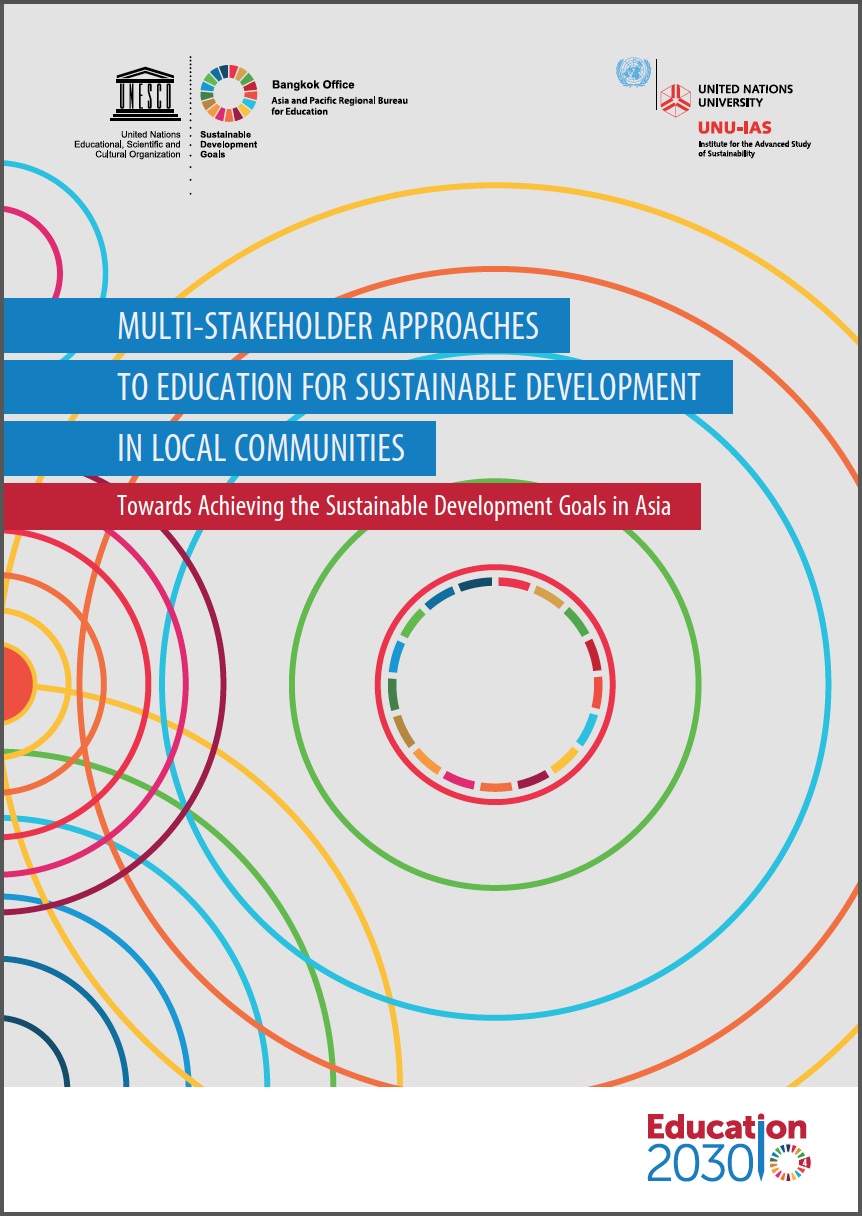 New Publication from UNESCO Bangkok & UNU-IAS Presents Innovative Multi-Stakeholder Approaches at the Local Level by RCEs in the Asia-Pacific Region

A new publication recently launched from UNESCO Bangkok and UNU-IAS, 'Multi-stakeholder Approaches to Education for Sustainable Development in Local Communities: Towards Achieving the Sustainable Development Goals in Asia', presents a collection of case studies from Regional Centres of Expertise on ESD (RCEs) in the Asia-Pacific region, demonstrating innovative approaches to ESD through multi-stakeholder partnerships at the local level.
Local communities are the driving force of a sustainable society and a crucial part of achieving the Sustainable Development Goals (SDGs). The 11 case studies featured highlight the importance of community engagement and action, whilst aiming to facilitate collaborative and transformative learning in order to affect change for sustainability. Themes covered range from health, to biodiversity conservation, responsible consumption and production, and sustainable cities, contributing to a broad spectrum of SDGs in the process. The publication can be viewed here.
Education in a Post-COVID World: Nine Ideas for Public Action
The International Commission on the Futures of Education, established by UNESCO in 2019, has published the report 'Education in a Post-COVID World: Nine Ideas for Public Action', which presents nine key ideas for navigating through the COVID-19 crisis and its aftermath, in the form of concrete actions that will advance education tomorrow. These ideas invite debate, engagement and action by governments, international organisations, civil society, educational professionals, as well as learners and stakeholders at all levels. Access the publication here.
Watch: UNESCO's "Next Normal" Campaign
UNESCO has launched a global campaign challenging our perception of normality, as countries begin to emerge from the pandemic. A short video presents factual information about the world before and during the pandemic, inviting viewers to question their ideas about what is normal, suggesting that we have accepted the unacceptable for far too long.
The "Next Normal" campaign is part of a wider effort by UNESCO to reflect on the world to come, which includes the UNESCO Forum and the Futures of Education initiative. Watch the video here.
COVID-19 and the UN Sustainable Development Goals: Threat to Solidarity or an Opportunity?
COVID-19, as a pandemic, is impacting institutions around the world. Its scope and economic dimensions also mean that it poses a major threat towards achieving the UN SDGs. A team from RCE Hamburg and region, the Inter-University Sustainable Development Research Programme (IUSDRP), and the European School of Sustainability Science and Research (ESSSR) has produced a paper which discusses how the pandemic may influence the SDGs and could affect their implementation. The methods used entail an analysis of the literature, observations and an assessment of current world trends. The results obtained point out that, while COVID-19 has become a priority to many health systems in developing nations, they still need to attend to many other existing diseases such as malaria, yellow fever and others.
The paper suggests that, due to its wide scope and areas of influence, COVID-19 may also jeopardize the process of the implementation of the SDGs. It sends a cautious warning about the need to continue to put an emphasis on the implementation of the SDGs, so that the progress achieved to date is not endangered. The paper can be viewed here.
UNESCO Courier: A Whole New World, Reimagined by Women
The UNESCO Courier asked women across the globe to imagine what life will be like after the crisis. Journalists, authors, intellectuals, museum directors, scientists give voice to their thoughts – to reimagine a whole new world, whether it is the future of museums, changes in schools, the rise of disinformation, or the challenges of scientific research. Read more
This is a publication of UNU-IAS ProSPER.Net Secretariat. The bulletin is a great way to share your activities, events and news as a ProSPER.Net member with the rest of the network. Feel free to send us any information you may deem relevant for the rest of the community by completing this form and emailing it to prospernet@unu.edu. We look forward to your inputs! Visit ProSPER.Net regularly for up-to-date news and event information.
ProSPER.Net Secretariat
United Nations University
Institute for the Advanced Study of Sustainability
5-53-70 Jingumae,
Shibuya-ku, Tokyo 150-8925
Japan