ProSPER.Net E-Bulletin Issue 89 (June 2020)
Message from the ProSPER.Net Secretariat
Dear Colleagues and Friends,
Greetings from the ProSPER.Net Secretariat! We hope this bulletin finds you in good health as we reach the halfway point of what has been a challenging year to date. It has been very encouraging to see our members embrace the opportunities that this time of unprecedented change has brought about, in terms of different ways of working and the development of innovative approaches.
This month, we are excited to open the call for ProSPER.Net Joint Research Projects; please see below for further details and the themes currently being accepted for these proposals. We look forward to receiving your proposals!
On another note, please see below for some changes to the modality and hosting of the ProSPER.Net Joint Meetings this year due to the COVID-19 pandemic, which will be conducted online for 2020.
As always, if you have any news, open calls, upcoming events, or publications to share via this bulletin, please complete this form and email your submission to the ProSPER.Net Secretariat at ProSPERNet@unu.edu (submissions close on the 15th of each month).
From all of us at the ProSPER.Net Secretariat, please continue to stay safe and well!
Sincerely,
ProSPER.Net Secretariat
ProSPER.Net

Joint Meetings: 14th General Assembly and 20th Board Meeting
In light of the current COVID-19 pandemic, the ProSPER.Net Joint Meetings – the 14th General Assembly and the 20th Board Meeting – scheduled for 15-16 October, 2020, will be conducted online this year, and be hosted by UNU-IAS.
Due to this shift online, the original co-hosts for this event, Ateneo de Manila University and the University of the Philippines, will now host these meetings in 2021 in the Philippines.
For this year's meeting, the agenda will include higher education institutions' response to COVID-19 amongst others. Further details will be announced in due course.
ProSPER.Net

COVID-19 Survey
ProSPER.Net members would have received an invitation in late May to take a brief survey on their institution's experiences of dealing with the COVID-19 pandemic. Responses will help us to report on the issues universities in Asia and the Pacific are facing in regards to the pandemic. It is also hoped these responses will be shared at the High-Level Political Forum to the United Nations in early July. We greatly encourage members to share their voice via this survey, and thank those who have completed it to date.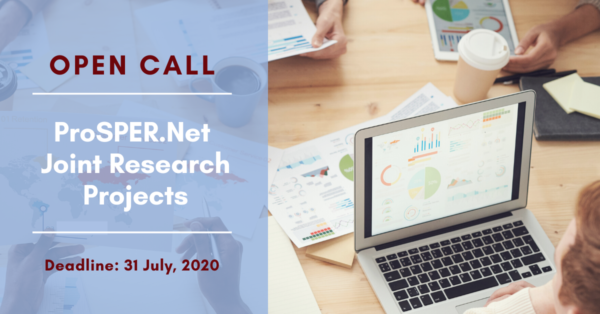 Applications Open:

ProSPER.Net

Joint Research Projects
Since its inception, ProSPER.Net member institutions have launched a wide variety of joint projects ranging from the creation of an online postgraduate programme in public policy and sustainable development practice to the integration of sustainable development in business school curricula.
For this year's ProSPER.Net joint project call for proposals, ProSPER.Net members are invited to submit joint project proposals for 2020 – 2021 with the aim of designing and conducting researches by taking a multi-disciplinary approach to integrate sustainable development into post-graduate education and curricula and various learning initiatives.
Research proposals should include an education component, exemplifying how Education for Sustainable Development (ESD) can be used to educate students and/or community members on the topic and the findings of the research. The following topics related to ESD are welcomed:
• Water or Governance from the Perspective of Sustainability
• Biodiversity and Eco-system Services
• Disaster Risk Management
• Climate Change
• Traditional/Indigenous/Local Knowledge
• Community Participation and Governance
Due consideration will also be given to any project proposal that incorporates the impacts of the COVID-19 pandemic on ESD. Due to the pandemic, online and distance learning modalities for education modules – such as online courses, online training videos, and online manuals – are highly encouraged outputs.
Proposals are being accepted until Friday 31 July, 2020 (11:59pm JST). For more information on the selection process, funding, and how to apply, view the open call here.
Join In: UNECE Photography Contest
The United Nations Economic Commission for Europe (UNECE) has launched a photography contest, 'Humans locked down, nature unlocked: a global photo contest on flora and fauna in the time of COVID-19 in support of the restoration of ecosystems'.
Submissions are being accepted of photographs of flora or fauna taken during the COVID-19 pandemic, to reinforce the message the United Nations is trying to send: we need to take urgent action to protect and restore species' natural habitats, use natural resources in a more sustainable manner, and preserve the environment.
The entries will gain a chance to appear in a web-based gallery and will be promoted by the United Nations. The best 13 photographs will be used to illustrate a 2021 calendar of UNECE, and showcased at a photography exhibition at the Palais des Nations in Geneva in Autumn 2020 to celebrate and promote the start of the UN Decade on Ecosystem Restoration. Submission are being accepted until 15 September, 2020. Read more about the contest and how to participate here.
Reminder: Applications Open for ESD Okayama Award 2020
(Photo source: Okayama City)
RCE Okayama and the ESD Okayama Award Steering Committee are pleased to announce that the 'ESD Okayama Award 2020' is open for entries.
The Award rewards outstanding ESD practices in local communities around the world to showcase ESD and to support organisations carrying out ESD activities.
• Eligibility: Organisations based in any country, including Japan, implementing ESD activities in local communities are eligible to apply for the Award
• Prize: USD 3,000
• Number of award-winning projects: Up to two (2) projects
• Award Ceremony: Award winners will be invited to the Award Ceremony in Okayama, Japan and be requested to give a presentation on the project
• Deadline for applications: 31 July, 2020, 5pm (Japan Standard Time)
For more details (application guidelines, application form and information about former award-winning projects of the ESD Okayama Award), please visit the official website.
Deadline Extended: UN SDG Action Awards
To make sure the SDGs are front and centre in any recovery plans, the UN SDG Action Awards are calling for the most inspiring and impactful initiatives on SDG Action around the world. These initiatives will demonstrate that transformative change is possible and will be beacons of hope to governments and people everywhere.
The deadline for award submissions has been extended until 19 July, 2020 to capture initiatives that have adapted to the new context and are playing a role in the COVID-19 response. People and organisations everywhere are encouraged to submit their outstanding SDG Action and nominate to become one of the UN SDG Action Award winners. The winning initiatives will be honoured at the UN SDG Action Awards Ceremony and widely amplified throughout the year to inspire the growing global SDG Action community to accelerate change for people and the planet. Read more
Applications Closing Soon: UNU Intensive Core Courses
UNU-IAS is currently accepting applications for its four-week UNU Intensive Core (UNU-IC) Courses to be held at UNU Centre in Tokyo, Japan, from 1-29 September, 2020. The courses are designed to provide analyses of global issues from both theoretical and empirical perspectives, and draw on the research projects undertaken at UNU-IAS and at various other UNU institutes located worldwide. Although advanced in nature, they are open to postgraduate students and professionals in various occupations who are not necessarily specialists in the field. Details on the courses offered, requirements, and application procedure can be found here. The deadline for applications is 10 July, 2020.

Webinar Week: 'Cradle to Cradle Design – Powering the Circular Economy'
22-29 June, 2020 (online via Zoom)
Organised by RCE Hangzhou and the Hanns Seidel Foundation, this webinar week introduces 'Cradle to Cradle' (C2C) design as a quality and innovation framework for the transformation towards a circular economy. In Europe, C2C design has been implemented by companies, municipalities and governments. The goal of this webinar week is to share know-how and expertise based on practical examples and discuss with participants how it could be transferred to other countries, most notably to China and in Asia.
The webinars are geared towards people from academic research and teaching, people from business practice, and policy makers, whose professional activities involve design, product development, building and architecture, sustainability, corporate social responsibility (CSR), education for sustainable development (ESD) and/or circular economy.
The webinar week will be held in English and is free of charge. Webinars on the 28th and 29th June are still open to registration. More information on the webinars and speakers, as well as how to register can be found here.
ProSPER.Net

Joint Research Project: Development

Of

A Framework For The Local Implementation Of The SDGs – Phase II
The ownership of the implementation of the UN Sustainable Development Goals (SDGs) by local authorities and communities, civil society and the scientific and academic community is paramount to the realisation of the goals. Many countries promote partnership and local implementation at the national level as a policy and action plan. Furthermore, local authorities and communities at the local level need more concrete practices to implement the SDGs.
According to the results of Phase I of the project, 'Development Of A Framework For The Local Implementation Of The SDGs', higher education institutions can play a key role in this endeavour by supporting local authorities and communities through educational and research activities. Based on the achievements and the lessons learned from Japan, India, Philippines and Thailand, the Phase II of the project will explore models of SDGs localisation based on collaboration between higher education institutions and communities.
The ProSPER.Net joint research project, 'Development Of A Framework For The Local Implementation Of The SDGs – Phase II' to be led by Chulalongkorn University, aims to enhance the capacities of higher education institutions to collaborate with local communities for the implementation of the SDGs at the local level. Two major outputs will be the collection of resources materials for higher education institutions to work in partnership with local communities towards SDGs, and a policy brief involving recommendations on higher education institutions' role by SDGs localisation. Read more
UNESCO Forum: Imagining the World to Come – Women's Voices
UNESCO is calling on inspiring voices from across the globe to take part in a series of online discussions to help us imagine the world taking shape as a result of the COVID-19 crisis. The series kicked off in May with a unique event featuring leading women experts and thinkers to voice their views on the challenges and opportunities the world will face in the wake of the pandemic. Watch the first series here and learn more about the UNESCO Forum here.
This is a publication of UNU-IAS ProSPER.Net Secretariat. The bulletin is a great way to share your activities, events and news as a ProSPER.Net member with the rest of the network. Feel free to send us any information you may deem relevant for the rest of the community by completing this form and emailing it to prospernet@unu.edu. We look forward to your inputs! Visit ProSPER.Net regularly for up-to-date news and event information.
ProSPER.Net Secretariat
United Nations University
Institute for the Advanced Study of Sustainability
5-53-70 Jingumae,
Shibuya-ku, Tokyo 150-8925
Japan