ProSPER.Net E-Bulletin Issue 81 (October 2019)
Message from the ProSPER.Net Secretariat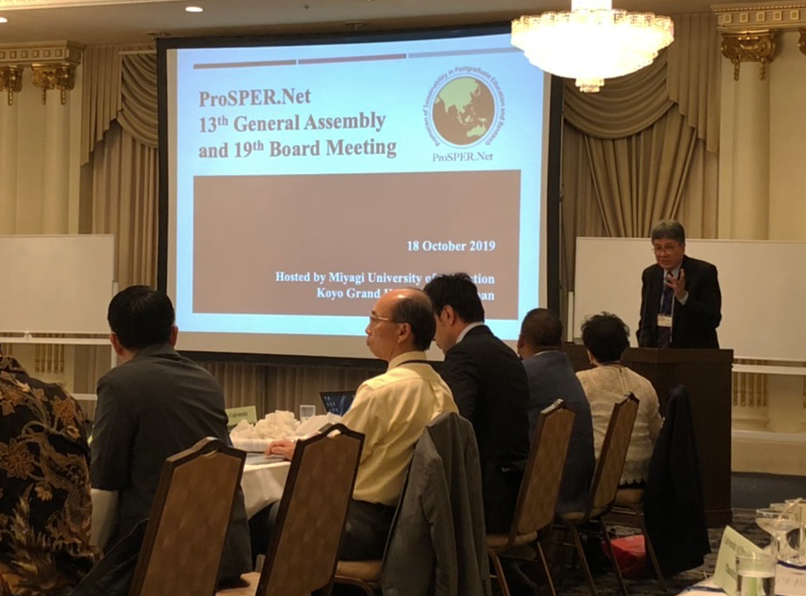 ProSPER.Net Joint Meetings: 13th General Assembly and 19th Board Meeting
From 18-19 October, 2019, ProSPER.Net members gathered in Sendai, Japan, for the 13th General Assembly and 19th Board Meeting, hosted by the Miyagi University of Education. The meeting began with reports on ProSPER.Net Activities and completed joint projects, followed by presentations of new joint project proposals. Following the review of new membership applications, De La Salle University was acknowledged as a new member, bringing the total number of members to 47.
During the group discussion sessions, members discussed topics such as how to strengthen governance and accountability, how to enhance network activities, and ways to enhance recognition and visibility of the network and drive resource generation. The second day of the joint meetings began with a 'Disaster Risk Reduction Education Open Forum on the Perspective of ESD for 2030', followed by field visits to disaster memorial sites (Arahama Elementary School and the sea coastal area), providing participants with an understanding of the approaches and methods for disaster risk reduction education.
The ProSPER.Net Secretariat would like to thank the Miyagi University of Education for their outstanding organisation, dedication, and support in hosting a successful meeting.
New ProSPER.Net Member
The ProSPER.Net Secretariat is pleased to welcome a new member to the network, De La Salle University, which was approved at the recent meeting.
The updated list of ProSPER.Net members can be viewed on our website. Please join us in welcoming De La Salle University to our network!
2020 ProSPER.Net Young Researchers' School
(Photo credit: NASA/Goddard/Rebecca Roth / CC BY 2.0)
Thank you to everyone who applied to the 2020 ProSPER.Net Young Researchers' School, to be held from 9-15 March, 2020 in Beijing, the People's Republic of China and hosted by Tsinghua University. Applicants will be notified of the results in due course.
If you would like to share any news, upcoming events, or publications via this bulletin, please complete this form and email your submission to the ProSPER.Net Secretariat at ProSPERNet@unu.edu (submissions close on the 15th of each month).
Sincerely,
ProSPER.Net Secretariat
Deadline Extended: Call for 2020 ProSPER.Net Event Hosts
The ProSPER.Net Secretariat would like to invite members to submit self-nominations to host ProSPER.Net programmes and events for 2020, including the Leadership Programme, Young Researchers' School, ProSPER.Net Sustainability Forum, or other events (please specify the event).
Further details and the process to apply can be found here. Applications will now close on 17 November, 2019.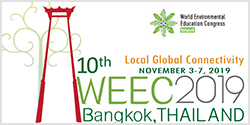 10th World Environmental Education Congress
3-7 November, 2019, Bangkok, Thailand
Under the theme 'Local Knowledge, Communication and Global Connectivity', the 10th World Environmental Education Congress (WEEC) will be held 3-7 November, 2019 in Bangkok, Thailand.
This international congress will address education for environment and sustainability, with the goal of enhancing local knowledge within the global spotlight in terms of environmental education.
The ESD Project at UNU-IAS will be hosting two workshops, and co-hosting a side event. Details are below:
Side Event (Panel Discussion):
Education and Learning in and through Environmental Assessment Experiences from Higher Education Institutions in Asia
4 November, 2019, 15:00-16:30
Gliceria Arlyn G. Garancho (Executive Director of the Philippine Normal University Visayas, Philippines), Arun Kansal (Dean, Research and Relationships, TERI School of Advanced Studies, India), Janne Leino (Chief Representative, Hanns Seidel Foundation Zheijang Representative Office), Ushio Miura (Programme Specialist, UNESCO Bangkok), Riri Fitri Sari (Chairperson of UI GreenMetric, University of Indonesia), Mario Tabucanon (Senior Visiting Professor, UNU-IAS), Shinobu Yume Yamaguchi (Director, UNU-IAS)
As the world converges around efforts to move forward with the 2030 Agenda for Sustainable Development, higher education institutions in the Asia-Pacific region are increasingly placing 'greening the campus' high on their agenda as never before. Along with the rise of this aspiration, many institutions have also begun to introduce environmental assessment as a part of their administrative and operational strategies. A crucial question from the perspective of education is if, and how, learning for environmental sustainability is triggered and enhanced for the whole campus community in the process of undertaking the assessment. Does environmental assessment facilitate and contribute to promoting campus-wide environmental education and learning? If so, what are some of the key aspects or issues that we need to be mindful of if we are to leverage environmental assessment as opportunities to promote education and learning for sustainability? This session will bring together panellists from three institutions that are/have been involved in environmental assessment in Asia, aiming to draw insights into how higher education may be able to contribute effectively to the achievement of the UN SDGs through advancing SDG 4 and SDG 4.7 in particular.
Workshops:
The classroom, the city hall, the ivory tower, and the rising sea: Using a multi-stakeholder approach for education as a mechanism to implement local action on international climate policies
5 November, 2019, 10:00-11:00
UNU-IAS, RCE Georgetown, RCE Iskandar, and RCE Sakon Nakhon
This workshop will use the Regional Centres of Expertise on Education for Sustainable Development (RCE) model to examine how multi-stakeholder networks can provide a more coordinated and effective approach for educating communities as a whole about meaningful actions to take in relation to climate change mitigation and adaptation. This workshop will help participants understand how bridging formal and informal education partners can reduce redundancies, improve communication, and upscale action across communities, as well as through different age and sectoral cohorts. Attendees will identify partners and initiatives in their own communities they can begin working with on climate education initiatives.
Community-based Environmental Education (EE) and Education for Sustainable Development (ESD): Unpacking confusions and getting insights to enrich local community practices and policies for 2030 and beyond
5 November, 2019, 11:00-12:00
Fumiko Noguchi (UNU-IAS), Jose Roberto Guevara (RMIT University), Osamu Abe (Rikkyo University)
This workshop attempts to unpack the confusions and struggles around ESD for 2030 from local community perspectives, addressing two questions: How can the local community practices see 'SDG' as an opportunity that can enhance the practices at the local community?; and, How can SDGs policies be enriched by obtaining insights from local community experiences? By doing so, it will critically reflect on the efforts made for community-based EE and ESD in Japan and Asia in the past. Finally, this workshop will discuss what educators, practitioners, policymakers, researchers and academic societies can do for 2030 and beyond to enhance the local community practices at global, regional, national and local levels.
For further details on the events above, please visit the WEEC2019 website here.
CLIMATE2020 - 7th Climate Change Online Conference
23-30 March, 2020, online
Organised by the Research and Transfer Centre Sustainability and Climate Impact Management (FTZ-NK) of the Hamburg University of Applied Sciences, the 7th Climate Change Online Conference will communicate current research results on climate change and its consequences. In particular, young scientists from all over the world are offered an opportunity to present their own research on a worldwide stage. The conference will also provide information on numerous concrete projects, initiatives and strategies that are currently being implemented on five continents, presenting the latest examples of global activities to protect the climate. The conference will take place exclusively online – climate-neutral as all CO2 emissions will be offset. Register for free at www.dl4sd.org to access the conference platform to take a look inside, learn about the conference's patrons and partners, and to receive regular updates.
Projects from Botswana, Brazil and Germany win UNESCO-Japan Prize on Education for Sustainable Development
UNESCO Director-General Audrey Azoulay has named the three winners of this year's UNESCO-Japan Prize on Education for Sustainable Development (ESD): the Camphill Community Trust in Botswana, the Sustainable Amazon Foundation (Brazil) and the city of Hamburg (Germany). Funded by the Government of Japan, this is the fifth edition of the Prize. The core selection criteria looked at the projects' potential for transformation, their innovative quality, and their ability to embrace all three dimensions of sustainability: the economy, society and the environment. Each of the three laureates will receive an award of US $50,000, in a ceremony that will take place at UNESCO Headquarters on 15 November, within the framework of the General Conference of UNESCO. Congratulations to all winners! Read more
UNESCO Launches 'Futures of Education: Learning to Become' Initiative Website
The Futures of Education: Learning to Become initiative aims to rethink education and shape the future. Looking to 2050 and beyond, the initiative is catalysing a global debate on how knowledge, education and learning need to be reimagined in a world of increasing complexity, uncertainty, and precarity. The work will be guided by a high-level International Commission of thought-leaders from diverse fields and different regions of the world. In November 2021, the commission will publish a report designed to share a forward-looking vision of what education and learning might yet become and offer a policy agenda. Visit the website here.
Cities100 2019 Report
The Cities100 report, recently released by Cities100 (a collaboration between C40 Cities and Nordic Sustainability), features 100 leading climate action projects from cities around the world, and includes 12 different categories of climate action.
The report provides an analysis of how cities are facing the challenges and opportunities that come with being at the forefront of climate action. Download the full report here.
UN ESCAP Asia-Pacific Disaster Report 2019
Published by UN ESCAP, the Asia-Pacific Disaster Report 2019 shows how natural disasters are closely linked to inequality and poverty, each feeding on the other and leading to a vicious downward cycle. The report showcases examples from the region of innovative pro‑poor disaster risk reduction measures and risk-informed social policies that are breaking the links between poverty, inequality and disasters. Similarly, it explores how emerging technologies such as big data and digital identities can be used to ensure the poorest and most vulnerable groups are included in these policy interventions. Download the full report here.
This is a publication of UNU-IAS ProSPER.Net Secretariat. The bulletin is a great way to share your activities, events and news as a ProSPER.Net member with the rest of the network. Feel free to send us any information you may deem relevant for the rest of the community by completing this form and emailing it to prospernet@unu.edu. We look forward to your inputs! Visit ProSPER.Net regularly for up-to-date news and event information.
ProSPER.Net Secretariat 
United Nations University 
Institute for the Advanced Study of Sustainability 
5-53-70 Jingumae, 
Shibuya-ku, Tokyo 150-8925 
Japan