ProSPER.Net E-Bulletin Issue 76 (May 2019)
Message from the ProSPER.Net Secretariat
Dear Colleagues and Friends,
For institutions wanting to apply for ProSPER.Net membership, the deadline has now been extended to 12 July, 2019 (11:59pm JST). Membership is limited to higher education institutions located in the Asia-Pacific region that offer postgraduate education and research in sustainable development (SD) and in fields related to education for sustainable development (ESD). Further information about the application process and how to apply can be found here.
As always, if you would like to contribute any news, upcoming events, or publications for upcoming bulletins, we would love to hear from you. Please complete this form and email your submission to the ProSPER.Net Secretariat at ProSPERNet@unu.edu (submissions close on the 15th of each month).
Sincerely,
ProSPER.Net Secretariat
2019 ProSPER.Net Joint Research Projects
Applications are being accepted for 2019 ProSPER.Net Joint Project Proposals until the end of July 2019. Proposals from participating institutions must assist in the implementation of the SDGs through research, with an outcome that leads to education and outreach through curriculum development and various learning initiatives. Applications need to be prepared with at least three ProSPER.Net members participating, following and using the ProSPER.Net Joint Project Proposal Guidelines and Project Proposal Application. The deadline for submissions is 31 July, 2019. Further details can be viewed here.
Call for Applications: ESD Okayama Award 2019
Entries are currently being accepted for the 'ESD Okayama Award 2019'. Conducted by Okayama City and the ESD Okayama Award Steering Committee, the award rewards outstanding ESD practices in local communities around the world to showcase ESD and to support organisations carrying out ESD activities.
• Eligibility: Organisations based in any country, including Japan, implementing ESD activities in local communities are eligible to apply for the Global Prize
• Prize: USD 3,000
• Number of Award Winning Projects: Up to two (2) projects
• Award Ceremony: Award winners will be invited to the Award Ceremony on Sunday 24 November, 2019 in Okayama, Japan, and will be requested to give a presentation on the project
• Deadline for applications: 5 July, 2019, 5pm (Japan Standard Time)
For more details (application guidelines, application form and information about former award-winning projects of the ESD Okayama Award), please visit the official website.
Call for Nominations: Wenhui (文晖) Award for Educational Innovation 2019
Applications for nominations for the 2019 Wenhui Award are now open. The theme of this year's award, 'Promoting University and School Partnerships in Advancing the Education 2030 Agenda', aims to recognise successful university-school partnerships that have contributed to quality education and lifelong learning in preparing children and youth for life, work and citizenship.
Established by the National Commission of the People's Republic of China for UNESCO, and coordinated by UNESCO Bangkok, the Award is open to individuals and institutions in the Asia-Pacific region. Two individuals or institutions will be selected by a jury of distinguished educators, with the winners each to receive a Certificate of Excellence and prize money of USD 20,000.
All applications should reach the Award Secretariat at UNESCO Bangkok (apeid-award@unesco.org) by 31 July, 2019. Details about the Award and forms required for submission can be found here.
World Environment Day 2019 - Let's #BeatAirPollution!
Following on from last year's fight to #BeatPlasticPollution, for this year's World Environment Day on 5 June, 2019, UN Environment is calling on everyone, everywhere, to come together to Beat Air Pollution, which is now the biggest public health crisis on the planet.
Partners in education and youth are asked to take this message into the classroom, campus, and community to raise awareness and take action around this important issue. Take a look at this guide on how you can get involved. Cities, schools, non-governmental organisations, businesses and groups are also encouraged to register any actions or events they are taking to #BeatAirPollution here.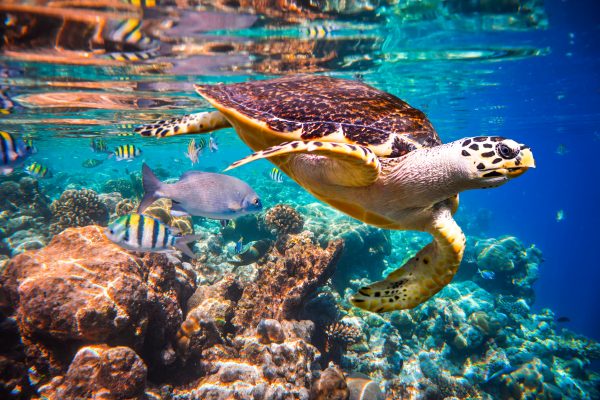 IPBES Global Assessment
(Photo credit: Andrey Armyagov/Shutterstock.com)
At its Seventh Plenary meeting, held 29 April to 4 May, 2019 in Paris, France, the Intergovernmental Science-Policy Platform on Biodiversity and Ecosystem Services (IPBES) approved the summary of its Global Assessment report, the most comprehensive and authoritative assessment of nature and its contributions to people to date.
The report highlights the crisis in biodiversity that the world is facing, with its finding that nature is declining at unprecedented rates, with around a million species facing extinction, many within the next decades. It highlights the global environmental challenges the planet faces, with many crucial global goals for sustainability and biodiversity very unlikely to be achieved. The report provides some hope, though, noting that it is not too late to reverse the trend toward rapid biodiversity loss, however transformative changes are required.
Several researchers associated with the International Partnership for the Satoyama Initiative (IPSI) Secretariat at UNU-IAS contributed to the Global Assessment as authors and experts. UNU-IAS has a Letter of Agreement with IPBES to provide expertise through the IPSI network, and will continue to contribute to this major process in the future.
For more information, please see the media release on the IPBES website here.
Be Kind, Curious and Brave - A Survival Guide to the 21st Century
This report from Towards Global Learning Goals, a non-profit aimed at improving the ways children are prepared for the challenges of the 21st century, argues that a revolution is needed in terms of how and what humans learn, to ensure the next generation can 'learn the right things in the right way'. It sets out why change is needed, based on interviews with thinkers, educators, learners and policy makers, and seeks out opportunities and ideas, before setting out nine global learning goals, and highlighting champions who will help deliver the transformation of learning. Read more
IAU Horizons Magazine
Published twice a year by the International Association of Universities (IAU), the latest edition of the IAU Horizons magazine (vol. 24, no.1, April 2019) is now available, in paper and online.
The 'In Focus' section on 'Universities and Agenda 2030: Engaging with the SDGs' features 15 papers demonstrating contributions from lead institutions to Agenda 2030, in the context of the IAU Global Cluster on HESD (higher education in support of sustainable development). Access it here.
Universities as Living Labs for Sustainable Development
Published as part of the World Sustainability Series with Springer, the book 'Universities as Living Labs for Sustainable Development' contains inputs from the 4th World Symposium on Sustainable Development at Universities (WSSD-U-2018), which was held in Malaysia.
The chapter entitled, 'Mainstreaming Education for Sustainable Development in English as a Foreign Language: An Analysis of the Image-Text Interplay Found in EFL Textbooks in Japanese Higher Education', by Joshua Jodoin and Dr. Jane Singer of Kyoto University, presents an analysis of a corpus built from sample texts containing environmental themes found in English as a Foreign Language textbooks commonly used at Japanese universities. Read more
Voice for the Planet
Launched at the World Economic Forum in Davos in 2019 by the Global Shapers, Voice for the Planet aims to showcase the growing movement of people calling for urgent global action to safeguard nature. Visit the website to add your voice here.
This is a publication of UNU-IAS ProSPER.Net Secretariat. The bulletin is a great way to share your activities, events and news as a ProSPER.Net member with the rest of the network. Feel free to send us any information you may deem relevant for the rest of the community by completing this form and emailing it to prospernet@unu.edu. We look forward to your inputs! Visit ProSPER.Net regularly for up-to-date news and event information.
ProSPER.Net Secretariat 
United Nations University 
Institute for the Advanced Study of Sustainability 
5-53-70 Jingumae, 
Shibuya-ku, Tokyo 150-8925 
Japan