ProSPER.Net E-Bulletin Issue 74 (March 2019)
Message from the ProSPER.Net Secretariat
Dear Colleagues and Friends,
The 2019 ProSPER.Net Young Researchers' School (YRS) recently wrapped up in Yogyakarta, Indonesia! It was an enriching ten days of engaging lectures, lively discussions, and fascinating field trips! Many thanks to our wonderful hosts, Universitas Gadjah Mada. See our update below for a full report of the event.
We are also pleased to share with you the great work our participants completed from the Leadership Programme at RMIT on Urban Sustainable Development, which was held in Melbourne, Australia in November last year. See their case study analysis and reflection assignments here.
If you would like to contribute any news, upcoming events, or publications for upcoming bulletins, please complete this form and email your submission to the ProSPER.Net Secretariat at ProSPERNet@unu.edu (submissions close on the 15th of each month).
Sincerely,
ProSPER.Net Secretariat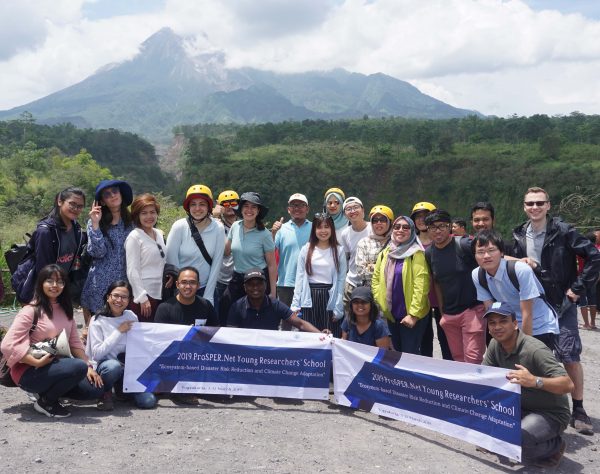 2019 Young Researchers' School Students Learn about Disaster Risk Management, Climate Change, and Community Adaptation
(Photo credit: Suriadi)
Twenty-one participants from across the Asia-Pacific region recently took part in the 2019 ProSPER.Net Young Researchers' School (YRS), hosted by Universitas Gadjah Mada, held in Yogyakarta, Indonesia, from 3rd – 12th March, 2019.
The theme for this year's YRS, 'Ecosystem-based Disaster Risk Reduction and Climate Change Adaptation', provided participants with the opportunity to engage with issues related to Ecosystem-Based Disaster Risk Reduction (Eco-DRR) in the context of the tropics, as well as an understanding of the issues and problems related to hazards and disasters within the context of the UN 2030 Agenda and the Sustainable Development Goals (SDGs).
The location for the 10-day School – in Yogyakarta, Indonesia, situated on the ring of fire and in one of the most disaster-prone countries in the world  – enabled students to see first-hand a city and community learning to live with disasters over time.
Read a full report of the YRS here, or take a look at the outcomes page here. A video can also be viewed here.
International Conference on Youth, Oceans and SDG 14
(Photo source: World Youth Foundation)
Organised by the World Youth Foundation, in collaboration with the Young Environmental Forum, International Youth Council and several other agencies, the International Conference on 'Youth, Oceans and SDG 14' will be held from 1-5 July, 2019 in Melaka, Malaysia. The event provides an opportunity for young people aged 18-25 years from around the globe to come together to discuss, find solutions, share best practices, and develop strategies on issues such as marine pollution, climate change related impacts on the oceans, sustainable blue economy, coral reefs, and fisheries, among others. On the last day of the event, participants will formulate a Global Marine Litter Awareness Campaign which will be adopted by the conference delegates. Early registration closes 31 May, 2019. Read more
2019 ProSPER.Net Joint Research Projects
The ProSPER.Net Secretariat announces a call for 2019 ProSPER.Net Joint Project Proposals. Proposals from participating institutions must assist in the implementation of the SDGs through research, with an outcome that leads to education and outreach through curriculum development and various learning initiatives. Applications need to be prepared with at least three ProSPER.Net members participating, following and using the ProSPER.Net Joint Project Proposal Guidelines and Project Proposal Application. The deadline for submissions is 31 July, 2019. Further details can be viewed here.
Closing Soon: 2019 ProSPER.Net Membership Applications
A reminder that applications for membership to ProSPER.Net for 2019 close at the end of next month. Membership is limited to higher education institutions located in the Asia-Pacific region that offer postgraduate education and research in sustainable development (SD) and in fields related to education for sustainable development (ESD). Read more about the application process and how to apply here. The deadline is 30 April, 2019 (11:59pm JST).
Call for Abstracts: 2nd International Conference on Sustainable Development Goals (ICSDG 2019)
Organised by the South East Asia Sustainability Network and the Centre for Global Sustainability Studies, Universiti Sains Malaysia, the '2nd International Conference on Sustainable Development Goals 2019' (ICSDG 2019) will take place from 30-31 July, 2019, in Penang, Malaysia. Under the theme 'Achieving SDGs: Rising to the Challenge', the conference will provide a platform for sharing information, experiences and best practices in addressing sustainability challenges while also seeking collaboration and cooperation among organisations worldwide in achieving the SDGs. The deadline for submitting abstracts is 1 April, 2019. Read more
ECOSOC Publishes New Strategic Orientation of UN-Habitat for 2020-2025
The UN Economic and Social Council (ECOSOC) has issued a note by the Secretary-General outlining a new strategic orientation of the UN Human Settlements Programme (UN-Habitat) for the period 2020-2025, which aims to reposition UN-Habitat as a centre of excellence and innovation. Read more
SDG Zone: Your One-Stop-Shop for Information on the SDGs
This portal, created by SDSN Youth (Sustainable Development Solutions Network - Youth Initiative) provides a one-stop-shop for people to learn about the SDGs. The content is split into a number of sections; Learn about the SDGs, Engage with the SDGs, Act on the SDGs, how sectors can get involved, as well as information about SDSN Youth Campaigns. Access it here.
UN Environment Sixth Global Environment Outlook
UN Environment's Sixth Global Environmental Outlook (GEO-6) is the most comprehensive assessment of the state of the world's environment. In addition, GEO-6 illustrates possible future environmental trends, and analyses the effectiveness of policies. The report emphasises that urgent and inclusive action is needed by decision makers at all levels to protect the health of the planet and its people. Read more
UN World Water Development Report 2019: Leaving No One Behind
The 2019 edition of the World Water Development Report (WWDR 2019) entitled 'Leaving No One Behind' seeks to inform policy and decision-makers, inside and outside the water community, how improvements in water resources management and access to water supply and sanitation services are essential to overcoming poverty and addressing various other social and economic inequities. Read more
Driving Systems Change in Turbulent Times
Taken from the perspective of early 2019, this report from Forum for the Future, titled 'Driving Systems Change in Turbulent Times – the Future of Sustainability 2019', identifies seven global trends that have implications for how global challenges can be addressed going into the 2020s. Read more or download the report here.
Policy Handbook: Advancing Education for Sustainable Development
Published by the World Future Council Foundation, this handbook explores some of the central success factors in policy, process and practice in some of the pioneering countries and contexts where Education for Sustainable Development (ESD) is being effectively embraced. Read more
A New Use for Google Maps: Calculating a City's Carbon Footprint
Launched in September 2018, Google's Environmental Insights Explorer is an online tool that calculates emissions from buildings, car trips, and public transport to illustrate how a city's sustainability efforts are faring. Read more
USDN Sustainable Consumption Toolkit: Advancing Sustainable Consumption in Cities
This toolkit, developed as part of the Urban Sustainability Directors Network's suite of Innovation Products, introduces key concepts in the area of sustainable consumption and helps users and cities explore how to implement strategies to advance sustainable consumption. Read more
A Journey through Smart Cities: Between Datapolis and Participolis
This essay-report by Francis Pisani takes a look at how some of the largest cities in the world have addressed their challenges through the use of ICT solutions and the impacts this has had on the daily lives of its citizens. Read more (note that the English version starts on page 120).
This is a publication of UNU-IAS ProSPER.Net Secretariat. The bulletin is a great way to share your activities, events and news as a ProSPER.Net member with the rest of the network. Feel free to send us any information you may deem relevant for the rest of the community by completing this form and emailing it to prospernet@unu.edu. We look forward to your inputs! Visit ProSPER.Net regularly for up-to-date news and event information.
ProSPER.Net Secretariat 
United Nations University 
Institute for the Advanced Study of Sustainability 
5-53-70 Jingumae, 
Shibuya-ku, Tokyo 150-8925 
Japan