ProSPER.Net E-Bulletin Issue 112 (May 2022)
Message from the ProSPER.Net Secretariat
Dear Colleagues and Friends,
Greetings from the ProSPER.Net Secretariat! This month, we're bringing you a round-up of reports on a number of recent events held, as well as the announcement of the call for applications for the ESD Okayama Award 2022. A final reminder that applications for 2022 ProSPER.Net Membership also close at the end of this month.
If you have any news, open calls, upcoming events, or publications you wish to share in a future bulletin, please complete this form and email your submission to the ProSPER.Net Secretariat at ProSPERNet@unu.edu (submissions close on the 15th of each month).
Sincerely,
ProSPER.Net Secretariat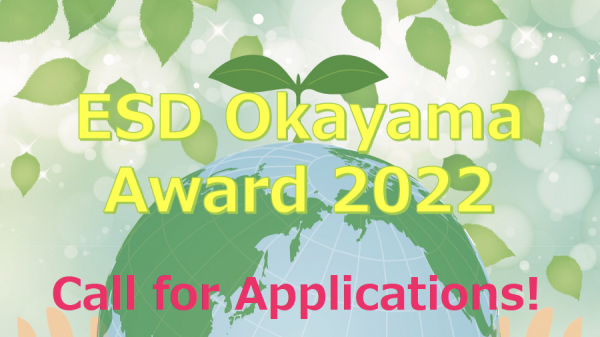 Call for Applications: ESD Okayama Award 2022
RCE Okayama (Japan) and the ESD Okayama Award Steering Committee are pleased to announce that the ESD Okayama Award 2022 is now open for entries.
 
The Award rewards outstanding ESD practices in local communities around the world to support organisations carrying out ESD activities and to promote ESD to local communities globally through showcasing their initiatives.
 
Eligibility: Organisations based in any country implementing ESD activities in local communities are eligible.
Number of Award-Winning Projects: Up to two projects
Prize: US $3,000 per project
Deadline for Application: 15 July, 2022, 17:00 (Japanese Standard Time)
Award Ceremony: The scheduled date is 19 November, 2022. One representative of the winning project(s) will be invited to the Ceremony in Okayama, Japan to give a presentation. It has not been decided whether this will be held in-person or online.
 
View the Application Guide and Application Form, and for more details, please visit the official website.
 
Past information about the ESD Okayama Award can be viewed here.
Final Call: 2022 ProSPER.Net Membership Applications
Applications are closing soon for membership to ProSPER.Net for 2022. Membership is limited to higher education institutions located in the Asia-Pacific region that offer postgraduate education and research in sustainable development (SD) and in fields related to education for sustainable development (ESD). An affiliate membership category is also open to higher education institutions located outside the Asia-Pacific region who are interested in working together with the network for the benefit of the region. Read more about the application process and how to apply here. The deadline for applications is 31 May, 2022 (11:59pm JST).
Education in Climate Emergency: Ensuring Learning Continuity in Planned, Sudden and Massive Displacements
5 June, 2022, 18:00-19:00 (GMT+7)
UNU-IAS will co-organise a side event at the 2nd Asia-Pacific Regional Education Minister's Conference (APREMC II) in Bangkok, Thailand. The hybrid session will introduce key findings on climate change displacement and the right to education in Bangladesh, India, Indonesia, Tuvalu, and Viet Nam, based on joint research conducted by UNU-IAS and UNESCO. It will also provide data-driven actionable policy recommendations for minimising learning disruption of climate displaced persons, and feature a panel discussion with officials from the countries participating in the study. Read more
UNESCO Launches Brochure and Explanatory Note for 1-Year Anniversary of the Berlin Declaration on ESD
Nearly one year after the Berlin Declaration on Education for Sustainable Development was adopted by 2,800 education and environment stakeholders from 161 countries at the 2021 UNESCO World Conference on Education for Sustainable Development, UNESCO has published an Explanatory Note on the Berlin Declaration which can be used as a pedagogical tool in educational settings for teachers, educators, learners and all other interested parties.
 
A Brochure on the Berlin Declaration has also been published, with the aim of being disseminated to policy-makers in order to spread the message of the Declaration.
WHEC 2022: Experts Discuss Reimagining the Futures of Higher Education
On 18 May, 2022, Shinobu Yume Yamaguchi (Director, UNU-IAS) spoke on the role of higher education in the 2030 Agenda for Sustainable Development and beyond, as part of a roundtable session at the UNESCO World Higher Education Conference 2022 in Barcelona. The session, on the topic "Reimagining the Futures of Higher Education", explored the role of higher education within a new social contract for education. The roundtable focused on implications of the UNESCO report Reimagining Our Futures Together: A New Social Contract for Education for higher education. Read more
Panel Session Examines Climate Displacement & Access to Education in Asia-Pacific
On 21 April, 2022, UNU-IAS co-organised a panel session at the 66th Annual Conference of the Comparative and International Education Society (CIES 2022) discussing access to education and lifelong learning for climate displaced persons in Asia-Pacific. The session explored the results of a regional study that examined the impact of climate displacement on the right to education, as part of a global UNESCO initiative. Read more
WHEC Session Explores How Higher Education Can Build Capacity for the Paris Agreement
On 20 May, 2022, a UNU-IAS roundtable discussion at the UNESCO World Higher Education Conference 2022 (WHEC 2022) explored how to empower young leaders and build capacity for climate action. Held in Barcelona and online, it discussed the knowledge and skills needed to implement the Paris Agreement on climate change — the international commitment to limit global warming to well below 2°C and strive for 1.5°C. The session presented progress in developing a new UNU-IAS postgraduate degree specialisation on the Paris Agreement, gathering feedback and inputs. Read more
IAU Event Explores How COVID-19 Has Shaped the Future of Higher Education
A virtual side event as part of the UNESCO WHEC2022 Conference was held by the International Association of Universities (IAU) on 12 May, 2022. Following on from the Second IAU Global Survey Report on the Impact of COVID-19 on higher education conducted during 2021, the event brought together leaders from regional and national organisations and associations of universities to reflect on the results from the perspectives of their regions, as well as how the pandemic will shape the future of higher education. Read more
This is a publication of UNU-IAS ProSPER.Net Secretariat. The bulletin is a great way to share your activities, events and news as a ProSPER.Net member with the rest of the network. Feel free to send us any information you may deem relevant for the rest of the community by completing this form and emailing it to prospernet@unu.edu. We look forward to your inputs! Visit ProSPER.Net regularly for up-to-date news and event information.
ProSPER.Net Secretariat 
United Nations University 
Institute for the Advanced Study of Sustainability 
5-53-70 Jingumae, 
Shibuya-ku, Tokyo 150-8925 
Japan