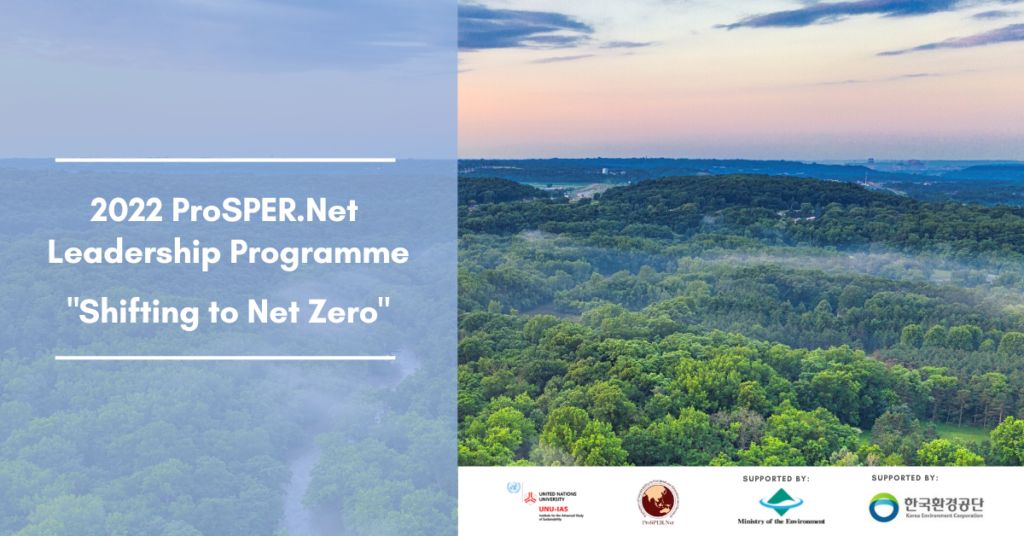 We are pleased to announce that the 2022 ProSPER.Net Leadership Programme will be held from 5th – 8th and 16th December, 2022, in a virtual format, hosted by UNU-IAS, supported by Ministry of the Environment, Japan and Korea Environment Corporation. The theme of this year's Leadership Programme is 'Shifting to Net Zero: Implementation strategies for net-zero transitions'.
The ProSPER.Net Leadership Programme (LP) is an opportunity to bring young professionals and emerging leaders in academia, the public sector, the business community, and civil society together to explore how education and training can be used across sectors to foster more sustainable societies in the Asia-Pacific region.
As States Parties aim to turn the 2020s into a decisive decade for climate action and support, breakthroughs towards halving global emissions by 2030 and transitioning to net zero economies by 2050 are underway. Achieving the net zero agenda necessitates an information exchange on successful policy implementations, innovative solutions for implementation, and demonstrated examples of climate leadership.
This year's LP, to be held online, aims at promoting climate leadership for solutions-oriented actions in diverse sectors drawn from effective net zero strategies across the world by incorporating climate action into leadership training.
Selected participants will attend a 5-day online training programme that will consist of lectures and workshops on a variety of topics related to strategies and policies for net zero implementation, and proven success factors and existing gaps towards achieving a decarbonised economy. Strategies to be discussed include energy efficiency, urban design, mass transit planning, and nature-based solutions such as reforestation and biodiversity conservation. Participants will be given an opportunity to interact with both facilitators and each other throughout the sessions, giving them space to reflect on their current practice, share their experiences with other participants, and build a collaborative solution to address identified climate issues in different communities.
Young and early career professionals in the Asia-Pacific region from the academic, public, private, or non-governmental organisation sector who are actively engaged in net zero and climate actions at various levels are encouraged to apply – this programme is designed for the express purpose of incorporating sustainable development planning into leadership training, and can be applied within any number of spheres, from city government and finance, to education and non-profit work. Those who want to garner skills to address gaps in their decarbonisation knowledge and implementation strategies within their work will also benefit from the LP.
Details:
Dates: 5th – 8th December (inclusive) and 16th December, 2022 (5 days in total)
Location: Online, using the Zoom platform (participants are requested to ensure they have access to Zoom and a stable internet connection during the event dates).
Participation fee: Free
Registration: **Applications are now closed.**
Selection criteria:
Participants will be selected on the basis of a written application, according to the following criteria:
Young professionals and emerging leaders from academic, public, private, and civil society sectors working in the Asia-Pacific region. All ages are eligible to apply but priority will be given to those aged 35 or under as of the application deadline (21 October, 2022)
High proficiency in written and spoken English language
An advanced understanding of sustainability, net zero emissions approaches or climate action, and its relevance to his/her own work
Demonstrated leadership skills and ability to work in a team environment
For any enquiries about the 2022 ProSPER.Net Leadership Programme, please contact the ProSPER.Net Secretariat at prospernet.lp@unu.edu.
---
Documents