Every year, Japanese universities meet at the Higher Education for Sustainable Development (HESD) Forum to promote Education for Sustainable Development (ESD). The HESD Forum is the biggest meeting in Japan of its kind. 30 participants from HESD member universities attended the Forum at Ritsumeikan University, Japan, on the Shiga Campus. Although the meeting is closed to the public, it has proven to be very effective for universities to discuss current ESD topics, and plan future ESD strategies.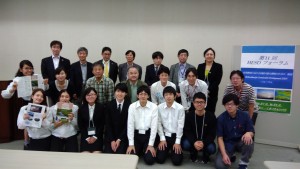 Naoya Tsukamoto (Director of the ESD Prorgamme at UNU-IAS) held a presentation on ProSPER.Net describing the various benefits of its membership as well as activities led by the network such as the annual Leadership Programme. Different experiences in ESD were shared by the universities.
During the discussions, it appeared that there were three general forms of implementing ESD on the higher education level:
1) ESD is an officially certified secondary major
2) ESD is offered as a separate certified faculty course
3) ESD is part of a larger project such as the 'sustainable campus'.
Most universities work with the local community on different ESD activities, and all participants were keen to learn more about the Sustainable Development Goals (SDGs) and how to implement these locally. The common challenges were how to motivate students and staff, lack of resources and teaching materials, and budgeting issues.
Most of the universities take part in international exchanges, where students learn about ESD in a developing country or conduct a research project. The major challenge to attract students to join these activities is the ability to speak English. Many students felt their English was not good enough to be eligible. Often lectures and discussions tended to be of lower quality due to the limited English, compared to the Japanese teachings they received at home on similar subjects.
Some interesting points emerged from the discussion. Most of the ESD activities were done on the undergraduate level, as graduate students appear to be more focused on their individual research. Undergraduates also seemed to be more interested in ESD in general and more innovative in the way they approach it. Organisational arrangements to sustain ESD among generations of faculty staff were also deemed important to keep ESD activities within the institutions long-term.
Photos will soon be uploaded on facebook.