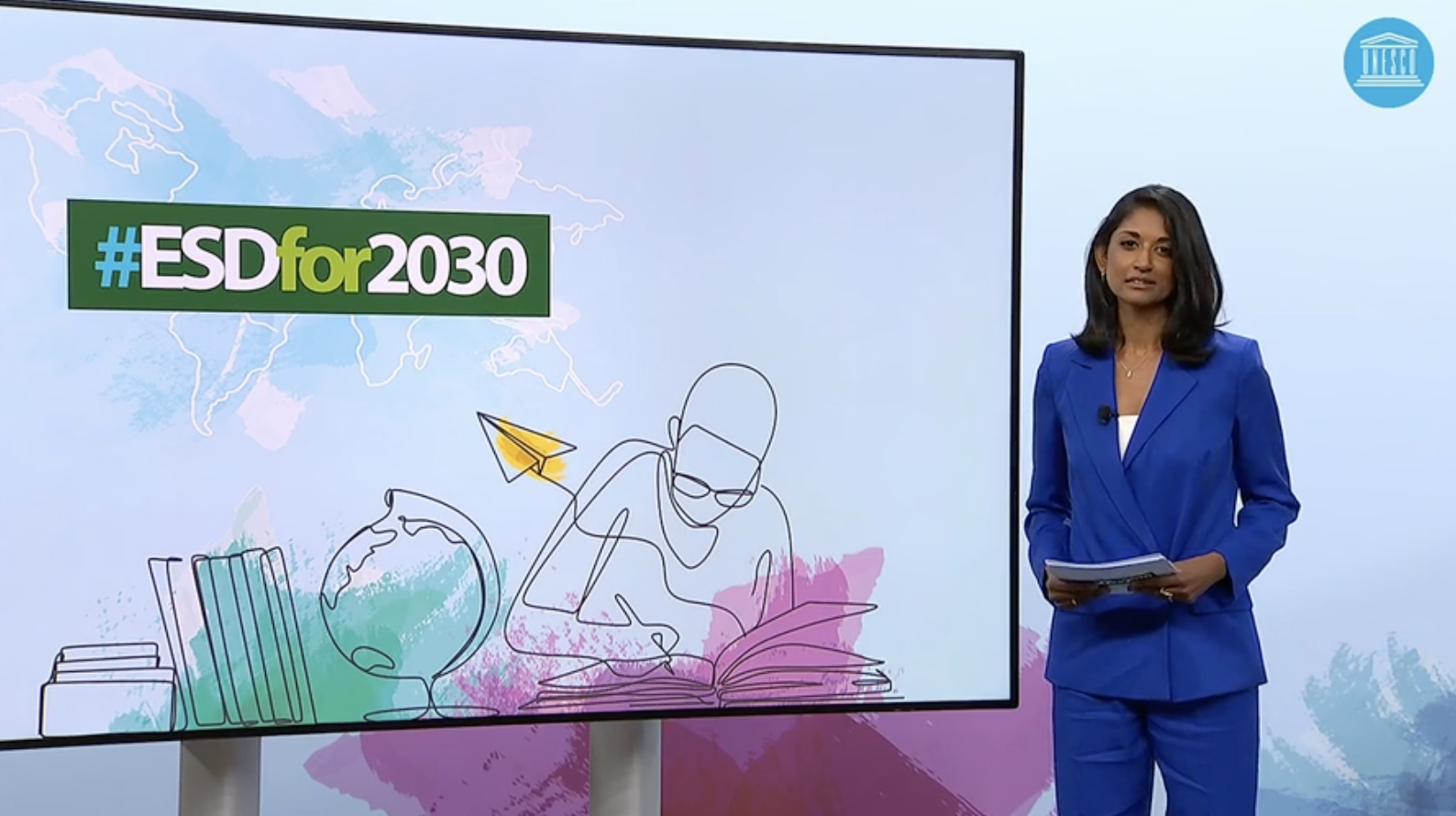 The UNESCO Conference on Education for Sustainable Development, held virtually from 17-19 May, 2021, gathered more than 2,800 participants from 161 countries together, including decision-makers and those in the education for sustainable development (ESD) community across the globe (with an additional 10,000 viewers on the public livestream) to mobilise support for ESD for 2030 and commit to plans for action via the Berlin Declaration on Education for Sustainable Development.
Organised by UNESCO in cooperation with and supported by the Federal Ministry of Education and Research of Germany, with the German Commission for UNESCO as advisory partner, over three days participants were inspired across keynote speeches, plenary sessions, and roundtable and panel discussions to delve into how ESD can foster change towards sustainability. Ministers from Members States shared their country-level plans, challenges and commitments to drive forward the ESD for 2030 roadmap. Sessions and virtual booths presented innovative projects and good practices, bringing to the fore new ideas and applications of ESD.
A report launched at the event, "Learn for our Planet", analysed the extent to which environmental curricula is embedded in UNESCO Member States. The report reveals that climate change was mentioned in only 47% of policy and curriculum documents analysed in the study, and biodiversity even less so (19%). These findings underline the significant transformations needed in which ESD can play a leading role.
This crucial role for ESD needs to focus on equipping learners with the tools to tackle the environmental challenges the world faces. Recognising SDG as a key enabler for the achievement of all SDGs, the task now is to upscale and mainstream ESD so that all learners can be empowered and equipped with the knowledge, skills, and values to take action and become change agents, along with societal transformation to address the current and future challenges.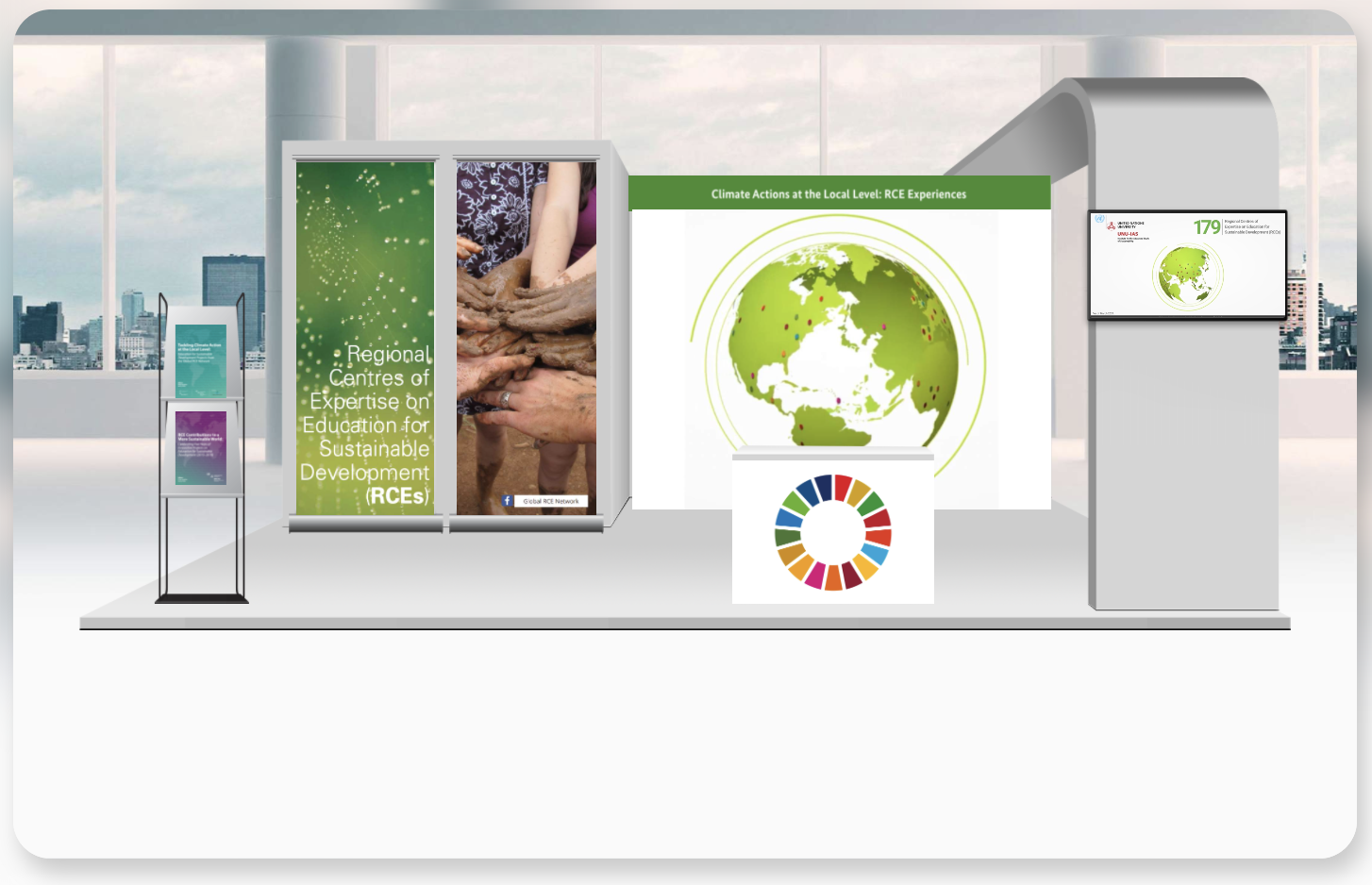 Within the Conference, on Day 2 UNU-IAS participated with a virtual booth and live session, titled "Climate actions at the local level: RCE experiences", in which Dr. Philip Vaughter (Research Fellow, UNU-IAS) spoke about the challenges in climate change education in formal school curriculums, including the focus on low impact actions as opposed to those which have greater impact or address adaptation.
The session also introduced participants to how RCEs have delivered innovative solutions towards climate action through quality education, working together with institutions at the local level, with examples given from the recently launched publication, "Tackling Climate Action at the Local Level: Education for Sustainable Development Projects from the Global RCE Network" and video, demonstrating examples of successful approaches for implementation and of moderate to high impact actions.
UNU-IAS also contributed to two other sessions on Day 3 – the first, "Putting ESD into action A (Part II)", moderated by Dr. Fumiko Noguchi (Research Fellow, UNU-IAS), focused on Priority Action Area 5 (Accelerating local level actions) which looked at how ESD can be implemented at the local level. The session brought together five speakers from various sectors including city governments, NGOs, Ministry and Higher Education, with speakers sharing good practices and ESD tools before discussing the way forward, focusing on the role of communities.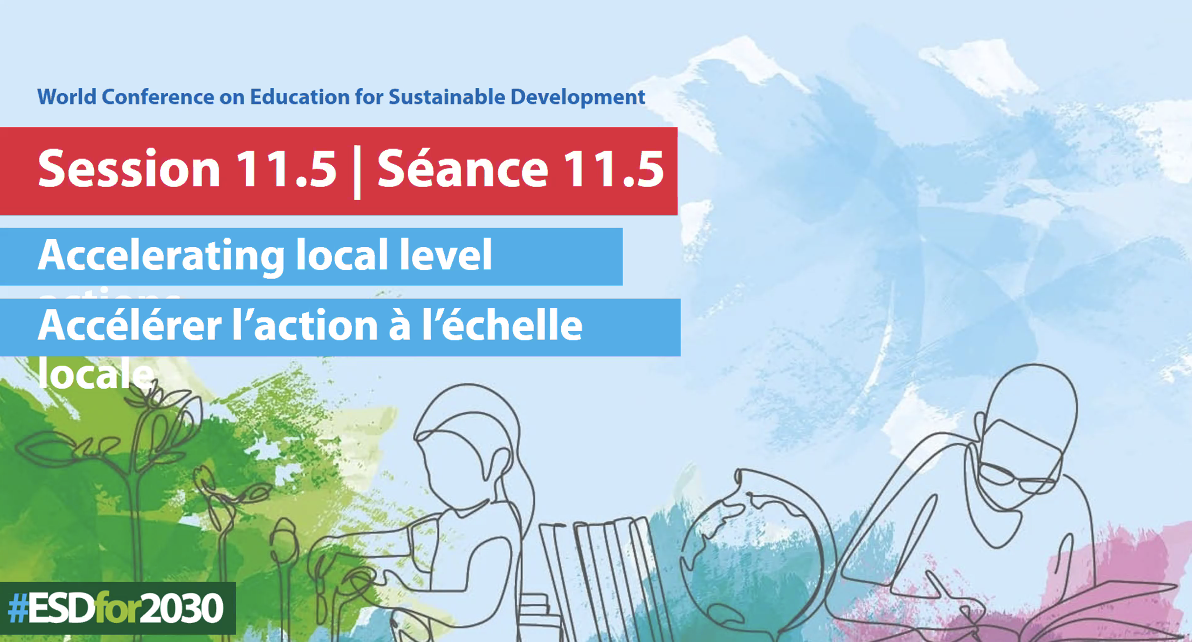 Christian Specht (First Deputy Mayor, City of Mannheim), spoke about the classes his city offers for children that connect issues with their everyday lives, such as those on waste management and smart phones, whereby learners are guided in the exploration of raw materials and supply chains, which seek to instil an understanding of the power of choices as consumers and citizens.
Dr. Eunkyung Park (Chairperson TY ESD Foundation, RCE Tongyeong) shared RCE Tongyeong's journey as an RCE and their vision of a sustainable community driven by learning, sharing, and the partnerships they have developed, as well as their strong collaborations with teachers, development of ESD curricula, and Bridge to the World program where students can experience environmental issues at other RCEs around the world.
In the second session, "Putting ESD into action B – ESD in Higher Education", the role of higher education as a key actor for SDG 4 was highlighted – particularly in the areas of teaching, research, and campus operations – as was their unique position to advocate for the importance of ESD to local governments.
Dr. Katja Brundiers (Clinical Assistant Professor, School of Sustainability, Arizona State University) presented on key competencies in sustainability and the results of a Delphi Study to explore the convergence on these competencies over the last 10 years. In the second part of the session, presenters delved into how associations and organisations can engage. Acknowledging the role of alliances and associations within the higher education sector,
Dr. Jonghwi Park (Head of Academic Programme, UNU-IAS) shared the role of networks, in particular the Global RCE Network, to advance sustainable development at the local level by leveraging multi-stakeholder partnerships (MSPs). In an analysis of RCE projects conducted under the Global Action Programme (GAP) on ESD, it was found that 54% were led by higher education institutions (HEIs) with three in five targeting community actions, demonstrating the opportunities for HEIs to mobilise ESD efforts via MSPs in local communities.
Throughout the Conference, it was apparent that not only is a whole-sector approach needed, both through policy and curriculum, but cross-sectoral collaboration is also vital. Digital and green technologies should also be harnessed in order to drive these commitments forward.
In addition, resources are needed to get schools online, as well as investment in the capacity building of teachers. Knowledge sharing is a critical element, as is learning from local and Indigenous knowledge, and ensuring the active participation of youth.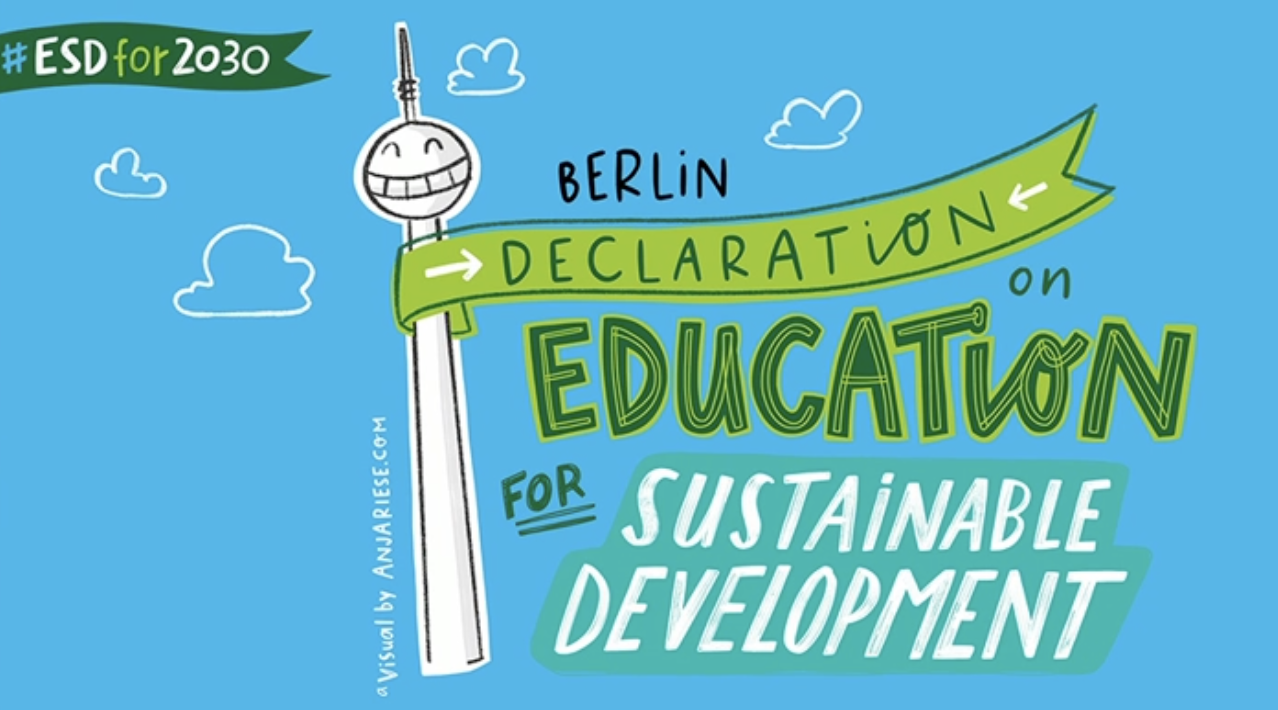 Over the three days, the Conference underscored the urgency with which steps need to be taken, including strong leadership to transform education and to ensure ESD is embedded as a foundational element in education systems worldwide.
The Conference ended with the Berlin Declaration on Education for Sustainable Development being adopted, which calls for urgent action to accelerate sustainability and climate action through education, with a commitment to ESD. This commitment will be taken forward via other key processes such as COP26 this year in Glasgow and others towards 2030.
For more information about the UNESCO World Conference on ESD or to watch streams of various sessions, visit the event page here.
(Photo sources: UNESCO, 2021)