(Report submitted by Chulalongkorn University, edits by ProSPER.Net Secretariat)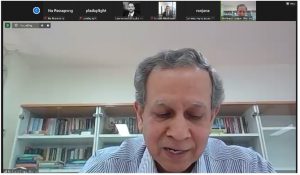 The SDGs conference took place virtually on 18 August 2021 (11.00–13.15), hosted by HuSE-Chulalongkorn University, Keio University, TERI School of Advanced Studies, Universiti Sains Malaysia, Universitas Gadjah Mada, University of the Philippines Diliman and in collaboration with UNESCO Thailand, ProSPER.Net, and UNU-IAS. The event brought together six speakers of the case study report from 'Development of A Framework for the Local Implementation of the SDGs – Phase II', the ProSPER.Net, UNU-IAS and UNESCO Joint Project, and over 60 participants from 10 countries in the Asian region. The virtual conference included a message from ProSPER.Net (Prof. Dr. Deepak Sharma), a special speech from ProSPER.Net/UNU-IAS (Prof. Dr. Mario T. Tabucanon), discussant from Dr. Fumiko Noguchi from UNU-IAS, and Assoc. Prof. Dr. Somporn Chuauaree from the Prince of Songkla University.

In opening welcomes, Prof. Dr. Chakkaphan Sutthirat (Vice Present for Research Affairs, Chulalongkorn University), welcomed all speakers and participants to the virtual conference, speaking about implementing SDGs as well as leaving no one behind, local community development, and climate justices. In opening messages, Prof. Dr. Deepak Sharma (ProSPER.Net Board Chair) highlighted that the SDGs cooperation between countries, which can help implement the projects in the local community. In his special speech, Prof. Dr. Mario T. Tacucanon (ProSPER.Net/UNU-IAS) demonstrated that the SDG 4 – quality education and SDG 17 – Partnership for the Goals, which focuses on the HEIs' interlinkages (i.e. science-driven and policy-government-driven), interactions, implementation roadmap, and sustainable-oriented transformative education for localising to achieve the SDGs.
In studying reports, Prof. Dr. Nestor Castro (University of the Philippines) shared the high interest in the SDGs by local governments provided to join the projects, and universities, NGOs, and community affairs office. Prof. Dr. Smritidas (India) discussed the implementations of the policy guidelines as "engagement" but no "outreach" to foster social responsibility in the HEIs. Thus, Prof. Dr. Nanung Agus (Universitas Gadjah Mada, Indonesia) pointed out that ensuring the knowledge transfer of the SDGs into the community, and fund support will increase success of cooperation. In their reports, implemented by research, Dr. Normaliza Abdul Manaf (Universiti Sains Malaysia, Malaysia) indicated that grand opportunities, policy support, reputations, and locations are engaged with the community, GA, IHL, and NGO/CSR. Similarly, Dr. Tarek Katramiz (Keio University, Japan) shared that provision of funding can help facilitate research activities between universities and stakeholders (i.e. local government, NGOs/NPOs, and companies).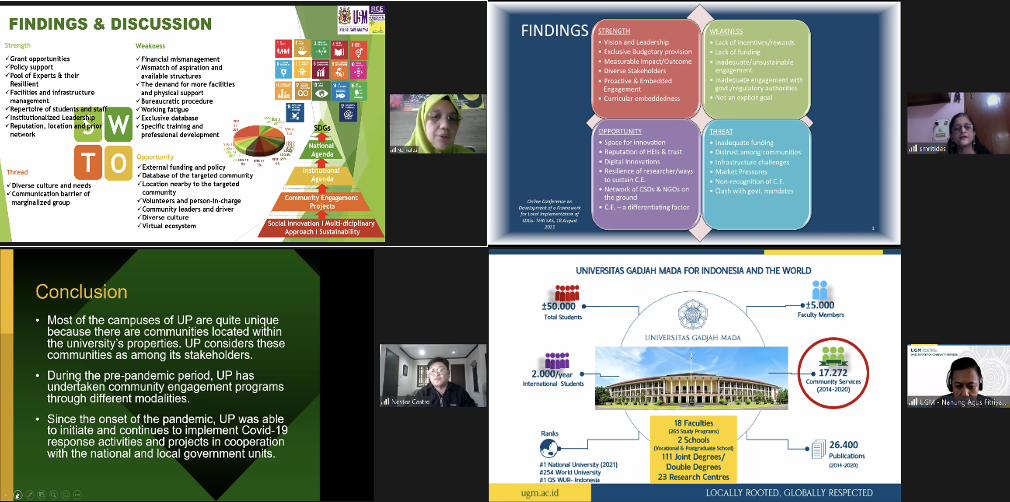 To bring the framework for implementation at the community level, Dr. Katramiz also suggested development of the HEIs curriculum of the SDGs, which can exist on thenetworks, and collaborates with university-community engagement. According to Assist. Dr. Sayamol Charoenratana (Chulalongkorn University, Thailand) it was illustrated that SDGs implementation in community engagement can be involved in university policy and national policy. However, Dr. Charoenratana also discussed a Thai case study on the SDGs in order to foster and support bottom-up implementation in the community levels. There are opportunities, however – Dr. Fumiko Noguchi (UNU-IAS, Japan) recommended that the new role of the HEIs for sustainable development should be associated with knowledge creation, developing methods and knowledge production systems.
A panel discussion was then moderated by Prof. Dr. Irgan Dwidya Prijambaba (Universitas Gadjah Mada, Indonesia): Local implementation of the SDGs frameworks. Looking at the role of the GIS platform, Assoc. Prof. Dr. Somporn Chuauaree (Prince of Songkla University, Thailand), integrated all activities on SDGs as one map, which can motivate SDGs to the local community. Dr. Kay Phanthuswongpakdee (Thammasat University, Thailand) spoke about implementing the SDGs into curriculum, research, activities and training. Dr. Rini Solihat (Universitas Pendidikan Indonesia, Indonesia) outlined teaching and learning for developing a future together in community engagement practices as well as political, economic, cultural, social, technological, and environmental factors.
In closing, Dr. Ushio Miura (UNESCO, Thailand) summarised that education for sustainable development is the way forward, the transformational power of education, reflecting that quality of education, and evaluation frameworks. Assoc. Prof. Dr. Narumon Arunotai (Chulalongkorn University, Thailand) concluded, noting participations in local action plans in pursuit of achieving the SDGs in the local community.