Hosted by Chulalongkorn University and the Korean Foundation for Advanced Studies, the Bangkok Forum, the first international conference on social sustainability held in Thailand, took place from 24-25 October, 2018 at Chulalongkorn University, Bangkok, Thailand. This year's theme focused on 'Integrating Knowledge for Social Sustainability', with the aim of strengthening the region through collaborations and inclusiveness for a sustainable Asia.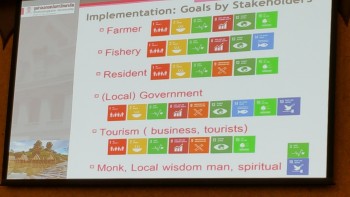 ProSPER.Net held a session titled 'Development of a Framework for the Local Implementation of the Sustainable Development Goals (SDGs)' chaired by Prof. Dr. Mario Tabucanon, (UNU-IAS). The presenters at the session were Dr. Mari Kosaka (Keio University, Japan), Dr. Sayamol Charoenratana (Chulalongkorn University, Thailand), Prof. Dr. Nestor Castro (University of the Philippines-Diliman, Philippines), and Assoc. Prof. Dr. Smriti Das (TERI School of Advanced Studies), with Ms. Ushio Miura (UNESCO Bangkok) present as discussant.
The panellists shared their findings from implementation of the ProSPER.Net joint project for localising the SDGs in Japan (Keio University), Thailand (Chulalongkorn University), Philippines (University of the Philippines-Diliman), and India (TERI School of Advanced Studies), supported by UNESCO Bangkok. The case study from Japan covered rural livelihoods and depopulation, with interviews and workshops leading to curricula for local SDG implementation for Keio University students and middle school students in Toyooka. In Thailand, rural livelihoods was also the theme looked at, with focus group interviews, a community workshop, and observation methods resulting in project learning for the local residents and tools to transform academic knowledge into community knowledge. The case study from the Philippines focused on urban livelihoods, with workshops resulting in the development of learning modules on the SDGs for incorporation into Social studies and Social Science subjects at elementary and junior high levels, as well as non-formal education. In India, the focus was also on urban livelihoods, with a perception survey, stakeholder interviews, and Gap analysis aiding in the development of a MA curriculum framework on local SDG implementation.
Ms. Ushio Miura commented that despite differences in each community and methods used, each case study posed questions in the community around SDGs in different ways. This results in learning taking place for everyone involved, and promotes innovative, participatory, experiential, action-based teaching and learning with a focus on reflection and action.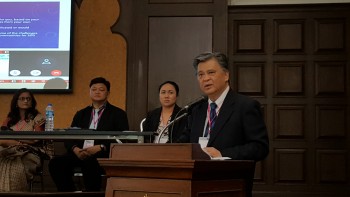 Dr. Tabucanon concluded the session by reiterating the importance of community outreach in this age of sustainable development, and the concept of co-production of knowledge with local stakeholders to build curriculum for students and create a sustainable society. He also reflected on the urban-rural situation within the case studies, which all emphasised multi-stakeholder engagement and local values embedded into the localisation of the SDGs. The ProSPER.Net Secretariat would like to thank UNESCO Bangkok for their technical and financial support for the project and panel session.
This article was based on the summary of the Bangkok Forum panel discussion which was jointly prepared by the panellists, discussant and the ESD Teams of UNESCO Bangkok and UNU-IAS.
Photo credits: Dr. Somporn Kamolsiripichaiporn