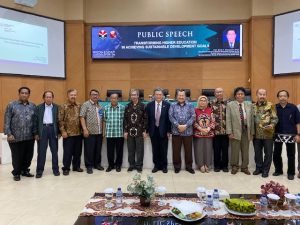 The 11th ASEAN+3 Leadership Programme on Sustainable Consumption and Production took place from 11-14 November, 2019 in Bandung, Indonesia. Organised by the Ministry of Environment and Forestry of Indonesia, the ASEAN Secretariat, and the Hanns Seidel Foundation (Jakarta and Hanoi Offices), this annual programme (run since 2008) has provided leadership training to key target groups, including government officials to raise awareness and inspire action on Sustainable Consumption and Production (SCP).
Senior Visiting Professor Mario Tabucanon, UNU-IAS delivered a keynote plenary presentation on 'Redefining Education for Sustainable Consumption and Production' and moderated the plenary session presenting the group discussions on 'SCP opportunities' and 'SCP solutions'. Participants learned about the concepts, policy and actions (sharing of country practices) on SCP in the context of the UN SDGs and the ASEAN Community Vision 2025.
During his time in Bandung, Professor Tabucanon gave public lectures to two ProSPER.Net member universities (Universitas Pendidikan Indonesia and the Institut Teknologi Bandung) on the topic 'Transforming Higher Education for Achieving the Sustainable Development Goals' on 13 November, 2019. Faculty and students attending learned about ESD, SD, principles and guidelines for integrating sustainability into curricula, whilst also learning further about the ProSPER.Net network.
(Photo credit: UNU-IAS)