ProSPER.Net E-Bulletin Issue 94 (November 2020)
Message from the ProSPER.Net Secretariat
Dear Colleagues and Friends,
Greetings from the ProSPER.Net Secretariat! As we approach the end of this year, it has been so encouraging to see the transformations made to adapt to the current circumstances within member institutions, as well as the continued determination, enthusiasm, and actions from across the network, including the joint research projects, as we move towards 'ESD for 2030' and look ahead to 2021.
As we prepare for next year, a reminder that we are now accepting nominations for hosting the 2021 ProSPER.Net Leadership Programme. Details on how to submit interest in hosting this event can be found below.
Should you have any news, open calls, upcoming events, or publications you wish to share via this bulletin, please complete this form and email your submission to the ProSPER.Net Secretariat at ProSPERNet@unu.edu (submissions close on the 15th of each month).
Sincerely,
ProSPER.Net Secretariat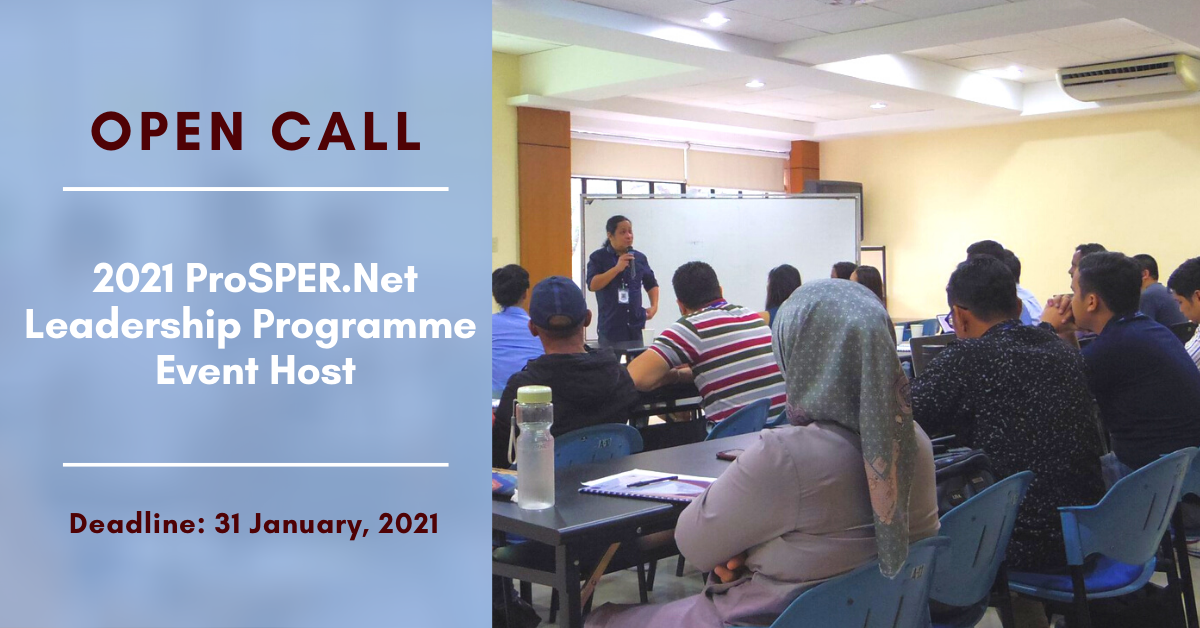 Call For 2021 ProSPER.Net Event Host: Leadership Programme
The ProSPER.Net Secretariat would like to invite members to submit self-nominations to host the ProSPER.Net Leadership Programme for 2021.
Over the years, the network members have taken turns in hosting the Leadership Programme. Hosting ProSPER.Net programmes/events gives the host institute a great opportunity for networking, promotion and capacity building.
Member institutions interested in hosting can self-nominate by sending an official letter to the ProSPER.Net Secretariat. A hosting member may invite other ProSPER.Net members located in neighboring areas to co- host. In order to aid in the selection process, the following information should be included in the application letter:
• Proposed dates
• Location and capacity of proposed venue (please note, the proposal is to cover an in-person event, with an online event as a back-up, due to uncertainty related to the COVID-19 pandemic)
• Proposed theme
• Tentative sources of funding (details on budget plan)
• Contact person(s) with relevant assigned tasks and/or responsibilities
The ProSPER.Net Secretariat will gladly assist in designing an event programme and coordinating a timeline. Please note however, the event host is requested to cover the organisational costs in most cases.
Members interested in hosting the ProSPER.Net Leadership Programme are requested to submit an official letter of interest to the ProSPER.Net Secretariat (ProSPERNet@unu.edu) by Sunday 31 January, 2021.
Call for Nominations: 2020 UNESCO King Hamad Bin Isa Al-Khalifa Prize for the Use of ICT in Education
Individuals, institutions, non-governmental organisations (NGOs) or other entities are invited to apply for the 2020 UNESCO King Hamad Bin Isa Al-Khalifa Prize for the use of ICT in education. This year's theme is "the use of Artificial Intelligence (AI) to enhance the continuity and quality of learning". The Prize will award US $25,000 each to two innovative projects leveraging new technologies to expand educational opportunities. Special attention will be given to projects that provide access to education in remote areas or aim to improve the availability and affordability of connectivity for education and learning. The deadline for submissions is 18 December, 2020 (midnight, Paris time), and the Prize will be awarded in April 2021. All projects should be nominated by a National Commission for UNESCO or an NGO in official partnership with UNESCO. Note that self-nominations will not be accepted. Further details, including selection criteria and eligibility are available here.
Bridging the Gap between Practice and Policy to Enhance HEIs' Capacities for Localising SDGs
The ownership of the implementation of the UN Sustainable Development Goals (SDGs) by local authorities and communities, civil society and the scientific and academic community is vital to the realisation of goals. Many countries promote partnership and local implementation at the national level as a policy and action plan. Furthermore, local authorities and communities at the local level need more concrete practices to implement the SDGs.
According to Phase I of the project 'Development of a Framework for the Local Implementation of the SDGs' (a joint project supported by ProSPER.Net), Higher Education Institutions (HEIs) can play a key role in this endeavour by supporting local authorities and communities through educational and research activities. Based on the achievements and the lessons learned from Japan, India, the Philippines and Thailand, Phase II of the project emphasises the exploration of a wider range of existing practices including methods and methodologies of collaboration between HEIs and communities. Read more
ESD for 2030 Roadmap Published by UNESCO
Following on from the Global Action Programme on ESD (GAP) from 2015-2019, the 'Education for Sustainable Development: Towards Achieving the SDGs (ESD for 2030)' framework was adopted, which will step up actions on five priority action areas.
The 'Education for Sustainable Development' roadmap, recently launched by UNESCO, provides guidance for Member States and other stakeholders for the implementation of the new global framework, focusing on ESD's role in the achievement of the SDGs as we move towards 2030. Download the roadmap here.
This is a publication of UNU-IAS ProSPER.Net Secretariat. The bulletin is a great way to share your activities, events and news as a ProSPER.Net member with the rest of the network. Feel free to send us any information you may deem relevant for the rest of the community by completing this form and emailing it to prospernet@unu.edu. We look forward to your inputs! Visit ProSPER.Net regularly for up-to-date news and event information.
ProSPER.Net Secretariat
United Nations University
Institute for the Advanced Study of Sustainability
5-53-70 Jingumae,
Shibuya-ku, Tokyo 150-8925
Japan