ProSPER.Net E-Bulletin Issue 93 (October 2020)
Message from the ProSPER.Net Secretariat
Dear Colleagues and Friends,
Greetings from the ProSPER.Net Secretariat! We hope you and your communities are staying well.
We would like to start off by thanking all participants of the recent ProSPER.Net General Assembly and Board Meeting, and extend a warm welcome to the new Board Chair, Prof. Deepak Sharma, and Board Vice-Chair, Prof. Miki Sugimura, as well as the three new members joining the network: Sree Sankaracharya University of Sanskrit (India), Sophia University (Japan), and Universiti Teknologi Petronas (Malaysia), bringing the total number of members to 50! Please see below for a link to the full report of the meeting.
We would also like to thank all participants of the ProSPER.Net Webinar on Sustainability in Higher Education which took place on 16 October, 2020, whereby our panel addressed a wide range of issues on sustainability in higher education, including the pandemic's impacts on the SDGs, along with strategies affecting research, education, outreach and how institutions can coordinate within, to build back better. Please see below for a link to the full report of the event.
On another note, we are now accepting nominations for hosting the 2021 ProSPER.Net Leadership Programme. Details on how to submit interest in hosting this event can be found below.
Finally, if you have any news, open calls, upcoming events, or publications to share via this bulletin, we would love to hear from you! Please complete this form and email your submission to the ProSPER.Net Secretariat at ProSPERNet@unu.edu (submissions close on the 15th of each month). 
Sincerely,
ProSPER.Net Secretariat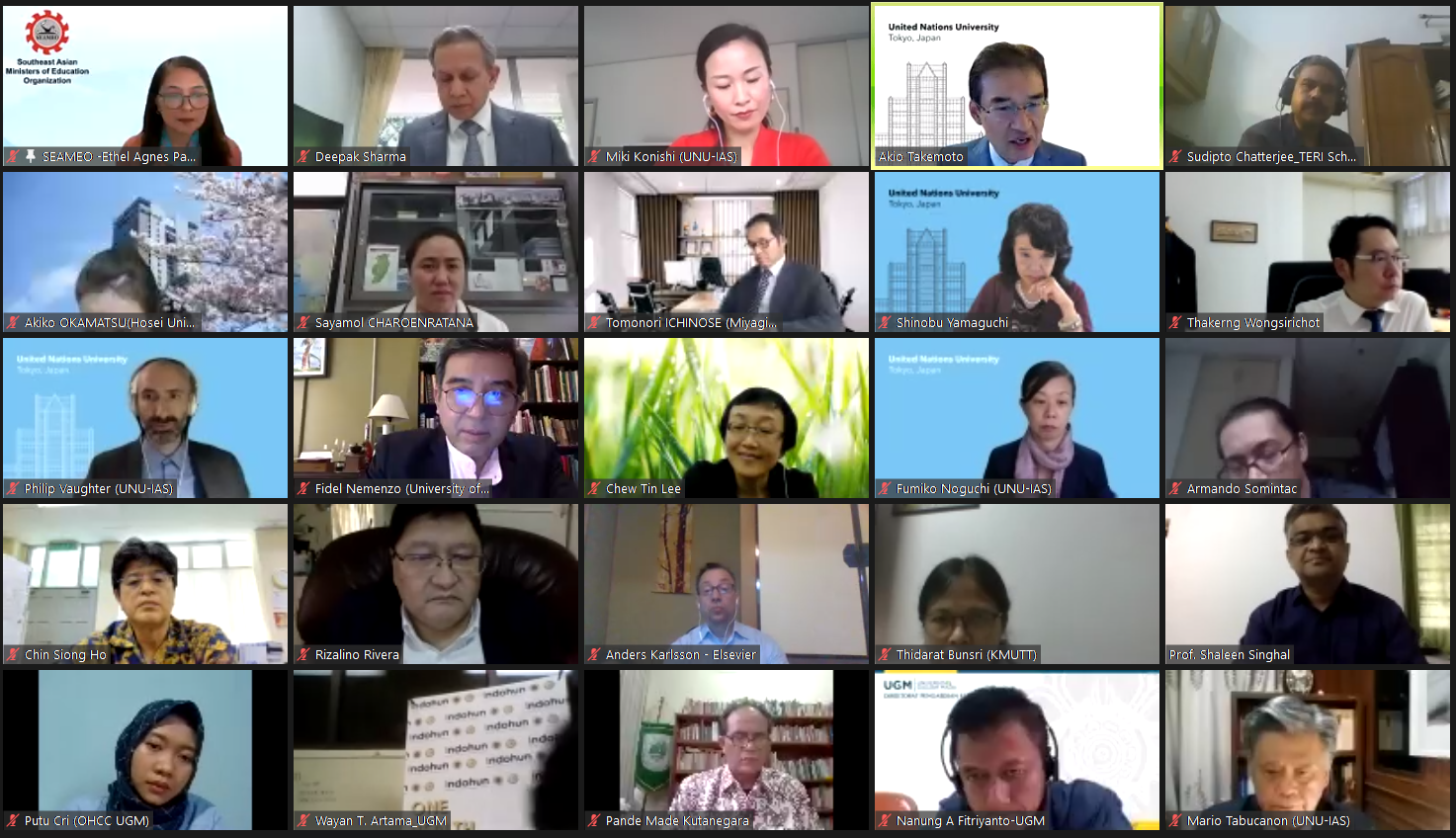 ProSPER.Net Virtual Joint Meetings Conducted for 2020, Network Grows to 50 Members
On 15 October, 2020, the ProSPER.Net Joint Meetings - the 14th General Assembly and 20th Board Meeting were held online, hosted by UNU-IAS. Close to 50 representatives from the network attended the annual meeting, held virtually this year due to the ongoing pandemic. Among the items discussed at the meeting were new member applications, new board members for the period 2020-2022, and reports of ongoing ProSPER.Net joint research projects.
The ProSPER.Net Secretariat would like to congratulate the three new members to the network (Sree Sankaracharya University of Sanskrit, Sophia University, and Universiti Teknologi Petronas) and Prof. Deepak Sharma and Prof. Miki Sugimura on their appointments to the Board Chair and Board Vice-Chair roles respectively, as well as thank Prof. Norichika Kanie, the outgoing Board Chair for his contributions over the last four years. The Secretariat would also like to thank all attendees for their active contributions and participation in this meeting.
A full summary of the meeting is available here.
ProSPER.Net Webinar on Sustainability in Higher Education Explores Challenges and Opportunities During COVID-19
Organised by the United Nations University Institute for the Advanced Study of Sustainability (UNU-IAS), the ProSPER.Net Webinar on Sustainability in Higher Education was held on 16 October, 2020, under the theme 'Accelerating transition towards achieving the SDGs during and after the COVID-19 pandemic'.
Bringing together over 160 participants worldwide, the event featured an esteemed panel across the higher education sector, who shared their experiences along with the challenges and opportunities for higher education institutions from a short, mid-term and long-term perspective during and post the COVID-19 era. The session also provided the opportunity to explore options for the academic and science communities to "build back better" in order to accelerate actions toward achieving the SDGs. Read more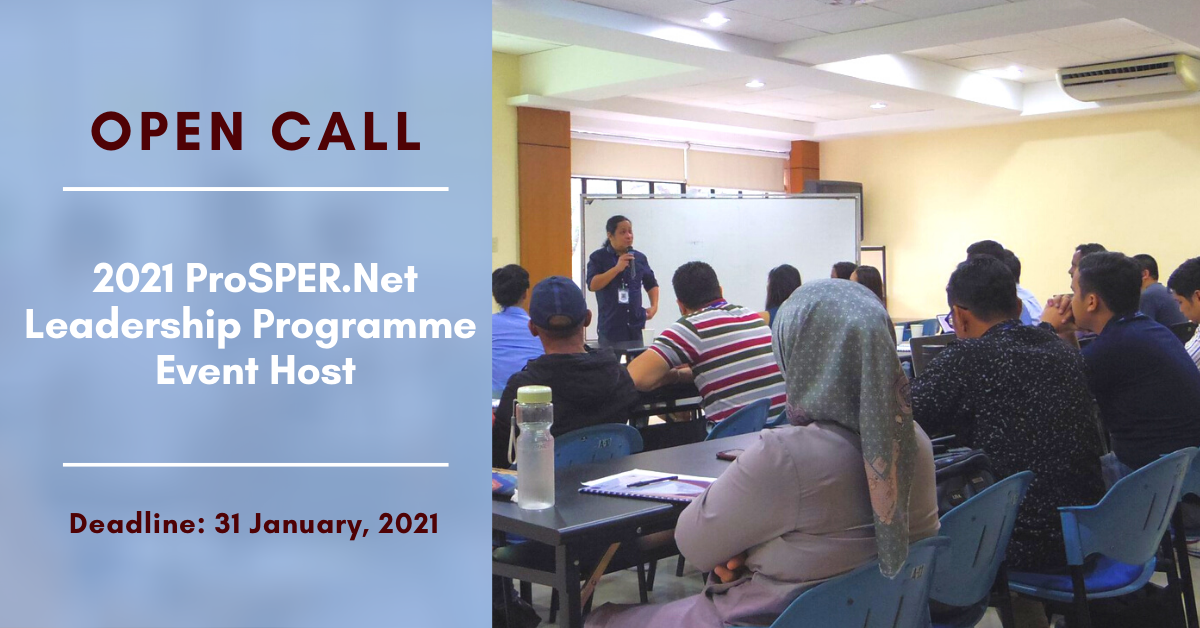 Call For 2021 ProSPER.Net Event Host: Leadership Programme
The ProSPER.Net Secretariat would like to invite members to submit self-nominations to host the ProSPER.Net Leadership Programme for 2021.
Over the years, the network members have taken turns in hosting the Leadership Programme. Hosting ProSPER.Net programmes/events gives the host institute a great opportunity for networking, promotion and capacity building.
Member institutions interested in hosting can self-nominate by sending an official letter to the ProSPER.Net Secretariat. A hosting member may invite other ProSPER.Net members located in neighboring areas to co- host. In order to aid in the selection process, the following information should be included in the application letter:
• Proposed dates
• Location and capacity of proposed venue (please note, the proposal is to cover an in-person event, with an online event as a back-up, due to uncertainty related to the COVID-19 pandemic)
• Proposed theme
• Tentative sources of funding (details on budget plan)
• Contact person(s) with relevant assigned tasks and/or responsibilities
The ProSPER.Net Secretariat will gladly assist in designing an event programme and coordinating a timeline. Please note however, the event host is requested to cover the organisational costs in most cases.
Members interested in hosting the ProSPER.Net Leadership Programme are requested to submit an official letter of interest to the ProSPER.Net Secretariat (ProSPERNet@unu.edu) by Sunday 31 January, 2021.
Virtual Roundtables on Education 
In light of the COVID-19 pandemic and the onset of an education crisis leaving 1.5 billion+ learners the world over out of school, the UNESCO Mahatma Gandhi Institute of Education for Peace and Sustainable Development (MGIEP) has recently launched a new initiative to solicit voices of key stakeholders in education who have been impacted most by this crisis – i.e. the students, parents and teachers. The initiative, titled 'Virtual round tables on education' aims to gather opinions by these key focus groups on the future of education. Key findings from these discussions will contribute towards MGIEP's International Science and Evidence-based Education (ISEE) Assessment as well as UNESCO's Futures of Education initiatives.
From September – November, 2020, a series of online discussions will be organised with students, parents and teachers from the five UNESCO regions (i.e. Africa, the Arab States, Asia and the Pacific, Europe and North America, Latin America and the Caribbean). MGIEP is currently looking for active participation from students between the ages of 12-18 from Africa, the Arab States, Europe, Latin America and the Caribbean. In order to be a part of the discussions, interested stakeholders can submit their applications here.
Further details can be found on the webpage here.
Challenge Campus 2030 – Edition 2 
Calling students and university professors and researchers – the 2nd edition of the Challenge Campus 2030 is calling for projects to submit their vision for a campus of 2030; one that has achieved all 17 SDGs. Organised by Agence Universitaire de la Francophonie (AUF), the United Nations Regional Information Centre (UNRIC), and Agorize, projects can fall under one of three themes: Student Life, The Campus in the City, or New Educational Issues. Find out more about the challenge and how to participate here.
Regional Online Launches of ESD for 2030 Roadmap
UNESCO is organising a series of regional online launch events of the ESD for 2030 Roadmap which provides guidance for Member States and other stakeholders for the implementation of the new global framework 'Education for Sustainable Development: Towards achieving the SDGs' (ESD for 2030). See the links below for details on how to register for each event:
• Asia and the Pacific region: 19 November 2020, 08:00–09:15 (Paris time)
• Latin America and the Caribbean: 20 November 2020, 16:00–17:15 (Paris time)
• Arab States region: 24 November 2020, 15:00–16:15 (Paris time)
• Africa region: 26 November 2020, 14:30–16:15 (Paris time)
• Europe and North America: 1 December 2020, 15:00–16:15 (Paris time)
UNESCO Online Workshop #1: The Transformative Power of Education for Sustainable Development for the World beyond COVID-19 
On 9 September, 2020, the first of seven online pre-conference workshops for the UNESCO World Conference on Education for Sustainable Development was held. The event was a joint thinking process, whereby participants shared their visions and perspectives on what Education should look like, beyond the pandemic. Read the summary from UNESCO here.
UNESCO Launches Trash Hack Campaign
On 19 September, 2020 for World Cleanup Day, UNESCO launched the Trash Hack campaign to encourage young people to learn about sustainability through tackling waste. Find out more and how to get involved here.
Report: Mapping Research to Advance the SDGs
A new report from Elsevier, 'The Power of Data to Advance the SDGs', offers unique insights and initiatives, many developed together with partners, to map the state of research within each SDG area, revealing gaps and strengths to support the UN's 2030 SDGs. Read more
19th Gender Summit - Global for SDGs Held in August
In August 2020, the 19th Gender Summit - Global for SDGs was held as a hybrid summit, online and in Seoul. The objective of the summit was to involve experts in gender-SDG areas to identify gender knowledge that can be applied, as well as the knowledge that is still missing but is necessary to accelerate progress across all SDGs during the Decade of Action, ensuring that the improvement made will benefit women and men equally. All talks presented are available for free on Elsevier's Researcher Academy website here.
Sustainability Science Hub: Using Data to Drive Action on the UN SDGs
Elsevier recently launched a Sustainability Science Hub, offering free access to analytical reports, data sets, tools and other resources for sustainable development. Access it here.
RELX – Elsevier SDG Resource Centre
The RELX SDG Resource Centre is a free online interactive platform housing content curated from across the RELX organisation, and features a news tracker (containing global coverage of the SDGs), published research, and events. Access it here.
This is a publication of UNU-IAS ProSPER.Net Secretariat. The bulletin is a great way to share your activities, events and news as a ProSPER.Net member with the rest of the network. Feel free to send us any information you may deem relevant for the rest of the community by completing this form and emailing it to prospernet@unu.edu. We look forward to your inputs! Visit ProSPER.Net regularly for up-to-date news and event information.
ProSPER.Net Secretariat 
United Nations University 
Institute for the Advanced Study of Sustainability 
5-53-70 Jingumae, 
Shibuya-ku, Tokyo 150-8925 
Japan