ProSPER.Net E-Bulletin Issue 88 (May 2020)
Message from the ProSPER.Net Secretariat
Dear Colleagues and Friends,
Greetings from the ProSPER.Net Secretariat! We hope you are all remaining well and staying in good health, as we all continue to adapt to new modes and ways of working and staying connected.
We would like to start off by extending a warm welcome to two new members joining the ProSPER.Net Secretariat – Miki Konishi (Programme Coordinator), and Eri Yamazaki (Programme Assistant), both of whom started last month. On this note, we would like to sincerely thank Ayako Shimura (former Programmer Coordinator), Kiyoko Uematsu (former Programme Associate), and Katsunori Suzuki (former Senior Visiting Research Fellow) for their contributions and dedicated work serving ProSPER.Net over the past few years.
The ProSPER.Net network has continued to grow over the last few years, and now stands at 47 members. For institutions still wishing to apply for ProSPER.Net Membership for 2020 to join the network, please note that applications have been extended until the end of this month. Further details are below.
Finally, if you have any news, open calls, upcoming events, or publications to share via this bulletin, please complete this form and email your submission to the ProSPER.Net Secretariat at ProSPERNet@unu.edu (submissions close on the 15th of each month).
Sincerely,
ProSPER.Net Secretariat
Deadline Extended: 2020 ProSPER.Net Membership Applications
Applications for membership to ProSPER.Net for 2020 have been extended until the end of this month, on 31 May, 2020 (11:59pm JST). Membership is limited to higher education institutions located in the Asia-Pacific region that offer postgraduate education and research in sustainable development (SD) and in fields related to education for sustainable development (ESD). An affiliate membership category is also open to higher education institutions located outside the Asia-Pacific region who are interested in working together with the network for the benefit of the region. Read more about the application process and how to apply here.
Applications Open: UNU Intensive Core Courses
UNU-IAS is currently accepting applications for its four-week UNU Intensive Core (UNU-IC) Courses to be held at UNU Centre in Tokyo, Japan, from 1-29 September, 2020. The courses are designed to provide analyses of global issues from both theoretical and empirical perspectives, and draw on the research projects undertaken at UNU-IAS and at various other UNU institutes located worldwide. Although advanced in nature, they are open to postgraduate students and professionals in various occupations who are not necessarily specialists in the field. Details on the courses offered, requirements, and application procedure can be found here. The deadline for applications is 10 July, 2020.

Call

For

Entries: 2020 SEAMEO-Japan ESD Award
(Photo source: SEAMEO)
The Southeast Asian Ministers of Education Organization (SEAMEO) and the Ministry of Education, Culture, Sports, Science and Technology, Japan (MEXT) in cooperation with the UNESCO Asia and Pacific Regional Bureau for Education are pleased to announce the 2020 SEAMEO-Japan Education for Sustainable Development (ESD) Award, with the theme 'Addressing Plastic Problems for Transforming Communities'. The objectives of the award are:
• To raise awareness of ESD in schools and communities across Southeast Asia;
• To promote ESD best practices in schools and communities across Southeast Asia;
• To share and exchange knowledge and best practices on ESD in schools across Southeast Asia and Japan;
• To encourage networking among schools and communities which implement ESD practices in Southeast Asian countries and Japan; and
• To support the Sustainable Development Goals (SDGs) of the United Nations.
All public and private kindergarten/elementary/secondary/vocational and technical schools within 11 Southeast Asian countries are eligible to apply (Brunei Darussalam, Cambodia, Indonesia, Lao PDR, Malaysia, Myanmar, Philippines, Singapore, Thailand, Timor-Leste and Vietnam).
The school awarded 1st prize will receive USD 1,500 and a study tour to Japan, with prizes of USD 1,000 and USD 500 for 2nd and 3rd prizes respectively. In addition, there will be a special prize of USD 1,000 from the SEAMEO Secretariat for the best programme carried out in small schools of less than 250 students. The deadline for submissions is 14 August, 2020. Further information and details on how to apply can be found here.
Call for Papers: 11th International Conference on Sustainable Built Environment
(Photo source: ICSBE)
The 11th International Conference on Sustainable Built Environment 2020 (ICSBE) - The Kandy Conference - will be held at Earl's Regency Hotel, Kandy, Sri Lanka from 10-12 December, 2020. Held since December 2010, with collaborations from local and worldwide universities and research institutions, the Conference is now accepting papers related to the following themes: Sustainable Construction & Green Cities; Water Efficiency; Energy & Atmosphere; Material & Resource Management; Climate Change; and Landscaping and Indoor Environmental Quality. The deadline for abstract submissions has been extended until 15 June, 2020. See the conference website for more details.
Call for Applications: ESD Okayama Award 2020
(Photo source: Okayama City)
RCE Okayama and the ESD Okayama Award Steering Committee are pleased to announce that the 'ESD Okayama Award 2020' is now open for entries.
The Award rewards outstanding ESD practices in local communities around the world to showcase ESD and to support organisations carrying out ESD activities.
• Eligibility: Organisations based in any country, including Japan, implementing ESD activities in local communities are eligible to apply for the Award
• Prize: USD 3,000
• Number of award-winning projects: Up to two (2) projects
• Award Ceremony: Award winners will be invited to the Award Ceremony in Okayama, Japan and be requested to give a presentation on the project
• Deadline for applications: 31 July, 2020, 5pm (Japan Standard Time)
For more details (application guidelines, application form and information about former award-winning projects of the ESD Okayama Award), please visit the official website.
Call for Papers: The Future of Food: Responsible Production, Acquisition, Consumption, and Disposition
The special issue of the British Food Journal, 'The Future of Food: Responsible Production, Acquisition, Consumption, and Disposition', calls for papers to investigate how food supply can be sustained through responsible production, acquisition, consumption and disposition, how food waste can be effectively addressed/reduced, as well as food-related issues linked to the SDGs. The deadline for submissions is 31 March, 2021. Read more
Registrations Open: Virtual Higher Education Summit 2020
From 31 August - 2 September 2020 educators from around the world will gather online for the Virtual Higher Education Summit 2020 (#HES2020). Co-organised by the COPERNICUS Alliance, saguf, td-net, the University of Bern, and the University of Lausanne, this forward-looking event will be held under the theme 'How Can We Assure Quality and Transformative Learning for Sustainable Development?'. The event is an opportunity to connect with like-minded and like-hearted colleagues and share experiences and insights on how we can assure quality and transformative learning for sustainable development. Interact with thought-provoking speakers, join communities of practice in co-creative labs, explore next practices in solution rooms, and get to know real transformative local initiatives through online excursions. Read more
UNESCO World Conference on ESD Announces Rescheduled Dates
Originally planned for June 2020, the UNESCO World Conference on Education for Sustainable Development (ESD) has announced the rescheduled Conference will be held from 17-19 May, 2021 in Berlin, Germany. The Conference is organised by UNESCO in cooperation with and generously supported by the Federal Ministry of Education and Research of Germany, and with the German Commission for UNESCO as advisory partner. Regular updates and online events in the lead up to the Conference will be shared on the Conference website.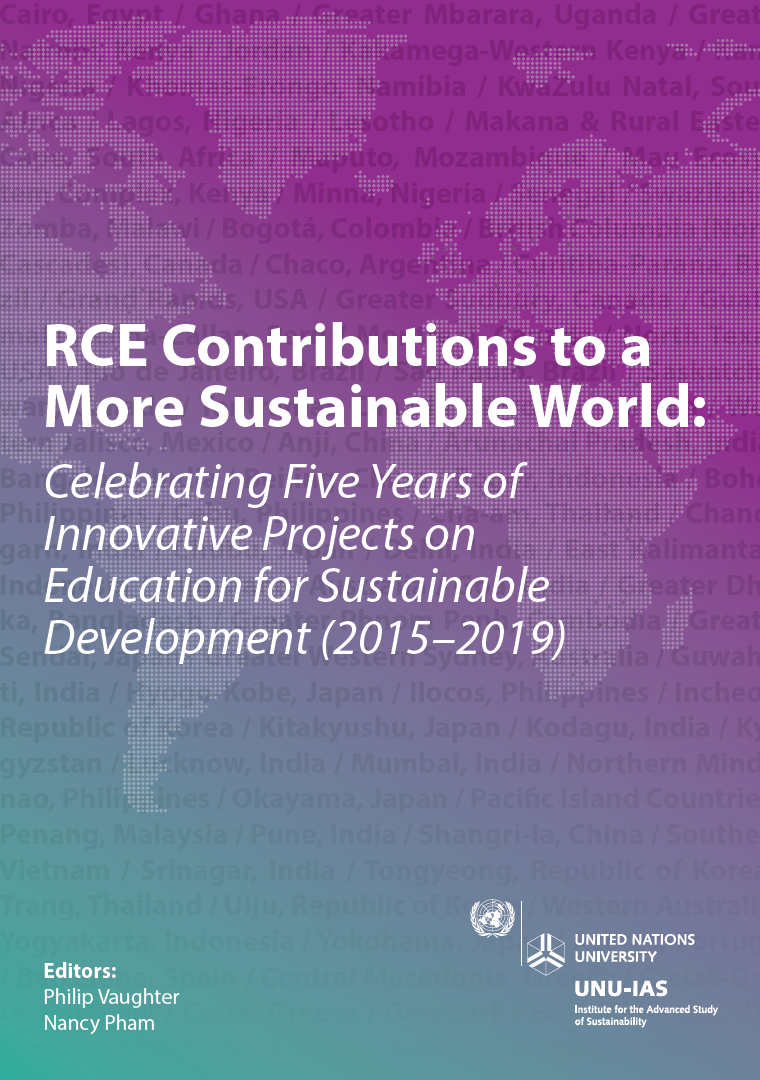 New Publication Celebrates Award-Winning RCE Project Contributions to ESD
This new publication launched by UNU-IAS, 'RCE Contributions to a More Sustainable World: Celebrating Five Years of Innovative Projects on Education for Sustainable Development (2015-2019)' highlights and celebrates some of the outstanding contributions that Regional Centres of Expertise on Education for Sustainable Development (RCEs) have made to implement the UN's SDGs through education at local and regional levels, during the first five years of the SDGs as well as the Global Action Programme (GAP) on ESD from 2015-2019.
Featuring 12 education projects which have all been recipients of the RCE Awards over the last five years, the collection of case studies demonstrate how RCEs have addressed local sustainable development challenges with innovative solutions, and provide diverse examples of how the SDGs can be implemented at the local level through quality education, training and public awareness.
Projects range from focusing on sustainable agricultural practices, curriculum development, how cities can respond to climate change, green infrastructure, public transportation, food security, teacher training, the development of pedagogic frameworks, and much more – all underpinned by education. As a result, the impacts of the projects featured have served to educate communities around areas such as water conservation, nutrition, climate action, protecting marine environments, sea level rise and flooding, and sustainable consumption and production. View the publication here
This is a publication of UNU-IAS ProSPER.Net Secretariat. The bulletin is a great way to share your activities, events and news as a ProSPER.Net member with the rest of the network. Feel free to send us any information you may deem relevant for the rest of the community by completing this form and emailing it to prospernet@unu.edu. We look forward to your inputs! Visit ProSPER.Net regularly for up-to-date news and event information.
ProSPER.Net Secretariat
United Nations University
Institute for the Advanced Study of Sustainability
5-53-70 Jingumae,
Shibuya-ku, Tokyo 150-8925
Japan