ProSPER.Net E-Bulletin Issue 87 (April 2020)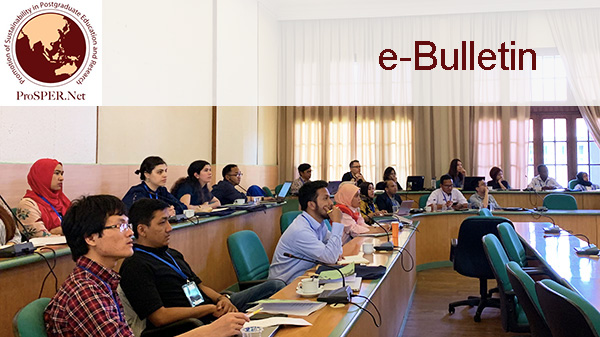 Message from the ProSPER.Net Secretariat
Dear Colleagues and Friends,
Greetings from the ProSPER.Net Secretariat! We hope this bulletin finds you all in good health. We hope you all are staying safe and well, as we all continue to adapt to this challenging environment, as well as the disruption to education that has taken place.
In this month's bulletin, you'll find the UN Innovation Network's latest publication on how UN entities are using innovative approaches to respond to the COVID-19 pandemic. We hope you will find this an inspiring read! We would also like to hear how your institutions are responding to the situation, and whether you have any innovative approaches you would like to share. In addition, if you have any news, open calls, upcoming events, or publications, all of these can be shared via this bulletin. Please complete this form and email your submission to the ProSPER.Net Secretariat at ProSPERNet@unu.edu (submissions close on the 15th of each month).
From all of us at the ProSPER.Net Secretariat, we hope you all continue to stay safe and healthy!
Sincerely,
ProSPER.Net Secretariat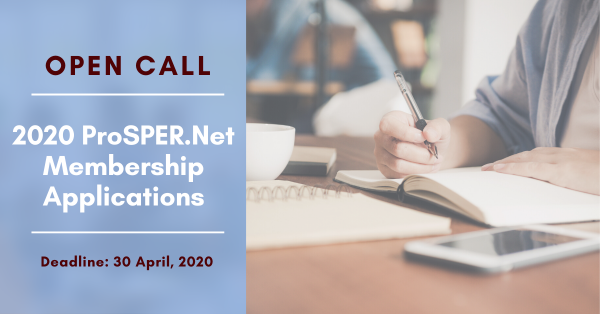 Last Chance: 2020 ProSPER.Net Membership Applications
A final reminder that applications for membership to ProSPER.Net for 2020 close at the end of the month, on 30 April, 2020 (11:59pm JST). Membership is limited to higher education institutions located in the Asia-Pacific region that offer postgraduate education and research in sustainable development (SD) and in fields related to education for sustainable development (ESD). An affiliate membership category is also open to higher education institutions located outside the Asia-Pacific region who are interested in working together with the network for the benefit of the region. Read more about the application process and how to apply here.
UNESCO Launches Global Education Coalition
With students and youth across the world impacted by school and university closures due to the COVID-19 pandemic, UNESCO has launched a Global Education Coalition 'to facilitate inclusive learning opportunities for children and youth during this period of sudden and unprecedented educational disruption'. UNESCO is inviting expressions of interest from organisations interested in joining the response to ensure the continuity of education for all learners. Read more
Find out more about UNESCO's COVID-19 Education Response here, including distance learning solutions.
Submissions Open for UN SDG Action Awards
The current global health crisis is a sober reminder of the need for coordinated responses that leave no one behind as outlined in the Agenda 2030 for Sustainable Development. Taking climate action, providing access to healthcare and quality food, ensuring that all children have access to education, and protecting the most vulnerable is more important than ever for our joint global progress. The UN SDG Action Awards will shine the spotlight on the most creative and transformative initiatives to accelerate action for the SDGs. People and organisations everywhere are encouraged to submit their outstanding SDG Action and nominate initiatives to become one of the UN SDG Action Award winners. Entries close on 25 May, 2020. Find out more and how to apply here.
Call for Papers: ICUE 2020 on Energy, Environment and Climate Change
Organised by the Asian Institute of Technology (AIT), the International Conference on Utilities and Exhibition on: Energy, Environment, and Climate Change (ICUE 2020) will be held 20-22 October, 2020 in Pattaya City, Thailand. The call for papers is now open, covering a range of topics including energy resources and technology, energy policy, environment, and climate change. The deadline for submissions is 31 May, 2020. Find out more and how to apply here.
Call for Papers: Cross-innovations for Sustainability Skills – Linking Environment, Media and Education
The research group for Sustainability, Environmental Education and Communication Skills (SEEMIK) at Tallinn University, Estonia, is now calling for papers for their Symposium 2020, to be held at Tallinn University, Estonia, from 28-29 August, 2020 under the theme 'Cross-innovations for Sustainability Skills: Linking Environment, Media and Education.' Practitioners and researchers are invited to explore the role of digital innovations for the use of enhancing citizens' environmental and sustainability skills, especially in the context of media and education. The deadline for abstract submissions is 10 May, 2020. Find out more and the details for submission here.
Apply Now: Green Talents Competition 2020
Young scientists from all over the world who are contributing to sustainability research are invited to apply to the Green Talents Competition 2020 (hosted by the German Federal Ministry of Education and Research (BMBF)), outlining their approach to making our societies more sustainable. The competition provides applicants with the opportunity to showcase their research to the broader public, exchange with outstanding experts, and lay the foundation for long-lasting collaborations with German research institutions. The award is open to all disciplines, with entries accepted until 19 May, 2020. Find out more and how to apply here.
ProSPER.Net Joint Research Project – Disaster Education for Integrating SFDRR and SDG in Asia
One of the biggest challenges in Disaster Education is the attitude towards higher education as well as lack of disaster prevention courses in the formal educational curriculum. The other challenges are lack of professional training for the educator with a fast-changing multidisciplinary technical domain for effective linkages between the Sendai Framework for Disaster Risk Reduction (SFDRR) priorities and the Sustainable Development Goals (SDG). The unique amalgamation of disaster education and sustainable development in the Asian region is a vital need to develop the cross-cutting education system, particularly in a vulnerable region.
The ProSPER.Net joint research project, 'Disaster Education for Integrating SFDRR and SDG In Asia', led by the Asian Institute of Technology, will co-develop model multidisciplinary post-graduate course curricula on disaster risk management and sustainable development through disaster risk reduction (DRR) and sustainable development education capacity assessments among the Higher Education Institute (HEI) network. The project will identify and map the DRR interventions in the Asian region contributing to sustainable development. One of the major outcomes of the project will be building academic alliances for promoting the sustainability paradigm in postgraduate education and research for disaster resilience through a DRR curriculum workshop, webinar and international conference. Read more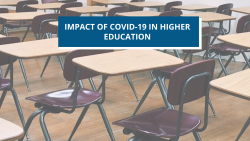 Impact of COVID-19 on Higher Education
(Photo source: IAU)
The International Association of Universities (IAU) has conducted a Global Survey on the impact of COVID-19 in higher education, in order to get a comprehensive understanding of the current situation in universities worldwide. The results of the survey will allow the higher education sector and society at large to better understand strategies to mitigate the impacts of COVID-19. Results of the survey are currently being analysed.
In addition, IAU has also developed a Resources page to keep its Members and the broader Higher Education community informed of the latest developments regarding the outbreak. Read more
"Earth School" Launches to Keep Students Connected to Nature in the Time of COVID-19
In response to the COVID-19 crisis, an unprecedented coalition has come together to launch "Earth School," which provides free, high-quality educational content to help students, parents and teachers around the world who are currently at home. Initiated by the United Nations Environment Programme (UNEP) and TED-Ed, in coordination with 30 collaborators, including National Geographic, WWF and UNESCO, Earth School takes students on a 30-day "Adventure" through the natural world.
The curated Earth School content features videos, reading materials and activities – which will be translated into 10 languages – to help students gain an understanding of the environment while considering their role within it. This is the biggest online learning initiative in UNEP's history and is available for free on TED-Ed's website. Read more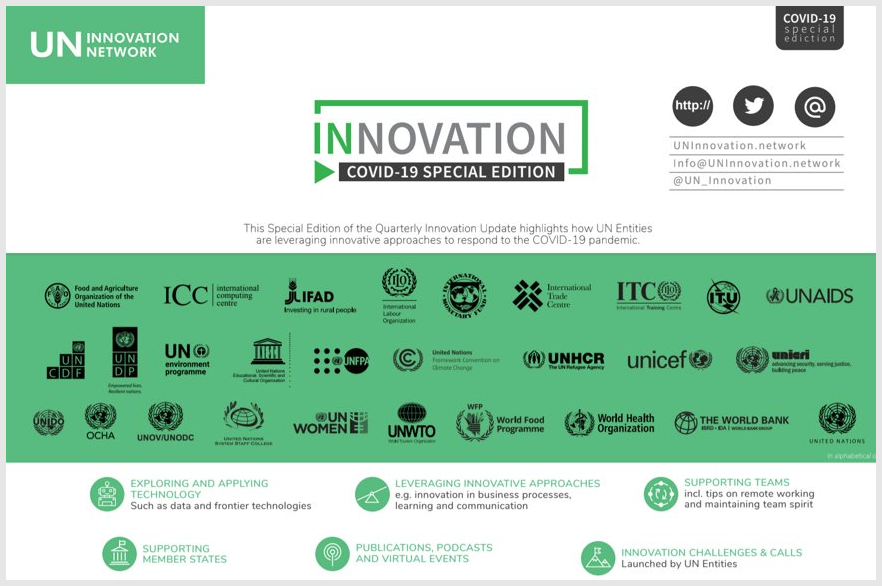 How are UN Entities Leveraging Innovative Approaches to Respond to COVID-19?
The UN Innovation Network (UNIN) has published a COVID-19 Special Edition of their Quarterly Innovation Update. Inside it features how UN entities are using innovative approaches to respond to the COVID-19 pandemic, the technology which is being explored and applied, tips on supporting teams (e.g. remote working), podcasts, virtual events, innovation challenges & calls, and more. Take a look here.
Viewpoint: 'Accelerating the Implementation of the SDGs'
A 'viewpoint' published in the International Journal of Sustainability in Higher Education pledges for an acceleration of the implementation of the UN Sustainable Development Goals (SDGs). Whereas it is unclear at this point in time if the SDGs will be fully achieved by 2030, it is clear that efforts need to be made, so to reach as many of the SDGs as possible by that time. The food security, health and well-being of billions of people around the world depend on it. The Viewpoint can be viewed here.
Members of the academic community who may wish to endorse this viewpoint, may be able to do so by completing an endorsement form available here. The names and organisations of all colleagues will be displayed within the International Journal of Sustainability in Higher Education as an annex.
This is a publication of UNU-IAS ProSPER.Net Secretariat. The bulletin is a great way to share your activities, events and news as a ProSPER.Net member with the rest of the network. Feel free to send us any information you may deem relevant for the rest of the community by completing this form and emailing it to prospernet@unu.edu. We look forward to your inputs! Visit ProSPER.Net regularly for up-to-date news and event information.
ProSPER.Net Secretariat
United Nations University
Institute for the Advanced Study of Sustainability
5-53-70 Jingumae,
Shibuya-ku, Tokyo 150-8925
Japan