ProSPER.Net e-bulletin issue 83 (December 2019)
Message from the ProSPER.Net Secretariat
Dear Colleagues and Friends,
As we reach the end of 2019, we would like to take this opportunity to thank all of our members for their contributions and support to ProSPER.Net over this past year.
The last ProSPER.Net event of the year, the 2019 ProSPER.Net Leadership Programme, was recently held in the Philippines, and was hosted by the University of the Philippines Diliman. Further details are below.
From all at the ProSPER.Net Secretariat, we would like to wish you a Happy Holidays!
Please note that the ProSPER.Net Secretariat will be closed during the UNU's official vacation period (24 December, 2019 - 2 January, 2020). We will process your requests and emails when we return in the New Year.
For those who would like to share any news, upcoming events, or publications via this bulletin, please complete this form and email your submission to the ProSPER.Net Secretariat at ProSPERNet@unu.edu (submissions close on the 15th of each month).
Sincerely,
ProSPER.Net Secretariat
Applications Open: 2020 UNU-IAS Master's and Doctoral Degree Programmes
UNU-IAS is now accepting applications for September 2020 admission to its postgraduate degree programmes: the Master of Science in Sustainability and the PhD in Sustainability Science. Both programmes aim to produce the policymakers and researchers of tomorrow, who will be at the forefront of global efforts towards a more sustainable future. The application deadlines are 28 February, 2020 for the master's programme, and 10 April, 2020 for the doctoral programme. Read more
Applications Open: 2020 JSPS–UNU Postdoctoral Fellowship Programme
UNU-IAS is now accepting applications for the JSPS–UNU Postdoctoral Fellowship programme for 2020. Jointly organized by UNU-IAS and the Japan Society for the Promotion of Science (JSPS), the programme provides promising, highly qualified, young researchers with the opportunity to conduct advanced research relevant to the main thematic focus areas of the institute. The application deadline for the JSPS–UNU Postdoctoral Fellowship programme is 21 February, 2020. Read more
Prince of Songkla University ProSPER.Net Scholarships
The Faculty of Environmental Management at the Prince of Songkla University, Thailand, has announced the new 'Prince of Songkla University ProSPER.Net Scholarship', for Master's and PhD studies, with applications open from January – April 2020. Eligibility is restricted to students who graduated from ProSPER.Net member universities. To find out more, please see the announcement page that includes further information on the scholarship, as well as the application form.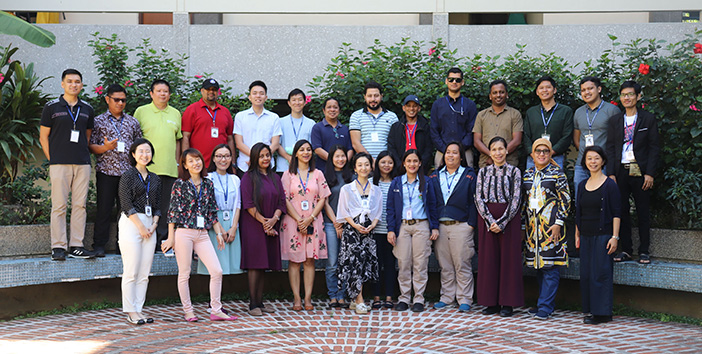 Future Sustainability Leaders Explore DRR for Sustainable Development during 2019 ProSPER.Net Leadership Programme
(Photo credit: Ram Bista)
Under the theme, 'Engineering Approaches to Disaster Risk Reduction and Management Towards Sustainable Development in the Asia-Pacific Region', the 2019 ProSPER.Net Leadership Programme was held from 24th – 30th November in Quezon City, the Philippines, hosted by the University of the Philippines Diliman.
This seventh edition of the programme brought together twenty participants from across the Asia-Pacific region across the academic, public, private, and non-profit sectors to learn about the challenges and opportunities in relation to disaster risk reduction (DRR) and management. Amongst lectures and workshops on areas including ESD, DRR, local community empowerment, and multi-stakeholder participation, participants worked in groups to develop projects encompassing leadership for sustainability and collaboration aspects, to deliver on DRR and sustainable development. Read a report of the event, view the outcomes, and take a look at some of the video highlights.
ESD Center for Research, Training and Development Launched by the University of San Jose-Recoletos, Philippines
On 10 December, 2019, the University of San Jose-Recoletos in Cebu, Philippines launched the Education for Sustainable Development Center for Research, Training and Development. Its aims include identifying the program goals and objectives for sustainable development in the University, designing programs on Research, Training and Development for ESD, securing partnerships with stakeholders that work for sustainable efforts and initiatives locally and internationally, and piloting and designing programs for communities in promoting community-based ESD.
19th International ACTS Conference Resources Now Available
Australasian Campuses Towards Sustainability (ACTS) aims to inspire, promote and support change towards best practice sustainability across all types of campuses. Earlier last month, the 19th International ACTS Conference was held from 13-15 November, 2019, co-hosted by the University of Otago and Otago Polytechnic in Dunedin, New Zealand. Presentations, supporting materials and photos from the Conference are now available as online resources. ACTS members with registered website accounts can access the page using their regular login credentials. Delegates that have not created an ACTS website account, or are not current members, can use the login credentials below.
username: 2019delegate
password: stdavidcomplex
Visit this page to access the resources.
Country Progress on Climate Change Education, Training and Public Awareness: An Analysis of Country Submissions under the United Nations Framework Convention on Climate Change
Published by UNESCO in collaboration with the United Nations Framework Convention on Climate Change (UNFCCC), this document provides a status report on the implementation of climate change education in countries. It outlines key findings from an analysis of country submissions to the UNFCCC, and highlights achievements and remaining gaps in the area of climate change education. A total of 368 country submissions (National Communications and Nationally Determined Contributions) from 194 countries were analysed for the report. Download the full report here.
Social Entrepreneurship, the UN SDGs and RCEs in the Age of Acceleration
An Australian Office for Learning and Teaching senior fellowship with 3,700 Learning and Teaching leaders from around the world over the past three years (FLIPCurric) has identified the critical importance of giving more careful attention to confirming the fitness of purpose of a higher education program before confirming the fitness for purpose of what is to be delivered or assessed. This requires determining exactly what key capabilities and competencies graduates now need if they are to successfully negotiate the 'age of acceleration' and the key social, cultural, economic and environmental challenges now faced. This means that graduates need to be developed to be work ready for today, but also 'work ready plus' for an uncertain tomorrow and that, to achieve this, social enterprise projects should be consistently built into the curriculum, with a particular focus on the UN's Sustainable Development Goals.
A recent paper, 'Social Enterprise and Sustainable Development in the Age of Acceleration' by Geoff Scott, Emeritus Professor of Higher Education and Sustainability at Western Sydney University, Australia, provides a succinct overview of the state of play with regards to identifying, supporting, linking and leveraging school, college and university student engagement in social enterprise projects of practical local importance. This may be of relevance to educators or those interested in supporting a more coherent and linked focus on the UN's Sustainable Development Goals. The article is available for download from Charles University's E-Journal Envigogika here.
This is a publication of UNU-IAS ProSPER.Net Secretariat. The bulletin is a great way to share your activities, events and news as a ProSPER.Net member with the rest of the network. Feel free to send us any information you may deem relevant for the rest of the community by completing this form and emailing it to prospernet@unu.edu. We look forward to your inputs! Visit ProSPER.Net regularly for up-to-date news and event information.
ProSPER.Net Secretariat 
United Nations University 
Institute for the Advanced Study of Sustainability 
5-53-70 Jingumae, 
Shibuya-ku, Tokyo 150-8925 
Japan