ProSPER.Net E-Bulletin Issue 67 (August 2018)
Message from the ProSPER.Net Secretariat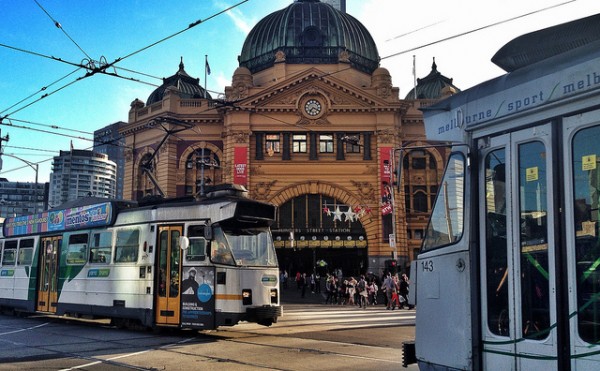 Applications Open: 2018 ProSPER.Net Leadership Programme
(Photo credit: Michelle Robinson / CC BY-NC-ND 4.0)
Applications are now open for the 2018 ProSPER.Net Leadership Programme! Hosted by RMIT University (Melbourne, Australia), the theme of this year's Programme is 'Leadership for Urban Sustainable Development'.
At this point in history, over one-half of humanity is living in urban spaces – by 2050, it is projected to be over two-thirds of us. The Programme is an opportunity to bring academia, the public sector, the business community, and civil society from around the Asia-Pacific region together to learn about the challenges and opportunities in urban sustainable development.
Successful applicants will have the opportunity to develop leadership skills in the context of the United Nations' New Urban Agenda as well as the Sustainable Development Goals (SDGs). They will receive teaching and training on the United Nations' sustainable development platforms and how they link to municipal settings, research and policy communication, as well as numerous other insights into urban sustainable development and how to lead on this issue from dynamic examples of local leadership in Melbourne.
Professionals working in any and all sectors are encouraged to apply – this programme is designed for the express purpose of incorporating sustainable development planning into leadership training, and can be applied within any number of spheres, from city government and finance, to education and non-profit work.
Dates: 12th – 16th November, 2018
Location: Melbourne, Australia
How to apply:
1) Download the application form (link below)
2) Send your completed application form to prospernet.lp@unu.edu with a CV and a recommendation letter from a direct supervisor
Application deadline: 11:59pm, Wednesday 12th September, 2018 (Japan Standard Time)
The application form and tentative agenda can be downloaded here.
Reminder: New Membership Applications for 2018
Applications for membership to ProSPER.Net for 2018 are closing soon on 31 August, 2018! Membership is limited to higher education institutions located in the Asia-Pacific region that offer postgraduate education and research in sustainable development and in education for sustainable development-related fields. More details on applying for membership can be found here.
Closing Soon: ProSPER.Net Joint Project Proposals 2018
A reminder that proposals for joint research projects are currently being accepted for this year's theme 'Planet as a core dimension of sustainability', addressing research questions related to SDGs 13 (Climate Action), 14 (Life below Water) & 15 (Life on Land), with SDG 4.7 (Education for Sustainable Development) as a cross-cutting factor. The aim is for participating institutions to assist in the implementation of the SDGs through research, with an outcome that leads to education and outreach through curriculum development and various learning initiatives.
ProSPER.Net members are invited to submit joint project proposals with at least three ProSPER.Net members participating, using the Project Proposal Application form, to be submitted to the ProSPER.Net Secretariat (ProSPERNet@unu.edu) by 24 September, 2018. Read more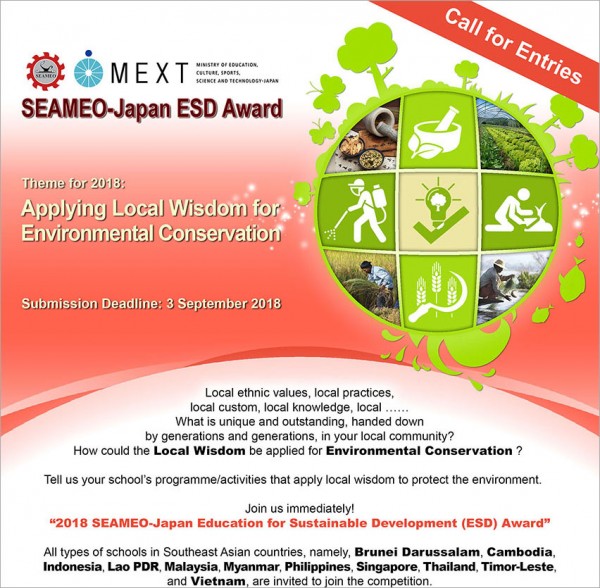 Call for Entries: 2018 SEAMEO-Japan ESD Award
(Photo credit: SEAMEO)
The Southeast Asian Ministers of Education Organization (SEAMEO) and the Ministry of Education, Culture, Sports, Science and Technology, Japan (MEXT) in cooperation with UNESCO Bangkok - Asia and Pacific Regional Bureau for Education are pleased to announce the 2018 SEAMEO-Japan Education for Sustainable Development (ESD) Award, with the theme 'Applying Local Wisdom for Environmental Conservation'.
The award is open to all public and private kindergarten/elementary/secondary/vocational and technical schools within 11 Southeast Asian countries (Brunei Darussalam, Cambodia, Indonesia, Lao PDR, Malaysia, Myanmar, Philippines, Singapore, Thailand, Timor-Leste and Vietnam). Eligible schools with programmes, projects and activities related to the theme are invited to apply.
The school awarded 1st prize will receive USD 1500 and a study tour to Japan, with prizes of USD 1,000 and USD 500 for 2nd and 3rd prizes respectively. The deadline for submissions is 3 September, 2018. Further information and details on how to apply can be found here.
UNESCO Member States Map the Future of ESD
With the Global Action Programme on ESD (GAP) ending in 2019, UNESCO is now preparing the future programme for Education for Sustainable Development (ESD), to be linked specifically to the Sustainable Development Goals (SDGs). On 9 and 10 July, 2018, over 270 participants from 116 UNESCO Member States and Associate Members gathered in Bangkok, Thailand to discuss which future direction governments and UNESCO should take in promoting ESD. Participants discussed a draft position paper, which UNESCO will further revise, based on the inputs from the meeting. Read more
Sulitest Report: Raising & Mapping Awareness of the Global Goals
(Photo credit: Sulitest.org)
The Sustainable Literacy Test (Sulitest) has released its 2nd Annual Report to the UN High-level Political Forum. The report highlights Sulitest's currently available tools and how they are being used, as well as the projects which have been deployed, are in development or that are planned. Observations on global awareness of the 17 SDGs are also featured, including trends and indicators based on this past year's International Core module global test results. Read the report here.
In addition, Sulitest has launched two new modules (SDG 7: Affordable and Clean Energy and SDG 11: Holistic Waste Management), available at Sulitest.org for universities and organisations.
Opinion: Sustainable Cities Depend on Collective Responsibility and Action
Following on from the High Level Political Forum on Sustainable Development 2018, researchers from the IDS (Institute of Development Studies, University of Sussex, UK) and partners reflected on how the cities of the future can be built to ensure they are sustainable, disaster resilient and inclusive. Read more
'Nai-Mono-Wa-Nai': Ama Town's Concept of Sufficiency and Message to the World
Junko Edahiro, chief executive of Japan for Sustainability, delivered a presentation at the recent 16th Annual Meeting of International Society for Quality-of-Life Studies, held in Hong Kong. Her presentation focused on the concept of nai-mono-wa-nai, which looks at sufficiency in a world where our ecological footprint is exceeding what can be managed. Within this concept, 'connections' and 'interactions' are also valued over initiatives that simply create efficiency. Read more
Shimokawa, Hokkaido: Advancing SDG-Based Community Building
This article, from Japan for Sustainability, looks at how the city of Shimokawa in Hokkaido, Japan, one of the 'SDGs Future Cities', has been proactively working on developing their town by integrating the SDGs in their town planning formulation processes. Read more
NYC is First City in the World to Report to UN on Local Steps Toward Global Goals
(Photo credit: New York City Mayor's Office for International Affairs)
NYC has become the first city in the world to submit a review of its progress directly to the United Nations during the High-Level Political Forum (HLPF). Modelled after the Voluntary National Review (VNR) that countries are invited to submit to the HLPF every year, NYC's Voluntary Local Review (VLR) highlights the city's sustainable development achievements since 2015, translating its local actions to a global audience, with a focus on the five priority Goals for the 2018 HLPF. Read more and download their VLR here.
The city's OneNYC strategy, including its goals, targets, initiatives and connections to the SDGs can also be viewed in the publication, 'A City with Global Goals', produced by the NYC Mayor's Office for International Affairs, available here.
Towards Citywide Participatory Planning: Emerging Community-led Practices in Three African Cities
In this working paper the authors seek to contribute to debates about the scaling up of citizen participation in towns and cities of the Global South through a focus on participatory planning. Read more 
This is a publication of UNU-IAS ProSPER.Net Secretariat. The bulletin is a great way to share your activities, events and news as a ProSPER.Net member with the rest of the network. Feel free to send us any information you may deem relevant for the rest of the community to prospernet@unu.edu. We look forward to your inputs! Visit ProSPER.Net regularly for up-to-date news and event information.
ProSPER.Net Secretariat 
United Nations University 
Institute for the Advanced Study of Sustainability 
5-53-70 Jingumae, 
Shibuya-ku, Tokyo 150-8925 
Japan