ProSPER.Net E-Bulletin Issue 48 (January 2017)
Message from the ProSPER.Net Secretariat
Mark your Calendar!

ProSPER.Net Leadership Programme 2017: Building transformational leadership towards the SDGs, 28 June - 5 July, 2017, Chulalongkorn University, Bangkok, Thailand Read more
11th General Assembly / 17th Board Meeting, 5 - 6 July, 2017, Chulalongkorn University, Bangkok, Thailand
More information on these events will soon be posted on ProSPER.Net. 
ProSPER.Net Mobility Programmes
Student Exchange, Faculty and Researchers' Exchange, Graduate and Post-Graduate Programmes and many more options are now available to students of the ProSPER.Net network. Benefit as a ProSPER.Net member from Programmes other Members have to offer! Hokkaido University, RMIT University and University of Peradeniya share their options for other ProSPER.Net students to study and learn.
Hokkaido University (HU) offers the Hokkaido Summer Institute (HSI), a summer programme of around a hundred classes in Hokkaido from June to August each year. HSI 2017 covers a wide variety of disciplines, including "International Course on Integrated Marine Biology and Ecology," "Intersectionality of Migration, Ethnicity, and Gender in East Asia," "The Concept of a Sustainable Campus and University Campus Assessment," and more.
The Department of Civil Engineering at the University of Peradeniya welcomes visiting postgraduate students, faculty, and researchers to engage with joint student research supervision, joint research grant writing, and co-teaching activities. Students from ProSPER.Net institutions are also welcome to join the Master's Programme in Sustainable Built Environment.
The School of Global, Urban, and Social Studies at RMIT University welcomes visiting postgraduate students, faculty, and researchers to engage joint student research supervision, joint curriculum development, joint research projects, and joint teaching programmes. Exchange students are also welcome and RMIT has student exchange agreements with 150 universities across the globe.
For more information on ProSPER.Net Mobility Prorgammes click here.
New Membership Applications 2017
Membership of ProSPER.Net is limited to higher education institutions located in the Asia-Pacific region that offer postgraduate education and research in sustainable development and in education for sustainable development related fields. ProSPER.Net also has an affiliate membership category. Affiliate members of ProSPER.Net are higher education institutions located outside the Asia-Pacific region working together with the network for the benefit of the region.
 The application should include a statement of intention and should be accompanied by a formal dossier demonstrating the institution's strength and expertise in the areas of SD and ESD at the postgraduate level. Applications for 2017 are now open. If your institution is interested in applying, please contact the ProSPER.Net Secretariat (prospernet@unu.edu). Deadline for submission is 26 May, 2017. Read more
Young Researchers' School 2017
The 2017 ProSPER.Net Young Researchers' School (YRS) will be held at the International University – Viet Nam National University Ho Chi Minh City (VNU HCM-IU), Ho Chi Minh City, Vietnam, 6 – 15 March, 2017. We would like to thank all ProSPER.Net Universities for their support in promoting the School and inviting their students to join.
Applications have now been closed. The ProSPER.Net Secretariat will not respond to any inquiries related to the application process. Only successful applicants have been notified. We thank you for your understanding. For more information on the Programme click here.
Bulletin Submissions
The bulletin is a great way to share your activities, events and news as a ProSPER.Net member with the rest of the network. Feel free to send us any information you may deem relevant for the rest of the community to prospernet@unu.edu. We look forward to your inputs!
UNESCO MOST School on Sustainability Science
1-3 February 2017, Padang, West Sumatra
Researchers, experts, activists, and policymakers from across Indonesia will come together for the MOST School on Sustainability Science, organized by UNESCO Jakarta Office and its partners.
The participants will tackle a critical question for Indonesia, as well as for the wider world: how can we use scientific knowledge for more effective policy and action to advance natural and social well-being for all?  Read more
UNESCO and TERI Organise "ESD Youth Leadership Training"
15-16 February, 2017, New Delhi, India
UNESCO and the Energy and Resources Institute (TERI) is organising the event 'Young ESD Leaders Capacity Building Training Workshop'. The programme is designed for Youth (18-35 years old) who are active leaders in sustainable development in their communities and regions. The objectives are to empower youth leaders to inspire and mobilize others to take action in sustainable development and to build a youth-led ESD network. Read more
International Symposium for the Establishment of Sustainable Campuses
27 February, 2017, Kyoto, Japan
The International Symposium for the Establishment of Sustainable Campuses: "A Firm Pivot and a Broad Expanse of Consciousness and Action Can Advance Campus Sustainability: Developing Wisdom from All Ages and Cultures Like Unfolding a Fan" is organized by the Agency for Health, Safety and Environment, and Kyoto University. Read more
World Symposium on Climate Change Impacts and Adaptation Strategies to Costal Communities
5-7 July 2017, Apia, Samoa
The International Climate Change Information Programme (ICCIP) is calling for papers for this event. The deadline for the submission of abstracts is on 30 January 2017. Read more
International Conference on Leadership and Management in Higher Education: Challenges, Opportunities and Ways Forward
27-28 July, 2017, Ho Chi Minh City
The conference is jointly organized by SEAMEO Regional Training Center in Vietnam (SEAMEO RETRAC) and British Columbia Council for International Education (BCCIE). The event will cover issues related to higher education leadership and management. Abstracts can be submitted until May 2, 2017. Read more
9th World Environmental Education Congress (WEEC)
9-15 September, 2017, Vancouver, Canada
The title of this year's WEEC Congress is Culture/Environment: Weaving new connections. The event focuses on the multi-disciplinarity nature of the congress and a developing view that Culture and Environment are inseparable and may even arise from within each other. The deadline for submitting abstracts is 31 March, 2017. Read more
JSPS-UNU Fellowship Programme
UNU and the Japan Society for the Promotion of Science (JSPS), are looking for several JSPS–UNU Fellows to conduct research in Sustainability (UNU-IAS) and related to the UNU Centre for Policy Research (UNU-CPR).
Join the ESD team and work with the RCE Network and ProSPER.Net. Work with an interdisciplinary team on research related to the assessment and implementation of ESD curricula and practices at local, sub-national, national, and global levels. Read more
Apply Now for UNU-IAS 2017 Master's and Doctoral Programmes
UNU-IAS is now accepting applications for September 2017 admission to its MSc in Sustainability, and its PhD in Sustainability Science Programme. The application deadlines are 28 February 2017 for the Master's degree, and 28 April 2016 for the doctoral degree. Read more
EU Call for Applications on Cultural Heritage as a Driver for Sustainable Growth
The European Union is seeking applications for its programme entitled "Cultural Heritage as a Driver for Sustainable Growth". The Commission considers that proposals requesting a contribution from the EU of up to a maximum of EUR 10 million would allow this specific challenge to be addressed appropriately. Read more
ProSPER.Net Member Universitas Indonesia Initiates GreenMetric University Ranking
The UI GreenMetric World University Ranking is an initiative of ProSPER.Net member Universitas Indonesia which was launched in 2010.
The aim is to show the current conditions and policies related to Green Campus and Sustainability in the Universities all over the world. Universities are invited to participate. Read more
Call for nominations for the UNESCO-Japan Prize on ESD 2017
Funded by the Government of Japan, the third edition of UNESCO-Japan Prize on ESD consists of three awards of US $50,000 for each recipient. All ESD stakeholders (regional governments, public / private educational institutions, NGOs, local communities, media) can apply by 2 May, 2017. Read more
More open calls and vacancies in the CAPACITY DEVELOPMENT section on ProSPER.Net.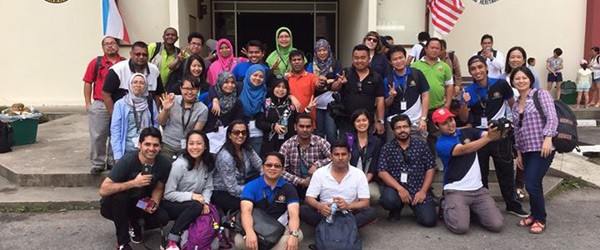 Participants' Reflections on the ProSPER.Net Leadership Programme 2016
The ProSPER.Net Leadership Programme was held in Labuan Island and Beaufort, Sabah, Malaysia from 7-14 August 2016.
The programme with the theme of "Nurturing Local Leadership toward Sustainable Development" provided participants with the necessary inter-disciplinary skills to lead sustainable development initiatives appropriate to local, regional or global contexts. Participants went through a unique experience with a special focus on collaborative efforts, leveraging networks and involving multiple stakeholders. After the programme we asked participants to reflect on their experiences and share some of their insights with us: What benefits did the ProSPER.Net Leadership Programme offer to you?
"When we visited the different villages, we saw different situations and different challenges that were hindering people's well-being. However, one common problem that I personally observed was the challenge of 'behavioral adaptation'. Our visit to the village Bankalalak made me further consider the importance of changing people's attitudes and behaviors". Nomindari Enkhtur, International Relations and Partnership Manager, Mongolian Bankers Association.
Read all reflections here.
From Okayama to Hoa Binh: Promoting ESD through Community Learning Centres
On 7 and 8 October 2016, representatives of Community Learning Centres (CLC) in Viet Nam and Cambodia, Japan and Lao People's Democratic Republic, as well as specialists from UIL, UNESCO Bangkok and Hanoi gathered at the Conference on Promoting ESD through CLCs. Here they shared cases of various CLC practices for sustainable development. Read more
Welcome to the UN Women Training Centre eLearning Campus
The UN Women Training Centre eLearning Campus is a global and innovative online platform for training for gender equality. It is open to everybody interested in using training or learning as a means to advance gender equality, women's empowerment and women's rights. Read more
Good Practices on Campus Sustainability in Japan
This report on good practices and specific cases of campus sustainability in Japan is an effective tool for building campus sustainability thereby integrating hardware and the soft aspects such as personnel training. The report is available in English here.
Sustainable Food Systems: The Role of the City
The book by Robert Biel offers a genuine solution to today's global food crisis. By contributing more to feeding themselves, cities can allow breathing space for the rural sector to convert to more organic sustainable approaches. Access the free online version here.
Overseas Development Institute Report: Are cities on track to achieve the SDGs by 2030?
This report explores for the first time the scale of the challenge for 20 cities across the world to reach selected targets set out in the Sustainable Development Goals (SDGs). Read more
This is a publication of UNU-IAS ProSPER.Net Secretariat.
Please send your comments, suggestions and materials to prospernet@unu.edu.
Visit ProSPER.Net regularly for up-to-date news and event information
ProSPER.Net Secretariat 
United Nations University 
Institute for the Advanced Study of Sustainability 
5-53-70 Jingumae, 
Shibuya-ku, Tokyo 150-8925 
Japan