ProSPER.Net E-bulletin Issue 115 (August 2022)
Message from the ProSPER.Net Secretariat
Dear Colleagues and Friends,

Greetings from the ProSPER.Net Secretariat! This month, we have announced the open call for the ProSPER.Net Joint Research Projects for 2023-2024! This time around, the projects are aimed at developing postgraduate-level courses that are aligned with the key competencies for the implementation and reinforcement of the Paris Agreement. See below for details – submissions close at the end of next month, on 30 September, 2022. If

you have any news, open calls, upcoming events, or publications you wish to share in a future bulletin

, p

lease complete this 

form

 and email your submission to the ProSPER.Net

Secretariat at ProSPERNet@unu.edu (submissions close on the 1

5th of each month).

Sincerely, ProSPER.Net Secretariat
Applications Open: ProSPER.Net Joint Research Projects
Since its inception, ProSPER.Net has aimed to develop a new generation of leaders who can best tackle global sustainability challenges in the face of rapid environmental degradation. By changing the way higher education institutions teach students about sustainability, ProSPER.Net improves the ways in which future professionals manage sustainability issues across a wide variety of disciplines. As COP26 brought world leaders to agree on a new 10-year Work Programme on Action for Climate Empowerment to promote climate education, youth engagement and public participation, concrete mechanisms and their implementation must be accelerated to achieve the Paris Agreement goal. Capitalising on the synergies and successful partnerships in our network, the Joint Research Project in 2023-2024 is aimed at developing postgraduate-level courses that are aligned with the key competencies for the implementation and reinforcement of the Paris Agreement. Its objectives are the following:
To identify key competencies for the effective implementation and reinforcement of the Paris Agreement based on research and scientific literature; and
To design postgraduate-level courses based on these identified competencies for co-implementation within (and beyond) the member institutions of the project proponent team.
Each joint research project proposal is to be prepared by a project proponent team, with at least three ProSPER.Net member institutions. Proposals are being accepted until
Friday 30 September, 2022 (11:59pm JST)
. For more information on the guidelines and how to apply, view the open call
here
.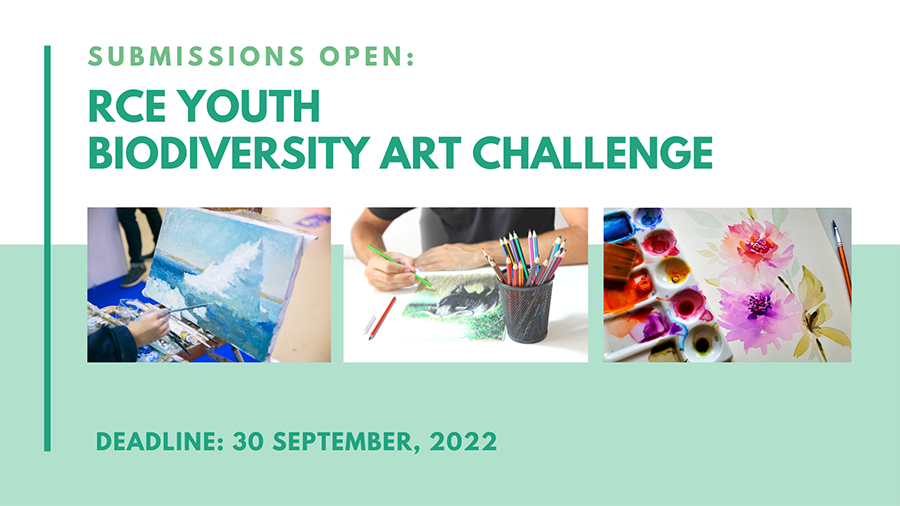 Submissions Open: 2022 RCE Youth Biodiversity Art Challenge
The Global RCE Service Centre at UNU-IAS, in partnership with UNESCO, is now accepting submissions for the RCE Youth Biodiversity Art Challenge! The challenge is open to anyone aged 35 or younger worldwide. We're looking for creative works of art that put a spotlight on the species, habitats, and ecosystems that we need to work to protect. Submissions can be made for any of the following categories, with a focus on SDG 14 (Life Below Water) or SDG 15 (Life on Land). Choose from:
Is your favourite animal or plant species under threat?

Show us one of your favourite animal or plant species which is currently under threat (e.g. Is its population/survival at risk? Are its habitats being endangered?)
Tell us how we can ensure we protect and restore this species – what actions can we take today in our communities?

How can we protect the habitats and ecosystems within our regions?

Show us one of your favourite places which is being impacted by biodiversity loss (e.g. a local national park, forest, beach, river).
Tell us why it needs to be protected, and what actions communities can take to conserve this place?
Further information, including submission guidelines and eligibility are available
here
. Entries close on
30 September, 2022 (11:59pm JST)
.
Circular Economy Integration for Sustainability Education in the Built Environment and Other Disciplines
On 28 July, 2022, a webinar related to the joint research project between RMIT and four universities (University of  Peradeniya, TERI School of Advanced Studies, Asian Institute of Technology, and Arabaev Kyrgyz State University) was held. The two-hour webinar underscored the pivotal role for education to provide a holistic view on Circular Economy (CE) concepts and implementation in local and global built environment contexts.Five case studies from Australia, Sri Lanka, India, Thailand, and Kyrgyzstan were  presented, including initial data analysis, and the limitations of CE implementation at the level of 'reduce, reuse and recycle', demonstrating the need to move to the higher order of R-principles, especially on 'regeneration, refuse and rethink'.Approximately 44 participants from education, industry, and communities participated, with a Q&A session delving into the case studies, R-principles, how to implement CE concepts, and challenges with implementation. The presentation ended with recommendations to be considered for further research in the project, and provided a great opportunity to engage with audiences regarding the initial findings of this research project.
Youth Webinar Inspires Actions for Biodiversity Conservation  
To celebrate International Youth Day 2022 on 12 August, 2022, the Global RCE Service Centre at UNU-IAS recently held a Youth Webinar titled 'Art, Actions, and Perspectives for Biodiversity Conservation'. Bringing together participants from 23 countries across the world, the event highlighted examples of youth-led conservation activities to address biodiversity issues, and featured artists sharing how they express and inspire others in relation to protecting biodiversity and sustainable development. Read more
This is a publication of UNU-IAS ProSPER.Net Secretariat. The bulletin is a great way to share your activities, events and news as a ProSPER.Net member with the rest of the network. Feel free to send us any information you may deem relevant for the rest of the community by completing this form and emailing it to prospernet@unu.edu

. We look forward to your inputs! 

Visit ProSPER.Net regularly for up-to-date news and event information.
ProSPER.Net Secretariat
United Nations University Institute for the Advanced Study of Sustainability 5-53-70 Jingumae, Shibuya-ku, Tokyo 150-8925 Japan