ProSPER.Net E-Bulletin Issue 109 (February 2022)
Message from the ProSPER.Net Secretariat
Dear Colleagues and Friends,
Greetings from the ProSPER.Net Secretariat! We hope you have all had a great start to the year, as we look towards the many initiatives planned for the network this year. A reminder that the call is still open for ProSPER.Net Event Hosts, which is a great opportunity to get involved in the network and capacity building. And for prospective members, applications for higher education institutions interested in joining the network are also currently open. Details are below.
If you have any news, open calls, upcoming events, or publications you wish to share in a future bulletin, please complete this form and email your submission to the ProSPER.Net Secretariat at ProSPERNet@unu.edu (submissions close on the 15th of each month).
Sincerely,
ProSPER.Net Secretariat
Reminder: 2022 ProSPER.Net Membership Applications
Applications are currently open for membership to ProSPER.Net for 2022. Membership is limited to higher education institutions located in the Asia-Pacific region that offer postgraduate education and research in sustainable development (SD) and in fields related to education for sustainable development (ESD). An affiliate membership category is also open to higher education institutions located outside the Asia-Pacific region who are interested in working together with the network for the benefit of the region. Read more about the application process and how to apply here. The deadline for applications is 31 May, 2022 (11:59pm JST).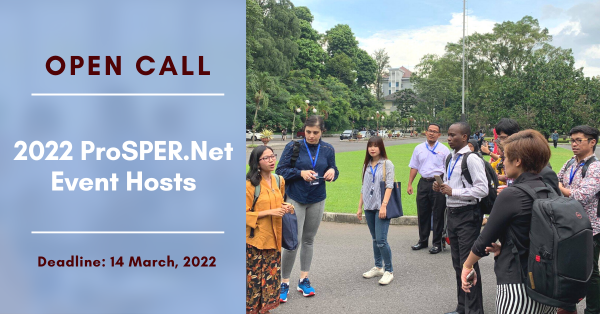 Reminder: Call For 2022 ProSPER.Net Event Hosts
The ProSPER.Net Secretariat would like to invite members to submit self-nominations to host the upcoming ProSPER.Net programmes and events for 2022.

Over the years, the network members have taken turns in hosting ProSPER.Net General Assemblies, Board Meetings, the Young Researchers' School, the Leadership Programme and the Sustainability Forum. Hosting ProSPER.Net programmes/events gives the host institute a great opportunity for networking, promotion and capacity building.

Member institutions interested in hosting 2022 ProSPER.Net events can self-nominate by completing this form. A hosting member may invite other ProSPER.Net members located in neighbouring areas to co-host. In order to aid in the selection process, the following information will be required:
• Title of the event to host (Young Researchers' School, ProSPER.Net Sustainability Forum, or other events - multiple events may be proposed) 
• Proposed dates
• Proposed modality (online, in-person, or hybrid)
• Location and capacity of proposed venue
• Proposed theme (for Young Researchers School, and Sustainability Forum)
• Tentative sources of funding (details of budget plan)
• Contact person(s) with relevant assigned tasks and/or responsibilities
• Any events that will be held back-to-back with the proposed event
The ProSPER.Net Secretariat will gladly assist in designing an event programme and coordinating a timeline. Please note however, the event host is requested to cover the organisational costs in most cases.

Interested in applying? View the open call and complete the form here. Applications close on Monday 14 March, 2022.
Call for Contributions: Higher Education Summit 2022 'Daring to transform learning for a future-proof economy'
After a successful online teaser event in 2021, the Higher Education Summit 2022 will take place as a physical conference from 6-8 September, 2022 in Hasselt, Belgium, organised by the COPERNICUS Alliance (European Network on Higher Education for Sustainable Development) and Hasselt University (Belgium). Under the theme 'Daring to transform learning for a future-proof economy', the summit will bring together those who wish to transform higher education for the benefit of a 'safe and just space for humanity': people who study, teach, research, and contribute to governance at higher education institutions, and representatives of the business world, government, and civil society.
The 3-day programme of the conference will be composed of multiple creative formats. The Call for Contributions is currently open and submissions are welcome until 15 March, 2022. Read more
Participate: UNESCO Survey to Shape Global Policy on Transformative Education for Peace, Human Rights & Sustainability
UNESCO is conducting a global survey to collect information that will help revise a landmark legal instrument on education for international understanding, cooperation, peace, human rights and environmental sustainability, known as the 1974 Recommendation.
Given the growing call for education to address sustainability challenges that have evolved dramatically over the past five decades, such as the climate crisis, you are invited to participate in the process of revising the 1974 Recommendation. Share your views on how to reflect and address these changes in the new instrument. Take the 10-minute survey, available in English, French or Spanish. The deadline for responses is 1 March, 2022.
Save the Date: NAAEE 2022 - Educating for Change
The North American Association for Environmental Education (NAAEE) is organising its annual Research Symposium (11-12 October, 2022) and Conference (12-15 October, 2022) in Tucson, Arizona, USA. A virtual option will also be available. A call for presentations will be coming soon. Read more
Transforming the Built Environment through Sustainable Materials
Germany's Federal Ministry of Economic Cooperation and Development (BMZ) has awarded a new project to UNEP titled 'Transforming the Built Environment through Sustainable Materials'. Launched at COP26, this project is linked to the Sustainable Buildings and Construction Programme of the One Planet network. It aims to support Ghana and Senegal in West Africa, and Bangladesh and India in South Asia, in promoting circularity in buildings through the creation of an enabling framework for the responsible acquisition of building materials, while developing a sustainable materials market for the buildings and construction sector. The project will run for four years and seek also to underline the importance of sustainable materials in high level international processes such as the UNFCCC COPs and the G7.
Study Australia Masterclass - Circularity in the Built Environment
Within the SDGs, those directly relating to the built environment are: SDG 11 focusing on sustainable cities and communities; SDG 9 on resilient infrastructure; and SDG 12 on responsible consumption and production. Other relevant SDGs include SDG 7 on Energy and SDG 6 on Water. The SDGs do not explicitly mention circular thinking or practices for the built environment. Yet, the principles underpinning sustainability and circularity are the same, especially those focusing on resource efficiency and conservation. Join Professor Iyer-Raniga (School of Property, Construction and Project Management, RMIT University) to examine examples of circularity and efficiency in the built environment at the global, regional and local level (Melbourne, Australia), in order to better understand how circularity can support a better-developed world. Learn more
Free Online Course: Learning for a Sustainable Future
The University of Edinburgh, in partnership with 'Learning for Sustainability Scotland' (RCE Scotland) and the British Council, with input from Education Scotland, are delighted to be offering a free online course, 'Learning for a Sustainable Future', from 14 March, 2022.
This five-week course is designed for and open to anyone with an interest in, or remit for, sustainability, to learn more. The course is supported by skilled facilitators and has an additional strand for those working in formal or informal education, who want to bring some of the activities and issues covered in the course into their own practice. Engagement and time commitment are both flexible. Full details, including how to register, are available here.
Online Course: Self-directed Emotional Learning for Empathy and Kindness (SEEK)
The UNESCO Mahatma Gandhi Institute of Education for Peace and Sustainable Development (MGIEP) and Life University (USA) are inviting the world's youth to enroll for Self-directed Emotional Learning for Empathy and Kindness (SEEK) – an online course that cultivates skills such as empathy, mindfulness, and compassion so youth are well-equipped to contribute towards the development of peaceful and sustainable societies. Learn more
This is a publication of UNU-IAS ProSPER.Net Secretariat. The bulletin is a great way to share your activities, events and news as a ProSPER.Net member with the rest of the network. Feel free to send us any information you may deem relevant for the rest of the community by completing this form and emailing it to prospernet@unu.edu. We look forward to your inputs! Visit ProSPER.Net regularly for up-to-date news and event information.
ProSPER.Net Secretariat 
United Nations University 
Institute for the Advanced Study of Sustainability 
5-53-70 Jingumae, 
Shibuya-ku, Tokyo 150-8925 
Japan