ProSPER.Net E-Bulletin Issue 108 (January 2022)
Message from the ProSPER.Net Secretariat
Dear Colleagues and Friends,
Greetings from the ProSPER.Net Secretariat and Happy New Year! We hope you all had a restful break and a great start to the year. We look forward to an exciting 2022 for the network!
As we begin the year, we start by announcing open calls for 2022 ProSPER.Net Membership Applications, as well as ProSPER.Net Event Hosts for this year (Young Researchers' School and Sustainability Forum). Details for both open calls are below. Furthermore, if you have any news, open calls, upcoming events, or publications you wish to share in a future bulletin, please complete this form and email your submission to the ProSPER.Net Secretariat at ProSPERNet@unu.edu (submissions close on the 15th of each month).
Sincerely,
ProSPER.Net Secretariat
2022 ProSPER.Net Membership Applications
Applications are now open for membership to ProSPER.Net for 2022. Membership is limited to higher education institutions located in the Asia-Pacific region that offer postgraduate education and research in sustainable development (SD) and in fields related to education for sustainable development (ESD). An affiliate membership category is also open to higher education institutions located outside the Asia-Pacific region who are interested in working together with the network for the benefit of the region. Read more about the application process and how to apply here. The deadline for applications is 31 May, 2022 (11:59pm JST).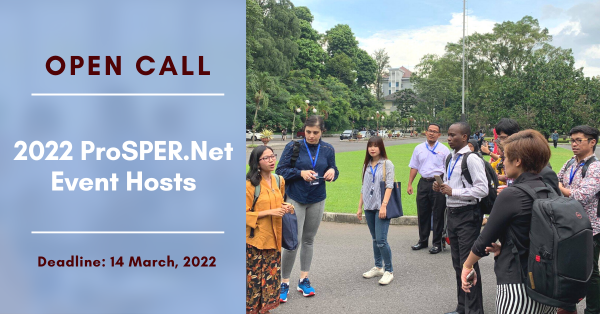 Call For 2022 ProSPER.Net Event Hosts
The ProSPER.Net Secretariat would like to invite members to submit self-nominations to host the upcoming ProSPER.Net programmes and events for 2022.

Over the years, the network members have taken turns in hosting ProSPER.Net General Assemblies, Board Meetings, the Young Researchers' School, the Leadership Programme and the Sustainability Forum. Hosting ProSPER.Net programmes/events gives the host institute a great opportunity for networking, promotion and capacity building.

Member institutions interested in hosting 2022 ProSPER.Net events can self-nominate by completing this form. A hosting member may invite other ProSPER.Net members located in neighbouring areas to co-host. In order to aid in the selection process, the following information will be required:
• Title of the event to host (Young Researchers' School, ProSPER.Net Sustainability Forum, or other events - multiple events may be proposed) 
• Proposed dates
• Proposed modality (online, in-person, or hybrid)
• Location and capacity of proposed venue
• Proposed theme (for Young Researchers School, and Sustainability Forum)
• Tentative sources of funding (details of budget plan)
• Contact person(s) with relevant assigned tasks and/or responsibilities
• Any events that will be held back-to-back with the proposed event
The ProSPER.Net Secretariat will gladly assist in designing an event programme and coordinating a timeline. Please note however, the event host is requested to cover the organisational costs in most cases.

Interested in applying? View the open call and complete the form here. Applications close on Monday 14 March, 2022.
Questionnaire: The Contribution of Architecture Programmes to Sustainable Development
This survey is part of an international study undertaken by the European School of Sustainability Science and Research (ESSSR) and the Inter-University Sustainable Development Research Programme (IUSDRP), aiming to identify the extent to which architecture education programmes and architecture-related practices on campus take into account sustainability.
Its completion is expected to take approximately 10 minutes. The findings are expected to include recommendations which may serve the purpose of enhancing the contribution of architecture programmes to sustainable development.

The survey is intended for individuals engaged in architecture-related education. Responses are confidential and the anonymity of this survey means that no details can be traced back to any respondents. Participate here
Applications Open: 2022 UNU-IAS Master's and Doctoral Programmes
UNU-IAS invites applications for September 2022 admission to its postgraduate degree programmes: the Master of Science in Sustainability and the PhD in Sustainability Science.
The application deadline is 21 February 2022 for the master's programme, and 28 March 2022 for the doctoral programme. Both programmes start in September 2022. Read more
(Photo credit: Photo: Kenichi Tanaka)
Applications Open: Ecosystem Restoration in Oceans - 11th Hour Racing Grant 
11th Hour Racing's grant program, funded by The Schmidt Family Foundation, is committed to advancing innovative projects that improve the health of our oceans and address the dynamic environmental challenges facing sailing, marine, and coastal communities. The organisation is seeking proposals for its grants that align with one or more of the following focus areas: Ocean Literacy & Stewardship; Clean Technologies & Best Practices; and Ecosystem Restoration. Typical grant awards range from $10,000 – $100,000, with an average grant size being $25,000. The deadline to apply is 31 January, 2022. Read more
This is a publication of UNU-IAS ProSPER.Net Secretariat. The bulletin is a great way to share your activities, events and news as a ProSPER.Net member with the rest of the network. Feel free to send us any information you may deem relevant for the rest of the community by completing this form and emailing it to prospernet@unu.edu. We look forward to your inputs! Visit ProSPER.Net regularly for up-to-date news and event information.
ProSPER.Net Secretariat 
United Nations University 
Institute for the Advanced Study of Sustainability 
5-53-70 Jingumae, 
Shibuya-ku, Tokyo 150-8925 
Japan