ProSPER.Net E-Bulletin Issue 106 (November 2021)
Message from the ProSPER.Net Secretariat
Dear Colleagues and Friends,
Greetings from the ProSPER.Net Secretariat! We would like to start by thanking all of those who attended the ProSPER.Net Webinar on Sustainability in Higher Education 2021 last month, and to the hosts, Ateneo de Manila University (ADMU) and the University of the Philippines Diliman (UPD), who worked in collaboration with UNU-IAS to organise this wonderful and insightful event. Please see below for a full report.
For all members, a reminder that applications for ProSPER.Net Joint Research Projects are closing soon next month – see below for more details. We look forward to receiving your proposals!
If you have any news, open calls, upcoming events, or publications you wish to share in a future bulletin, please complete this form and email your submission to the ProSPER.Net Secretariat at ProSPERNet@unu.edu (submissions close on the 15th of each month).
Sincerely,
ProSPER.Net Secretariat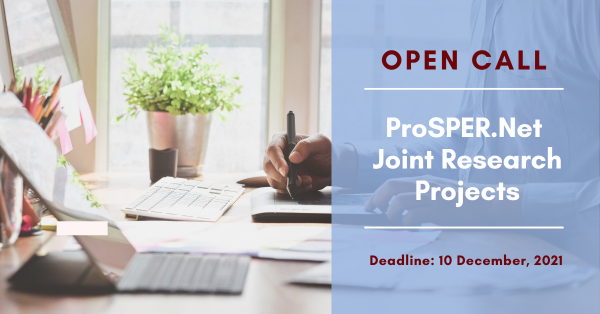 Closing Soon: ProSPER.Net Joint Research Project Applications
Since its inception, ProSPER.Net member institutions have launched a wide variety of joint projects ranging from the creation of an online postgraduate programme in public policy and sustainable development practice to the integration of sustainable development in business school curricula.
For this year's open call, ProSPER.Net members are invited to submit joint research project proposals for 2022 – 2023 with the aim of designing and conducting research by taking a multi-disciplinary approach to integrate sustainable development into post-graduate education and curricula and various learning initiatives.
Research proposals should include an education component, exemplifying how Education for Sustainable Development (ESD) can be used to educate students and/or community members on the topic and the findings of the research. Proposals on the following thematic areas and sub-themes related to ESD are welcomed:
• Planet: Climate change, including energy and decarbonisation
• Prosperity: Circular economy
• People: Equities and inclusivity
Proposals are being accepted until Friday 10 December, 2021 (11:59pm JST). For more information on the selection process, funding, and how to apply, view the open call here.
International Symposium on Ocean Education
5 December, 2021 (online), 15:00 - 19:00 (JST)
The International Symposium on Ocean Education aims to bring together countries' commitments on the role of ocean education for sustainable earth across countries to address climate change and other sustainability challenges through ocean education. This event is organised by the Marine Education Center, Graduate School of Education, The University of Tokyo and The Nippon Foundation, under the theme, 'The Role of Ocean Education for Sustainable Earth'. Dr. Fumiko Noguchi (UNU-IAS) will present on 'Australian Marine Education: Wide range of activities across formal, non-formal and informal education sectors, achievements, and challenges'. Read more
Registrations Open: Higher Education Summit 2021 'Daring to Transform Learning for a Future-Proof Economy'
9 December, 2021 (online), 6-8 September, 2022 (Hasselt, Belgium)
Under the theme 'Daring to transform learning for a future-proof economy', the upcoming Higher Education Summit will focus on research- and practice-related issues to realise an economy that strives for a safe and just world for everyone, within our planetary boundaries. Organised by the COPERNICUS Alliance (European Network on Higher Education for Sustainable Development) and Hasselt University (Belgium), the Summit is split into two events: on 9 December, 2021 there will be a kick-off with an online teaser, and from 6-8 September, 2022 there will be a physical conference in Hasselt, Belgium.
Registrations are now open for the Higher Education Summit online teaser on 9 December, 2021 that features three inspiring keynote speakers: Kate Raworth ('Doughnut economics'), Mamphela Ramphele (Club of Rome), and Garry Jacobs (World Academy of Art & Science). In addition, the virtual event offers interactive workshops, interesting short videos and opportunities for debate. The Higher Education Summit is the place to be for anyone who wants to be a changemaker in the field of transformative learning for sustainable development within higher education! Visit the event website here.
Lessons from the Pandemic Can Inform Our Actions for Climate Change
Are there lessons from the COVID-19 pandemic that can help us deal with global climate change? What is the role of higher education institutions (HEIs) in building sustainable and resilient economies and societies, and in environmental transformations toward a healthier planet?
These were some of the questions raised in the webinar 'ProSPER.Net Webinar on Sustainability in Higher Education 2021', held on 22 October, 2021 from 2pm-4pm Philippine Standard Time (3pm-5pm Japan Standard Time).
The webinar, with the theme 'Planetary Health Perspectives: Lessons from COVID-19 towards Climate Action', was held via Zoom and streamed live on YouTube. It was organised by the Ateneo de Manila University (ADMU) and the University of the Philippines Diliman (UPD), in collaboration with the United Nations University Institute for the Advanced Study of Sustainability (UNU-IAS). Read the full report here.
"SDG Citizen: Let's Drive SDGs to the Next Normal"
This past September, the 2021 ProSPER.Net Leadership Programme brought together 24 participants from 10 countries across the Asia-Pacific region to develop prototypes to address climate-related challenges.
After completing the Programme, participant Kittipong Chanchieovichai brought forward one of the projects in an SDG competition in Thailand – "SDG Citizen: Let's Drive SDGs to the Next Normal", where it was acknowledged as passing the criteria in relation to the promotion of people's participation in sustainable development in Thailand. Congratulations on this wonderful recognition!
Science & Films: The New Inspiration Couple?
A side event, 'Science & Films: The New Inspiration Couple?' was held at COP26 this month in Glasgow, UK, which explored how film, arts and creative communication can help tell the climate emergency story and inspire hope and action. Organised by the UNU Institute for Environment and Human Security (UNU-EHS), UNCCD, the Secretariat of the Convention on Biological Diversity, and UNFCCC, speakers discussed new ways of communicating climate science and policy to reach more people. Shinobu Yume Yamaguchi (Director, UNU-IAS) discussed the RCE Youth Climate Art Challenge, particularly how participants' experiences creating artwork for the Challenge inspired them to think more deeply about the impacts they can make in their local communities. Watch the side event here.
UN University to Launch Postgraduate Degree Specialisation on the Paris Agreement
The UN University (UNU) has begun developing a new postgraduate degree specialisation on the Paris Agreement on climate change, in collaboration with the Secretariat of the UN Framework Convention on Climate Change (UNFCCC). It will be the first of its kind to be offered by a UN organisation.
The master's and doctoral degrees, to be delivered from Autumn 2023, will educate students and experts from across the globe, developing skills and knowledge to play a leading role in implementing the Paris Agreement – the 2015 commitment by the international community to limit global warming to well below 2 degrees Celsius, and strive for 1.5 degrees.
The new specialisation will focus on implementation of the mechanisms of the Paris Agreement, such as the enhanced transparency framework, nationally determined contributions, national adaptation planning process, global stocktake, and credit market mechanism. By strengthening national capacity in these areas it aims to become an essential means of implementation for the agreement. Read more
COP26 Side Event Explores Carbon Neutrality and the SDGs
On 4 November 2021, a side event of COP26 engaged leading experts to discuss challenges and good practices for achieving carbon neutrality by 2050 and the SDGs. Organised by UNU-IAS and the Overseas Environmental Cooperation Center, Japan (OECC), the event Carbon Neutrality and the SDGs – A UNU Forum was held at the COP26 Japan Pavilion in Glasgow, UK.
Participants explored the social dimensions of the transition to carbon neutrality, which requires drastic action by all sectors and actors, as well as how education and capacity building can advance implementation of the Paris Agreement on climate change. Read more
Only Half of the National Curricula in the World Have a Reference to Climate Change, UNESCO Warns
New UNESCO data from 100 countries shows that only 53% of the education sector plans or national curriculum documents make any reference to climate change. When climate change was mentioned, the focus on it was almost always very low.
Furthermore, fewer than 40% of teachers surveyed by UNESCO and Education International were confident in teaching about the severity of climate change and only about one-third felt able to explain well the effects of climate change on their region or locality. Read more
UN General Assembly Discusses UNESCO's Report on Education for Sustainable Development
On 11 October 2021, UNESCO presented the report on the implementation of Education for Sustainable Development (ESD) in the framework of the 2030 Agenda for Sustainable Development at the United Nations General Assembly. Representatives of member states and the UN system discussed ways towards the achievement of sustainable development, including the implementation of international commitments on climate change and agreements on financing for development, as well as efforts for advancing education for sustainable development worldwide. Read more
Getting Every School Climate-Ready: How Countries are Integrating Climate Change Issues in Education
This document summarises the findings of selected studies by UNESCO and its partners on how climate change issues are integrated in education. These findings shed light on four key questions: where do we stand on climate change education; what do teachers say; what are the examples of country good practices on climate change education; and what does inter-ministerial collaboration on education for sustainable development look like? Access it here.
#TrashHack Videos
To celebrate some of the Trash Hack activities around the world, UNESCO has created a series of videos aims to highlight regionally driven ideas and projects conducted by young individuals to preserve the environment. The first video of the series, in collaboration with Tadiwanashe and Talent, features two young people who are actively engaged in activities to reduce and rethink waste in Zimbabwe. Read more
This is a publication of UNU-IAS ProSPER.Net Secretariat. The bulletin is a great way to share your activities, events and news as a ProSPER.Net member with the rest of the network. Feel free to send us any information you may deem relevant for the rest of the community by completing this form and emailing it to prospernet@unu.edu. We look forward to your inputs! Visit ProSPER.Net regularly for up-to-date news and event information.