ProSPER.Net E-Bulletin Issue 105 (October 2021)
Message from the ProSPER.Net Secretariat
Dear Colleagues and Friends,
Greetings from the ProSPER.Net Secretariat! We are delighted to begin with the announcement of two new members joining the network, Aligarh Muslim University (India), and Kyushu University (Japan), both acknowledged at the recent ProSPER.Net 15th General Assembly. Please join us in welcoming our two new members!
We have also recently announced the open call for ProSPER.Net Joint Research Projects for 2022-2023, with proposals welcome on the following themes: Planet (climate change, including energy and decarbonisation); Prosperity (circular economy); and People (equities and inclusivity). Further details are below, with proposals due by 10 December, 2021.
This month we are pleased to share the outcomes and report from the 2021 ProSPER.Net Leadership Programme, co-hosted with Social Innovation Japan. Take a look at our event page (details below) to find out more about the solutions our participants came up with during the programme, and to read about their experiences.
The ProSPER.Net Webinar on Sustainability in Higher Education was also held recently, where we heard from a distinguished panel on the learnings for HEIs from COVID-19 in relation to taking climate action. Thank you to the organisers Ateneo de Manila University and the University of the Philippines Diliman, who worked in collaboration with UNU-IAS. Stay tuned for a report of this event!
If you have any news, open calls, upcoming events, or publications you wish to share in a future bulletin, please complete this form and email your submission to the ProSPER.Net Secretariat at ProSPERNet@unu.edu (submissions close on the 15th of each month).
Sincerely,
ProSPER.Net Secretariat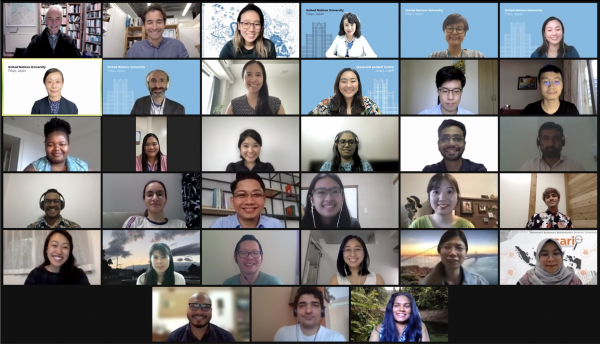 Emerging Sustainability Leaders Take on Climate Challenges in 2021 ProSPER.Net Leadership Programme
The 2021 ProSPER.Net Leadership Programme (LP) was held from 14th – 24th September, 2021, hosted by UNU-IAS and Social Innovation Japan. Bringing together 24 participants from 10 countries from across the Asia-Pacific region, the virtual programme included a series of lectures and workshops under the theme 'Climate Change: Global issues, local actions and transdisciplinary solutions'.
Participants included young professionals and emerging leaders in academia, the public sector, the business community, and civil society, who over the course of the 11 days, built leadership skills and explored interdisciplinary solutions to respond to one of the most pressing threats facing communities around the globe – climate change. The design thinking process was integrated across the programme structure and assignments, and as part of the final project, participants presented prototypes in response to a climate challenge, in areas such as energy, waste management, and education. Read the full report here.
Take a look at the outcomes from this year's programme, read what participants thought, and watch video highlights or browse through the photo album.
Thank you to our co-hosts, Social Innovation Japan for their wonderful support and efforts in making this programme a success, and to the participants for their passion and engagement throughout the programme!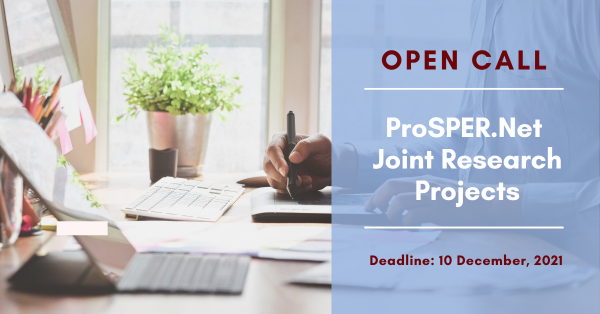 Applications Open: 
ProSPER.Net
 Joint Research Projects
Since its inception, ProSPER.Net member institutions have launched a wide variety of joint projects ranging from the creation of an online postgraduate programme in public policy and sustainable development practice to the integration of sustainable development in business school curricula.
For this year's open call, ProSPER.Net members are invited to submit joint research project proposals for 2022 – 2023 with the aim of designing and conducting research by taking a multi-disciplinary approach to integrate sustainable development into post-graduate education and curricula and various learning initiatives.
Research proposals should include an education component, exemplifying how Education for Sustainable Development (ESD) can be used to educate students and/or community members on the topic and the findings of the research. Proposals on the following thematic areas and sub-themes related to ESD are welcomed:
• Planet: Climate change, including energy and decarbonisation
• Prosperity: Circular economy
• People: Equities and inclusivity
Proposals are being accepted until Friday 10 December, 2021 (11:59pm JST). For more information on the selection process, funding, and how to apply, view the open call here.
UNU-IAS Hosts ProSPER.Net 15th General Assembly; Two New Members Join The Network
The ProSPER.Net 15th General Assembly, hosted by UNU-IAS, was held on 13 October, 2021. Over 40 representatives from the network attended the online meeting, which included the acknowledgement of two new members. Joining the network for 2021 are Aligarh Muslim University (India), and Kyushu University (Japan), bringing the total number of members to 52.
At the meeting, the ProSPER.Net Secretariat provided updates on ProSPER.Net activities conducted over the past year, including the 2021 ProSPER.Net Leadership Programme, the ProSPER.Net Webinar On Sustainability In Higher Education, and the completion of two joint research projects, 'Disaster Education For Integrating SFDRR And SDG In Asia', and 'Development Of A Framework For The Local Implementation Of The SDGs – Phase II'. A strategic discussion session then provided members with the opportunity to discuss thematic areas, priority activities, and joint research projects within the network.
Webinar: The Future of Cities is Circular
5 November, 2021, 13:30-15:00 (AEDT)
The path to a safe operating space within planetary boundaries is via circularity. 'Going circular' requires a shift not only in mindsets and business models but will also need a high level of coordination across actors; governments, business and households. Four speakers will provide different perspectives on how to achieve circularity in our cities. Learn more and register here.
Webinar: Circling the Square - The Possibilities and Promise of a Circular Built Environment
10 November, 2021, 13:00-14:00 (GMT) / 14:00-15:00 (CET)
In this webinar, a panel of global experts and local leaders in sustainability and the circular economy will discuss the possibilities and promise of this exciting agenda. With awareness of the need to embed circular economy principles growing around the world, this webinar will equip you with the insights you need to play your part in delivering a sustainable future. Topics to be covered include:
• How will we need to think and act differently now and in the near future?
• How measuring and reporting on the circular economy is crucial to achieve the UN SDGs?
• How embedding lifecycle considerations at the outset can ensure overall sustainability?
• The role of procurement in shaping supply chains and how to deliver sustainable outcomes.
Learn more and register here.
COP26 Side Event – CHOOSING GREEN Nordic Solutions at COP26
8 flags, 27.5 million people, 1 vision. The Nordic countries have ambitious climate goals and want to become the most sustainable region in the world by 2030. Join the conversation on how to solve the climate crisis and reach the goal of carbon neutrality. Both on site on COP26 in Glasgow and at the Nordic COP26 Hub in Helsinki. Read more
International Online Conference Held On 'Development of a Framework for the Local Implementation of the SDGs'
On 18 August 2021, an SDGs virtual conference was hosted by HuSE-Chulalongkorn University, Keio University, TERI School of Advanced Studies, Universiti Sains Malaysia, Universitas Gadjah Mada and University of the Philippines Diliman, in collaboration with UNESCO Thailand, ProSPER.Net, and UNU-IAS. The event brought together six speakers of the case study report from 'Development of A Framework for the Local Implementation of the SDGs – Phase II', the ProSPER.Net, UNU-IAS and UNESCO Joint Project, and over 60 participants from 10 countries in the Asian region. Read more
Learning for a Sustainable Future - two free to access short courses for COP26
The University of Edinburgh, in partnership with 'Learning for Sustainability Scotland' and the British Council, with input from Education Scotland, have developed two free to access Massive Open Online Courses (MOOCs) as contributions to COP26.
'Learning for a Sustainable Future: Live' is a five-week course beginning on 4th October, 2021. It is a great opportunity for anyone, anywhere who is interested in sustainability, to learn more. It will also be of particular interest to those involved in communicating sustainability issues, and formal and informal sustainability education. Engagement and time commitment are both flexible, and the course is available to join here. The course will remain open until mid-January, and will also run again in Spring 2022.
'Learning for a Sustainable Future: Live at COP26' is a two-week course, beginning 31st October, 2021, which runs in parallel with the COP26 conference, offering you an opportunity to examine what COP26 is, why it's important and reflect on how you can add your voice to the call for collective action for a sustainable future. The course begins by exploring the history and journey to COP26, the relationship with the current Biodiversity COP, and key international frameworks such as the UN Sustainable Development Goals. It aims to share some of the creative and educational responses being developed by local communities, groups, global partnerships and schools as well as bringing some of the high level International, political discussions and outputs as they happen. Engagement and time commitment are both flexible, and the course is available to join here. The content will remain open, free and accessible as a legacy resource beyond COP26.
Click here for a trailer for both courses, and additional related opportunities.
Video: It's Time to Shine
UNICEF East Asia and Pacific Regional Office (EAPRO) have published the animated video 'It's Time to Shine' as part of the ongoing advocacy on #ReopenSchools. The video tells the story of the impact that COVID-19 has had on children, their learning and wellbeing, and highlights the need to protect and reimagine education systems. Find out more and watch the video here. Learn more about the #ReopenSchools campaign here.
SDG Academy MOOCs and Online Library
Access free, open educational resources on sustainable development from the SDG Academy, a program of the Sustainable Development Solutions Network, a global initiative for the United Nations. Nearly 40 MOOCs are available on eDX on a range of topics, including sustainable cities and climate action. In addition, browse the SDG Academy Library, for a catalogue of lectures and educational videos.
2021 State of the Education Report for India: No Teacher, No Class
The third edition of the State of the Education Report for India by UNESCO New Delhi is focused on the theme of teachers, teaching and teacher education.
It attempts to provide an understanding of key aspects of the teaching profession, provides a profile of the 9.6 million teaching workforce, as well as the challenges of their intricate teaching routine and their professional development. Read more
Quality Education for Preparing Future Competencies
Changes in the future due to economic integration, rapid progress in digital technology, and widespread use of high-level technologies, will impact the types of competencies needed.
This book, published by Professor Mohammad Ali (ProSPER.Net member university, Universitas Pendidikan Indonesia) looks at the importance of quality education in preparing students for these future competencies. It also highlights the need for professional teachers who can facilitate the students to learn and properly assess their learning results. Read more
This is a publication of UNU-IAS ProSPER.Net Secretariat. The bulletin is a great way to share your activities, events and news as a ProSPER.Net member with the rest of the network. Feel free to send us any information you may deem relevant for the rest of the community by completing this form and emailing it to prospernet@unu.edu. We look forward to your inputs! Visit ProSPER.Net regularly for up-to-date news and event information.
ProSPER.Net Secretariat 
United Nations University 
Institute for the Advanced Study of Sustainability 
5-53-70 Jingumae, 
Shibuya-ku, Tokyo 150-8925 
Japan