ProSPER.Net E-Bulletin Issue 104 (September 2021)
Message from the ProSPER.Net Secretariat
Dear Colleagues and Friends,
Greetings from the ProSPER.Net Secretariat. This month we are holding our first ever online ProSPER.Net Leadership Programme! Along with our co-host Social Innovation Japan, we have spent the last two weeks with a fantastic group of participants exploring interdisciplinary solutions and building leadership skills needed to approach the climate crisis. We will bring you a report and outcomes from the event in the coming months!
Registrations are still open for the ProSPER.Net Webinar on Sustainability in Higher Education, 'Planetary Health Perspectives: Lessons from COVID-19 towards Climate Action', to be held in October. We hope you will be able to join us.
If you have any news, open calls, upcoming events, or publications you wish to share in a future bulletin, please complete this form and email your submission to the ProSPER.Net Secretariat at ProSPERNet@unu.edu (submissions close on the 15th of each month).
Sincerely,
ProSPER.Net Secretariat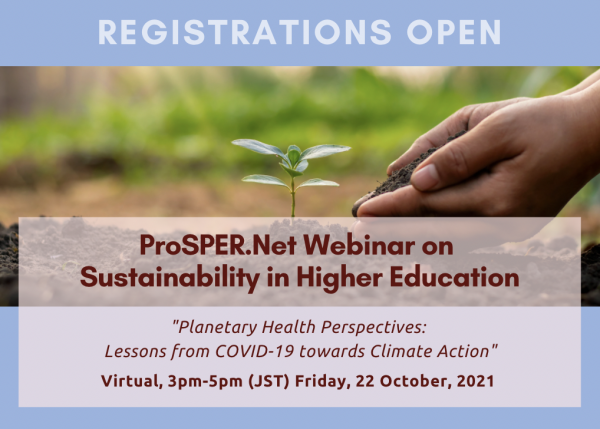 Registrations Open: ProSPER.Net Webinar on Sustainability in Higher Education
22 October, 2021, 15:00-17:00 (JST), online
What lessons can we learn from the COVID-19 pandemic that can help us take action against climate change? How can HEIs lead the way towards social and environmental transformation that will build resilience in our communities and promote a healthy planet?
In this webinar titled 'Planetary Health Perspectives: Lessons from COVID-19 towards Climate Action', a panel will reflect on the role of HEIs in ensuring that the lessons learned from the pandemic are put into practice towards inter-/trans-disciplinary and sustained climate action.
This webinar is organised by the Ateneo de Manila University and the University of the Philippines Diliman, in collaboration with the United Nations University Institute for the Advanced Study of Sustainability.
Registrations are open now. Please see the event page for the concept note, tentative programme, and the link to register. Registration is free and will be open until Friday, 15 October, 2021.
YouthForesight Community Forum
Practitioners and stakeholders working on young people's education and skilling, employment, entrepreneurship, and engagement are invited to join the YouthForesight Community Forum. Co-hosted by the Global Initiative on Decent Jobs for Youth and Generation Unlimited, the Forum aims to create an interactive and digitally connected community that collaborates to create positive change for young people. Further information is available here and the Forum can be joined here. 
Cross-sectoral Partnerships in Higher Education Highlighted at 9th World Sustainability Forum
The 9th World Sustainability Forum took place virtually from 13-15 September, 2021, in which UNU-IAS presented in a session organised by IAU, 'Higher Education and Research – How universities around the world engage with Sustainability and build partnerships for the SDGs'. This session focused on higher education's role for sustainable development, presenting the IAU's work on its strategic priority of HESD (Higher Education and Research for Sustainable Development), how it fosters this around the world, and how collaboration between universities and HEIs can be increased. As an IAU partner organisation representative, Dr Jonghwi Park, Academic Programme Officer and Head of Innovation and Education at UNU-IAS, presented on examples of practice, specifically looking at partnerships within the Higher Education sector and across sectors. Read more
Non-conventional Learning on Sustainable Development: Achieving the SDGs
The paper 'Non-conventional Learning on Sustainable Development: Achieving the SDGs' has just been published, as a Commentary, in the journal Environmental Sciences Europe. It describes the role of methods which are not commonly used, but whose effectiveness means that they may foster learning on matters related to sustainable development as a whole, and in particular assist in the implementation of the SDGs. The full text is available as open access and can be freely downloaded here.
This is a publication of UNU-IAS ProSPER.Net Secretariat. The bulletin is a great way to share your activities, events and news as a ProSPER.Net member with the rest of the network. Feel free to send us any information you may deem relevant for the rest of the community by completing this form and emailing it to prospernet@unu.edu. We look forward to your inputs! Visit ProSPER.Net regularly for up-to-date news and event information.
ProSPER.Net Secretariat 
United Nations University 
Institute for the Advanced Study of Sustainability 
5-53-70 Jingumae, 
Shibuya-ku, Tokyo 150-8925 
Japan