ProSPER.Net E-Bulletin Issue 102 (July 2021)
Message from the ProSPER.Net Secretariat
Dear Colleagues and Friends,
Greetings from the ProSPER.Net Secretariat! This month we are excited to announce the upcoming ProSPER.Net Webinar on Sustainability in Higher Education which will be held online in October. This event will look at the role of HEIs in ensuring that the lessons learned from the pandemic are put into practice towards inter-/trans-disciplinary and sustained climate action.
We also feature a report from ProSPER.Net member Asian Institute of Technology (AIT) on their series of DRR webinars and recent 2nd International Symposium on Disaster Resilience and Sustainable Development, along with the latest news, open calls, and events which may be of interest to those in the network.
Regarding the next ProSPER.Net Joint Meetings (15th General Assembly and 21st Board Meeting), please note this year they will be split into separate days. There will be a special session of the Board Meeting on 24 August, 2021 (13:00-15:00 JST), with the regular Board Meeting to be held at a later date. The General Assembly is due to be held in October (details to be announced).
Finally, for any young professionals thinking about applying for the 2021 ProSPER.Net Leadership Programme, the deadline has been extended until 31 July, 2021 – we look forward to receiving your applications. Please see below for further details.
If you have any news, open calls, upcoming events, or publications you wish to share in a future bulletin, please complete this form and email your submission to the ProSPER.Net Secretariat at ProSPERNet@unu.edu (submissions close on the 15th of each month).
Sincerely,
ProSPER.Net Secretariat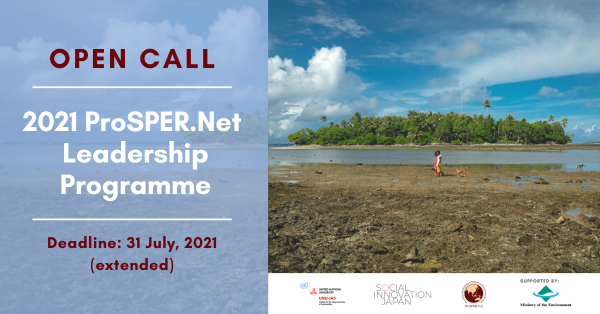 Applications Closing Soon: 2021 

ProSPER.Net Leadership Programme
Applications for the 2021 ProSPER.Net Leadership Programme are currently open. This year's programme will be held from 14th – 24th September, 2021, in a virtual format, hosted by UNU-IAS and Social Innovation Japan. The theme of this year's Leadership Programme is 'Climate Change: Global issues, local actions and transdisciplinary solutions'.
The ProSPER.Net Leadership Programme is an opportunity to bring young professionals and emerging leaders in academia, the public sector, the business community, and civil society together to explore how education and training can be used across sectors to foster more sustainable societies in the Asia-Pacific region.
The climate crisis remains one of the most pressing threats facing communities around the globe as global average temperatures continue to rise, storms intensify, sea levels rise, and precipitation patterns become more unpredictable. Responding to climate change, often in tandem with other areas of sustainable development, requires leadership that is able to address different yet interconnected challenges.
This year's Leadership Programme, held in an exciting new format online, will offer participants the opportunity to build skills to view the climate crisis from a holistic lens of sustainable development and to explore interdisciplinary solutions within the context of their local communities. It aims to seize the momentum of the 'build back better' initiatives that have emerged from the COVID-19 pandemic.
Young professionals and emerging leaders from the public, private, and non-governmental organisation sector who are actively engaged in climate action at various levels are encouraged to apply – this programme is designed for the express purpose of incorporating sustainable development planning into leadership training, and can be applied within any number of spheres, from city government and finance, to education and non-profit work.
Selected participants will attend a 5-day online training programme consisting of lectures and workshops on a variety of topics related to responding to climate change covering policies, practice and theories, while tackling other issues within sustainable development within community contexts. Participants will be given an opportunity to interact with both facilitators and each other throughout these sessions, giving them space to reflect on their current practice, the issues discussed and how they pertain to their own organisations and work programmes.
For more details and how to apply, visit the open call here. The deadline has been extended and now closes on Saturday 31 July, 2021 (11:59pm JST).
(Photo credit: Asian Development Bank / CC BY-NC-ND 4.0)
Save the Date: ProSPER.Net Webinar on Sustainability in Higher Education
22 October, 2021, 15:00-17:00 (JST), online
What lessons can we learn from the COVID-19 pandemic that can help us take action against climate change? How can HEIs lead the way towards social and environmental transformation that will build resilience in our communities and promote a healthy planet? In this webinar titled ''Planetary Health Perspectives: Lessons from COVID-19 towards Climate Action', a panel will reflect on the role of HEIs in ensuring that the lessons learned from the pandemic are put into practice towards inter-/trans-disciplinary and sustained climate action.
This webinar is organised by the Ateneo de Manila University and the University of the Philippines Diliman, in collaboration with the United Nations University Institute for the Advanced Study of Sustainability. Further details will be announced soon – for now, please save the date!
Registrations Open: RCE Youth Webinar
11 August, 2021, 14:00-16:00 (JST)
Organised by the Global RCE Service Centre, the RCE Youth Webinar 'Youth Voices on Climate Change, Action for Sustainability' will be held online on 11 August, 2021 to commemorate International Youth Day 2021.
The webinar will provide a platform for youth to dialogue on the actions needed to address the climate crisis and how efforts can be accelerated to address the climate emergency. RCE youth members will also share examples of actions for implementing ESD for 2030 towards achieving the SDGs. Both youth and all those interested in empowering and engaging with youth are encouraged to attend.
To register, please complete the online form here.
Learning for a Sustainable Future & Live at the COP MOOCs, Starting 4th October 2021

How to live a sustainable life affects – and connects – us all. Educators and everyone with an interest in sustainability, register your interest now for the free massive open online course (MOOC) by the University of Edinburgh, RCE Scotland and the British Council, starting in October 2021 and live during the UN COP26 Climate Conference. Details here
5th UNESCO Forum on Transformative Education for Sustainable Development, Global Citizenship, Health and Well-being
29 November – 1 December, 2021, online 
Co-organised by UNESCO and APCEIU, and hosted by the Ministry of Education, Republic of Korea, and Ministry of Foreign Affairs, Republic of Korea, this virtual event will cover progress made in the implementation of SDG Target 4.7, along with methods and approaches to measure progress. Read more
Calling All Universities and Colleges: Join the Race to Zero
The Race to Zero is a global campaign to mobilise leadership and support from businesses, cities, regions, investors and universities for a healthy, resilient and fair, zero carbon recovery that prevents future threats, creates decent jobs, and unlocks inclusive, sustainable growth.

UNEP, Second Nature and EAUC are working together to represent the higher education sector in this race and already have more than 700 signatories on board with the aim of reaching 1,000 by COP26 in November 2021.

The objective of the Race to Zero campaign is to build momentum around the shift to a decarbonised economy ahead of COP26, where governments must strengthen their contributions to the Paris Agreement. This will send governments a resounding signal that the sectors are united in meeting the Paris goals and creating a more inclusive and resilient economy.

Showcase your institution's leadership on a global level at COP26 in November 2021 as part of the Race to Zero.

In order to join the Race to Zero, institutions should commit to:
1. Pledge: having a 2050 or sooner net zero target;
2. Plan: explain what steps will be taken toward achieving net zero;
3. Proceed: taking action towards net zero;
4. Publish: commit to report progress annually.

Join the Race to Zero by completing the sign-up form.

Read more and check out further resources to support universities in becoming net zero here.
Share Your Photos of Education for Sustainable Development in Practice
UNESCO is looking for photos of ESD in action to promote both ESD and 'ESD for 2030', including the great work being done by many schools and organisations around the world. Any photos that either you or your organisation own and would be happy to share with UNESCO (please ensure you have secured the appropriate permission of those in the photos), can be sent to esd@unesco.org.

Any published photos will retain your copyright, ensuring your or your organisation's name is embedded each time the photo is used.
HLPF Special Event Highlights Role of Further Education in a Sustainable Recovery from COVID-19
On 7 July 2021, a Special Event of the UN High-level Political Forum on Sustainable Development highlighted the critical role of further education in achieving sustainable development and ensuring a sustainable and resilient recovery from the COVID-19 pandemic. Organised by UNU-IAS and other members of the Higher Education Sustainability Initiative (HESI), the online event brought together key actors from the higher education sector to discuss how education could be redefined to deliver on these critical agendas.

Through presentations and discussion participants underlined the systemic change needed to achieve the 2030 Agenda, and the importance of SDG 4 (quality education) as a key enabler. It was recognised that universities must play a significant role, as institutions that not only develop the next generation of leaders, but also drive research and policy agendas. Read more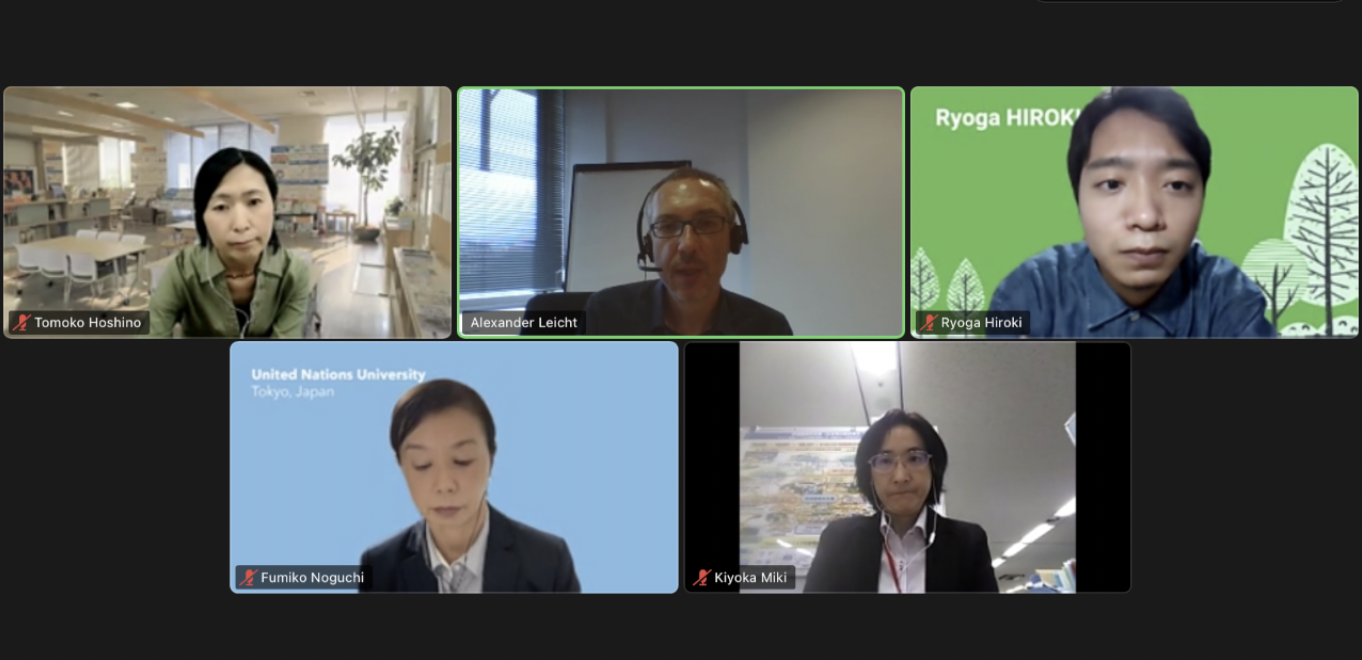 Global, National and Community Actions for ESD for 2030 Discussed at UNU-IAS & MOEJ Event
On 1 July, 2021, UNU-IAS and the Ministry of the Environment of Japan (MOEJ) co-organised a Global Environment Outreach Centre (GEOC) outreach event on the theme 'Synergising ESD for 2030 Stakeholders Dialogue - Learn for our Planet, Act for Sustainability' as part of a series of UNU-IAS events organised around the UN High-Level Political Forum on Sustainable Development (HLPF) 2021. The event was attended by more than 100 participants.

At the event, experts reported the key points addressed at the UNESCO World Conference on ESD (held in May 2021), and discussed ways to accelerate actions on ESD for 2030, through global all the way to the community with various stakeholders including youth, academia, policymakers and citizens. The role of academia and the importance of RCEs were highlighted in contributing to evidence-based policymaking and bridging the local community and academia together. Read more
Building Academic Alliances for Promoting Sustainability Paradigm in Higher Education - Resilience Building Amid COVID-19 Pandemic
This report, submitted by ProSPER.Net member Asian Institute of Technology (AIT), speaks about the importance of academic alliances within higher education that have been crucial in promoting sustainability paradigms during the pandemic, such as the ProSPER.Net joint project 'Disaster Education for Integrating SFDRR And SDG In Asia', led by AIT. These alliances have worked together to host a series of webinars, the 'Disaster Risk Reduction Education Series' on five thematic areas including resilience, the integration of SFDRR and SDGs for in-service teacher training, and the implications of natural and non-natural DRR on multidisciplinary higher education.
Following on from these events, recently the 2nd International Symposium on Disaster Resilience and Sustainable Development was hosted by AIT from 24-25 June, 2021, in coordination with Keio University, Miyagi University of Education, Andalas University, and Universitas Gadjah Mada. The event brought together 337 participants, and provided a platform for policymakers, academia, researchers, development practitioners, private sectors, and relevant stakeholders to discuss the various dimensions for higher education systems within the Asia-Pacific region, with a focus on DRR and SD. Read the full report from AIT here.
Watch: UNESCO's Trash Hack Campaign
UNESCO's Trash Hack campaign encourages young people to take action to promote sustainability, reflect on their actions, and share their learnings. Take a look at some of the thousands of young people who shared their Trash Hacks with UNESCO ASPnet and the Foundation for Environmental Education in this video here.
New Guide from FAO on E-learning Methodologies and Good Practices
This guide from the FAO elearning Academy has been developed to provide guidance on designing and developing e-learning-based solutions for trainers and instructional designers who are new to e-learning design.
Included are examples and good practices based on the work undertaken by the FAO elearning Academy over a 15-year period.
Access the guide here.
This is a publication of UNU-IAS ProSPER.Net Secretariat. The bulletin is a great way to share your activities, events and news as a ProSPER.Net member with the rest of the network. Feel free to send us any information you may deem relevant for the rest of the community by completing this form and emailing it to prospernet@unu.edu. We look forward to your inputs! Visit ProSPER.Net regularly for up-to-date news and event information.
ProSPER.Net Secretariat 
United Nations University 
Institute for the Advanced Study of Sustainability 
5-53-70 Jingumae, 
Shibuya-ku, Tokyo 150-8925 
Japan