ProSPER.Net E-Bulletin Issue 101 (June 2021)
Message from the ProSPER.Net Secretariat
Dear Colleagues and Friends,
Greetings from the ProSPER.Net Secretariat! Following last month's UNESCO World Conference on ESD, this month we are excited to announce a webinar organised by UNU-IAS and the Ministry of Environment of Japan (MOEJ), building off the key elements addressed at the Conference and ways to accelerate actions on ESD. We also have a range of UNU Intensive Core Courses open for application, as well as a wrap-up from a ProSPER.Net joint project on a recent webinar focusing on higher education in the new normal as we seek to build towards a sustainable future.
Finally, don't forget that applications are still open for the 2021 ProSPER.Net Leadership Programme, which will be held from 14-24 September, 2021 in a virtual format. Please see below for further details.
As always, if you have any news, open calls, upcoming events, or publications you wish to share in a future bulletin, please complete this form and email your submission to the ProSPER.Net Secretariat at ProSPERNet@unu.edu (submissions close on the 15th of each month).
Sincerely,
ProSPER.Net Secretariat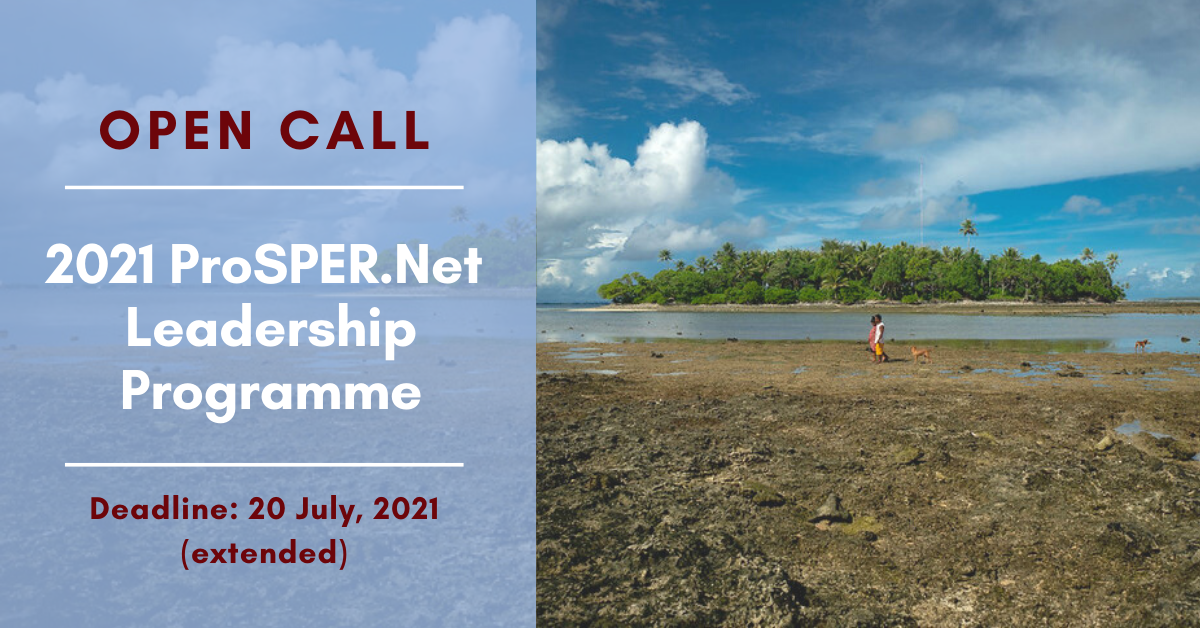 Applications Open: 2021 

ProSPER.Net Leadership Programme
Applications for the 2021 ProSPER.Net Leadership Programme are currently open. This year's programme will be held from 14th – 24th September, 2021, in a virtual format, organised by UNU-IAS. The theme of this year's Leadership Programme is 'Climate Change: Global issues, local actions and transdisciplinary solutions'.
The ProSPER.Net Leadership Programme is an opportunity to bring young professionals and emerging leaders in academia, the public sector, the business community, and civil society together to explore how education and training can be used across sectors to foster more sustainable societies in the Asia-Pacific region.
The climate crisis remains one of the most pressing threats facing communities around the globe as global average temperatures continue to rise, storms intensify, sea levels rise, and precipitation patterns become more unpredictable. Responding to climate change, often in tandem with other areas of sustainable development, requires leadership that is able to address different yet interconnected challenges.
This year's Leadership Programme, held in an exciting new format online, will offer participants the opportunity to build skills to view the climate crisis from a holistic lens of sustainable development and to explore interdisciplinary solutions within the context of their local communities. It aims to seize the momentum of the 'build back better' initiatives that have emerged from the COVID-19 pandemic.
Young professionals and emerging leaders from the public, private, and non-governmental organisation sector who are actively engaged in climate action at various levels are encouraged to apply – this programme is designed for the express purpose of incorporating sustainable development planning into leadership training, and can be applied within any number of spheres, from city government and finance, to education and non-profit work.
Selected participants will attend a 5-day online training programme consisting of lectures and workshops on a variety of topics related to responding to climate change covering policies, practice and theories, while tackling other issues within sustainable development within community contexts. Participants will be given an opportunity to interact with both facilitators and each other throughout these sessions, giving them space to reflect on their current practice, the issues discussed and how they pertain to their own organisations and work programmes.
For more details and how to apply, visit the open call here. The deadline for applications has been extended until Tuesday 20 July, 2021 (11:59pm JST).
(Photo credit: Asian Development Bank / CC BY-NC-ND 4.0)
Synergising ESD for 2030 Stakeholders Dialogue – Learn for our Planet, Act for Sustainability
1 July, 2021, 17:30-19:30 JST
UNU-IAS and the Ministry of Environment of Japan (MOEJ) will co-organise a Global Environment Outreach Centre (GEOC) outreach event on the theme of 'Synergising ESD for 2030 Stakeholders Dialogue-Learn for our Planet, Act for Sustainability.' It is also a part of a series of events that UNU-IAS will organise alongside the UN High-level Political Forum 2021.
This event aims to provide an opportunity to brief the key elements addressed at the UNESCO World Conference on ESD and discusses ways to accelerate actions on ESD for 2030 with international and local stakeholders. This event will also be a preceding event for the commemorating event for the International Youth Day in August 2021. View the programme and register for the event here.
Webinar - Education for the Energy Transition: Approaches, Resources and Next Steps
30 June, 2021, 15:00-16:30 CEST (GMT+1)
This interactive event, sponsored by the Green Learning Network, the International Renewable Energy Agency, REN21 and UNEP's Youth and Education Alliance, brings together panellists at the forefront of renewable energy education and training to share innovative approaches to skill building and is useful for anyone interested in building a more sustainable future.
For more on the agenda and how to register, visit the event page here.
Applications Open: UNU Intensive Core Courses
UNU-IAS is currently accepting applications for its four-week UNU Intensive Core (UNU-IC) Courses to be held at UNU Centre in Tokyo, Japan, from 1-29 September, 2021. The courses are designed to provide analyses of global issues from both theoretical and empirical perspectives, and draw on the research projects undertaken at UNU-IAS and at various other UNU institutes located worldwide. Although advanced in nature, they are open to postgraduate students and professionals in various occupations who are not necessarily specialists in the field. Details on the courses offered, requirements, and application procedure can be found here. The deadline for applications is 16 July, 2021.
Call for Submissions: Innovative Practices in Using Advanced ICT and AI in Education
UNESCO Institute for Information Technologies in Education (UNESCO IITE) and Shanghai Open University (SOU) invite schools, TVET organisations, and universities to share best practices on digital transformations related to the use of advanced ICT in education, including artificial intelligence (AI).
The best practices are being collected within a joint project on 'Promoting ICT Capacity Building and Open Education in the Era of Artificial Intelligence and Digital Technologies', which is aiming to improve the understanding of the potential, benefits, and limitations of AI and advanced IT among educators. The deadline for submissions is 30 June, 2021. Read more
UNESCO World Conference on ESD Wrap-up
The UNESCO World Conference on Education for Sustainable Development was held virtually from Berlin from 17-19 May, 2021, in cooperation with and generously supported by the Federal Ministry of Education and Research of Germany, and with the German Commission for UNESCO as advisory partner. Read the summary from UNESCO here.
In addition, take a look at the following documents, sessions, and resources from the Conference:
• The adoption of the Berlin Declaration on Education for Sustainable Development will create momentum for the implementation of the ESD for 2030 Roadmap. Read it here.
• Watch back the livestream of key sessions here.
• Share why it's important to #LearnForOurPlanet by downloading and using the messages and posts in this toolkit.
• Check out the publication 'Learn for Our Planet', which summarises the findings of a study examining the extent to which environmental issues are integrated into education.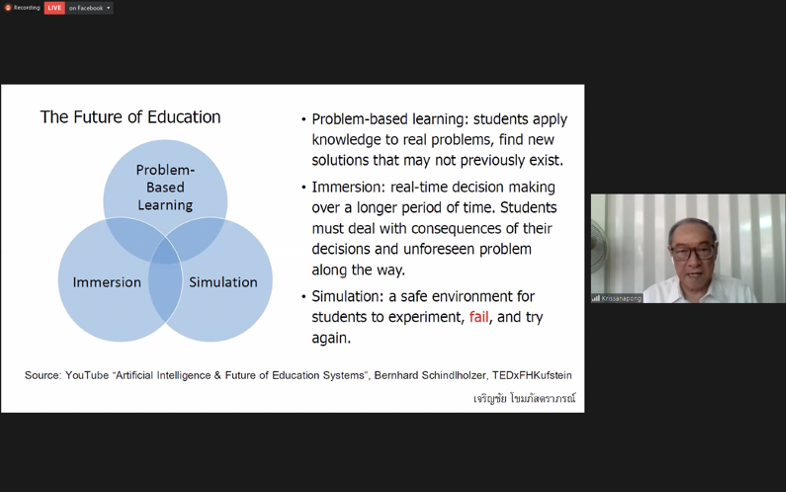 HuSE

-Chula Webinar on Higher Education in the 

New Normal World

 

Towards Building a Sustainable Future
As part of the ProSPER.Net joint project, 'Development of A Framework for the Local Implementation of the SDGs – Phase II', the Human Security and Equity, Social Research Institute, Chulalongkorn University, Thailand, organised a webinar that was held on 2 June, 2021. The event gathered together 83 speakers and participants from different countries, universities, academic institutes, research institutes, and civil society organisations. The primary purpose of the conference was to call for reimagining and repositioning for all sectors from every corner of society, to prepare for a 'new normal'. Sessions included keynote speeches, a plenary session, policy dialogue, and a panel discussion, highlighting key points on the role of higher education institutions to promote sustainable future development, but also urged other members and institutions in society to prepare for change and to develop innovative solutions. During the livestream, the virtual sessions reached over 5,000 viewers and 100 shares through the Facebook page. Read more
(Photo provided by HuSE, Chulalongkorn University)
Launch of IPBES-IPCC Co-Sponsored Workshop Report on Biodiversity and Climate Change
In the first-ever collaboration between IPBES and IPCC, this report on biodiversity and climate change is based on a workshop held by the two intergovernmental science-policy bodies.
The workshop brought together 50 of the world's leading biodiversity and climate experts to examine the synergies and trade-offs between biodiversity protection and climate change mitigation and adaptation. Read more
Policy Briefs on Greening the Mekong: Action for a Greener Economy with Children and Youth
These policy briefs suggest ways in which children and youth can contribute as agents of change in tackling the challenges from climate change and accelerating the transition to greener economies. The briefs were developed based on a three-country study in Cambodia, Thailand and Viet Nam, commissioned by UNESCO and UNICEF. 
• Policy brief 1: Climate Action and Green Economy with Children and Youth in the Mekong Region 
• Policy brief 2: What Adolescents and Young People Can Do to Accelerate Action towards a Green Economy  
• Policy brief 3: Cambodian Youth Eager to Contribute to Green Solutions 
• Policy brief 4: Thailand's Ambitious Environmental Vision Needs Youth Involvement  
• Policy brief 5: Environmental Knowledge for Youth Can Help Viet Nam Accelerate its Green Actions for the Economy, People and Environment  
Access them here in a range of available languages.
This is a publication of UNU-IAS ProSPER.Net Secretariat. The bulletin is a great way to share your activities, events and news as a ProSPER.Net member with the rest of the network. Feel free to send us any information you may deem relevant for the rest of the community by completing this form and emailing it to prospernet@unu.edu. We look forward to your inputs! Visit ProSPER.Net regularly for up-to-date news and event information.
ProSPER.Net Secretariat 
United Nations University 
Institute for the Advanced Study of Sustainability 
5-53-70 Jingumae, 
Shibuya-ku, Tokyo 150-8925 
Japan