ProSPER.Net E-Bulletin Issue 100 (May 2021)
Message from the ProSPER.Net Secretariat
Dear Colleagues and Friends,
Greetings from the ProSPER.Net Secretariat! What a busy and exciting month it has been in the world of ESD, with the UNESCO Conference on Education for Sustainable Development taking place where the Berlin Declaration on ESD was adopted. This important milestone calls for urgent action to accelerate sustainability and climate action through education, with a commitment to ESD – of which the ProSPER.Net network is firmly committed to, and which we look forward to continuing on this journey with you all to achieve this goal!
This month we are pleased to announce the 2021 ProSPER.Net Leadership Programme, which will be held from 14-24 September, 2021 in a virtual format. Organised by UNU-IAS, this year's theme will be on 'Climate Change: Global issues, local actions and transdisciplinary solutions'. Applications are open now, please see further details below.
If you have any news, open calls, upcoming events, or publications you wish to share in a future bulletin, please complete this form and email your submission to the ProSPER.Net Secretariat at ProSPERNet@unu.edu (submissions close on the 15th of each month).
Sincerely,
ProSPER.Net Secretariat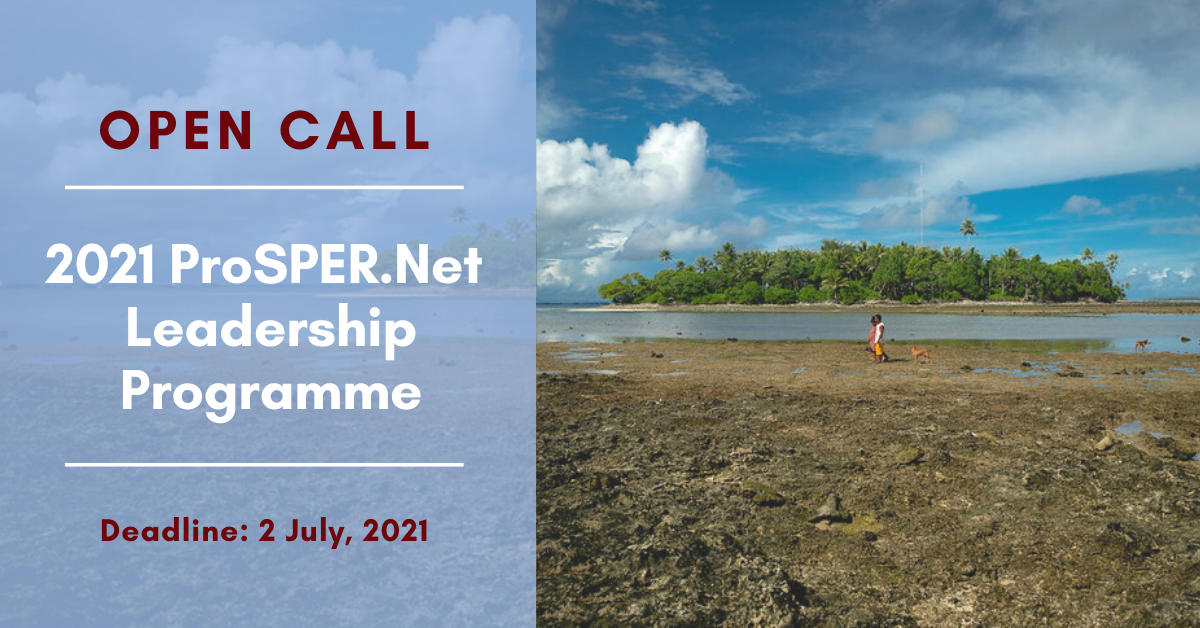 Applications Open: 2021 

ProSPER.Net Leadership Programme
We are pleased to announce that the 2021 ProSPER.Net Leadership Programme will be held from 14th – 24th September, 2021, in a virtual format, organised by UNU-IAS. The theme of this year's Leadership Programme is 'Climate Change: Global issues, local actions and transdisciplinary solutions'.
The ProSPER.Net Leadership Programme is an opportunity to bring young professionals and emerging leaders in academia, the public sector, the business community, and civil society together to explore how education and training can be used across sectors to foster more sustainable societies in the Asia-Pacific region.
The climate crisis remains one of the most pressing threats facing communities around the globe as global average temperatures continue to rise, storms intensify, sea levels rise, and precipitation patterns become more unpredictable. Responding to climate change, often in tandem with other areas of sustainable development, requires leadership that is able to address different yet interconnected challenges.
This year's Leadership Programme, held in an exciting new format online, will offer participants the opportunity to build skills to view the climate crisis from a holistic lens of sustainable development and to explore interdisciplinary solutions within the context of their local communities. It aims to seize the momentum of the 'build back better' initiatives that have emerged from the COVID-19 pandemic.
Young professionals and emerging leaders from the public, private, and non-governmental organisation sector who are actively engaged in climate action at various levels are encouraged to apply – this programme is designed for the express purpose of incorporating sustainable development planning into leadership training, and can be applied within any number of spheres, from city government and finance, to education and non-profit work.
Selected participants will attend a 5-day online training programme consisting of lectures and workshops on a variety of topics related to responding to climate change covering policies, practice and theories, while tackling other issues within sustainable development within community contexts. Participants will be given an opportunity to interact with both facilitators and each other throughout these sessions, giving them space to reflect on their current practice, the issues discussed and how they pertain to their own organisations and work programmes.
For more details and how to apply, visit the open call here. Applications close on Friday 2 July, 2021 (11:59pm JST).
(Photo credit: Asian Development Bank / CC BY-NC-ND 4.0)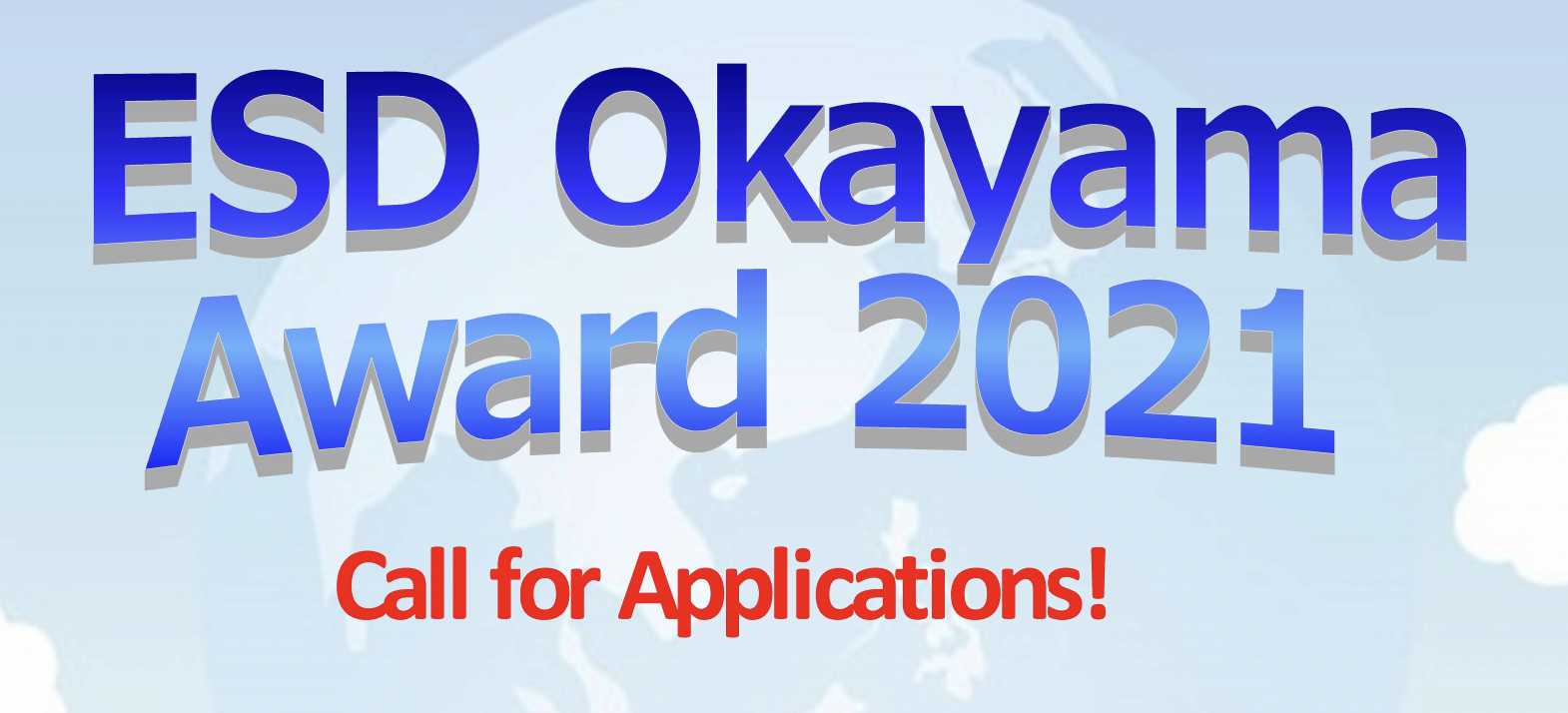 Call for Applications: ESD Okayama Award 2021
Conducted by Okayama City and the ESD Okayama Award Steering Committee, the 'ESD Okayama Award 2021' is now open for entries. 
The Award rewards outstanding ESD practices in local communities around the world to support organisations carrying out ESD activities and to promote ESD to local communities globally through showcasing their initiatives.
Eligibility: Organisations based in any country implementing ESD activities in local communities are eligible.
Number of Award-Winning Projects: Up to two projects
Prize: US $3,000 per project
Deadline for Application: 15 July 2021, 17:00 (Japanese Standard Time)
Award Ceremony: The scheduled date is 20 November, 2021. One representative of the winning project(s) will be invited to the Ceremony in Okayama, Japan to give a presentation. It has not been decided whether this will be held in-person or online.
View the Application Guide and Application Form, and for more details, please visit the official website.
Last Chance: 2021 ProSPER.Net Membership Applications
Applications are closing soon for membership to ProSPER.Net for 2021. Membership is limited to higher education institutions located in the Asia-Pacific region that offer postgraduate education and research in sustainable development (SD) and in fields related to education for sustainable development (ESD). An affiliate membership category is also open to higher education institutions located outside the Asia-Pacific region who are interested in working together with the network for the benefit of the region. Read more about the application process and how to apply here. The deadline for applications is 30 May, 2021 (11:59pm JST).
Global Leadership Training Programme in Africa (GLTP)
This six-week online course on Global Leadership and Sustainable Development in Africa offered by UNU-IAS, in collaboration with New York University and the University of Johannesburg, is open to postgraduate students enrolled in Japanese universities (Master's and Ph.D. courses) working in international development with an interest in Africa. The course will provide an opportunity for participants to learn from African leaders (across the public and private sectors) about innovative leadership and development, participatory democracy, civic engagement, and public policy.
Dates: 23 July – 31 August, 2021 (Tuesdays and Thursdays) and 17 September, 2021 (TBC)
Time: 17:00-19:00 (Tokyo) / 10:00-12:00 (Johannesburg)
Language: English
Fee: 50,000 JPY
Find out more or see the flyer for further details.
Call for Nominations: 2021-2022 UNESCO-Hamdan Prize for Teacher Development
The call for nominations of the seventh edition of the UNESCO-Hamdan Prize for Teacher Development is now open. Funded by the Hamdan bin Rashid Al Maktoum Foundation for Distinguished Academic Performance, the Prize is awarded every two years and recognises innovative practices that contribute to enhancing the quality of teaching and learning around the world.
Details:
• The Prize of US $300,000 will be divided between three winners. Candidates should be institutions, organisations and educational or research institutes which are working to enhance the performance and effectiveness of teachers.
• Applications are to be submitted in English or French by 31 October, 2021 midnight (Paris time, UTC+2) via a dedicated online platform.
Read more information about the Prize here, including the call for nominations and application process.
Survey: Second Edition of IAU Survey on the Impact of COVID-19
The International Association of Universities (IAU) and partners are pleased to invite all Universities and Higher Education Institutions (HEIs) to take the Second IAU Global Survey on the Impact of COVID-19 on Higher Education. Aimed at gathering substantial data on the ways global higher education systems are affected by the pandemic from an institutional standpoint, the Survey includes questions about the challenges encountered in four different areas: (i) Governance and financing, (ii) teaching and learning, (iii) research, and (iv) societal/community engagement. The survey is available in English, French, and Spanish and is open until 1 June 2021. Read more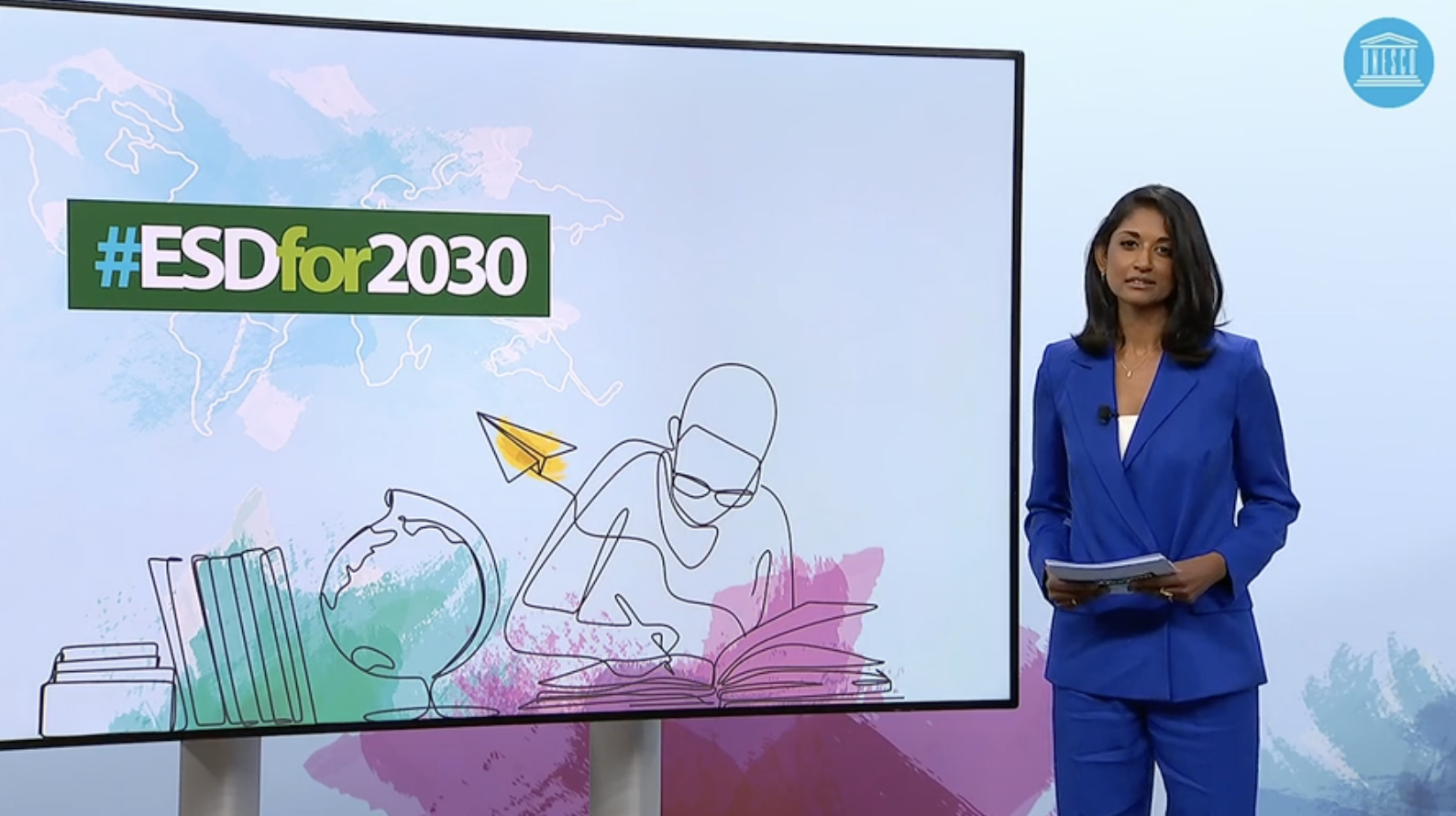 UNESCO Conference on ESD Adopts Berlin Declaration Calling for Urgent Action and Commitment to ESD
The UNESCO Conference on Education for Sustainable Development, held virtually from 17-19 May, 2021, gathered more than 2,800 participants from 161 countries together, including decision-makers and those in the education for sustainable development (ESD) community across the globe (with an additional 10,000 viewers on the public livestream) to mobilise support for ESD for 2030 and commit to plans for action via the Berlin Declaration on Education for Sustainable Development.
Organised by UNESCO in cooperation with and supported by the Federal Ministry of Education and Research of Germany, with the German Commission for UNESCO as advisory partner, over three days participants were inspired across keynote speeches, plenary sessions, and roundtable and panel discussions to delve into how ESD can foster change towards sustainability. Ministers from Members States shared their country-level plans, challenges and commitments to drive forward the ESD for 2030 roadmap. Sessions and virtual booths presented innovative projects and good practices, bringing to the fore new ideas and applications of ESD.
The Conference underscored the urgency with which steps need to be taken, including strong leadership to transform education and to ensure ESD is embedded as a foundational element in education systems worldwide. The Conference ended with the Berlin Declaration on Education for Sustainable Development being adopted, which calls for urgent action to accelerate sustainability and climate action through education, with a commitment to ESD. This commitment will be taken forward via other key processes such as COP26 this year in Glasgow and others towards 2030. Read more
Learn for our Planet:  A Global Review of How Environmental Issues are Integrated in Education
Recently released by UNESCO, this publication presents the extent to which environmental issues are integrated in primary and secondary education policies and curricula across 46 UNESCO Member States.
It finds that 45 per cent of national education policy and curricula documents studied made little-to-no reference to environmental themes including sustainability, climate change and biodiversity. Access the publication here.
Reflect–Share–Act: A Guide to Community-based Education for Sustainable Development
This guidebook from UNESCO Bangkok aspires to build a community where learning for sustainable development takes place everywhere for everyone as an ongoing practice. It introduces readers to Reflect-Share-Act, a process to discover and define sustainable development in their own contexts together with others in their community.
The guide compiles resources that can support this learning process, including stories of various communities' actual experiences of Reflect-Share-Act. Read more
ASPBAE Youth-led Action Research (YAR) on the Impact of the COVID-19 Pandemic on Marginalised Youth
This study, conducted by members of the Asia South Pacific Association for Basic and Adult Education (ASPBAE), documents the voices of different groups of marginalised youth from nine countries in the Asia-Pacific region during the COVID-19 pandemic.
It provides key recommendations from the youth for the government and civil society to improve infrastructure, services and access. Access the publication here.
This is a publication of UNU-IAS ProSPER.Net Secretariat. The bulletin is a great way to share your activities, events and news as a ProSPER.Net member with the rest of the network. Feel free to send us any information you may deem relevant for the rest of the community by completing this form and emailing it to prospernet@unu.edu. We look forward to your inputs! Visit ProSPER.Net regularly for up-to-date news and event information.
ProSPER.Net Secretariat 
United Nations University 
Institute for the Advanced Study of Sustainability 
5-53-70 Jingumae, 
Shibuya-ku, Tokyo 150-8925 
Japan