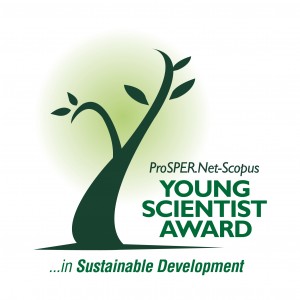 The ProSPER.Net-Scopus Young Scientist Award in Sustainable Development is given annually to young scientists or researchers, based in the Asia-Pacific region, who have made significant contributions in the area of Sustainable Development. The award is open to those researchers who recently completed their Ph.D. (within a span of 5 years) and are engaged in graduate education and research activities that emphasize sustainable development.
For 2014, awards were given in Disaster Risk Reduction, Sustainable Agriculture, and Waste.
The winners and runners-up presented their research on 10 July 2014 in Tokyo at a symposium hosted by Hosei University. The awards were given the same day.
The list of winners and runners-up follows.
CATEGORY: Disaster Risk Reduction
Winner: Riyanti Djalante (University of Haluoleo, Indonesia)
First runner up: Haiwang Zhong (Tsinghua University, China)
Second runner up: Muhammad Ashraf (University of Balochistan, Quetta, Pakistan)
CATEGORY: Sustainable Agriculture
Winner: Md Shafiquzzaman Siddiquee (Biotechnology Research Institute, Universiti Malaysia Sabah)
First runner up: Abdul Rohman (Universitas Gadjah Mada, Indonesia)
Second runner up: Yuan Xian-Zheng (Qingdao Institute of Bioenergy and Bioprocess Technology, Chinese Academy of Sciences)
CATEGORY: Waste
Winner: Jaya Narayan Sahu (Institut Teknologi Brunei, A Technology University, Brunei)
First runner up: Bing-Jie Ni (The University of Queensland)
Second runner up: Wen-Wei Li (University of Science & Technology of China)
Winners are chosen on the basis of 3 criteria: number of citations, number and quality of publications and patents, and documented social impact. They receive a cash award and are offered a fellowship from the Alexander von Humboldt Foundation which provides travel and living expenses to spend up to eighteen months collaborating with any research group of the recipient's choosing in Germany.
For more information: ProSPER.Net-Scopus Young Scientist Award Secretariat ysa[at]ias.unu.edu