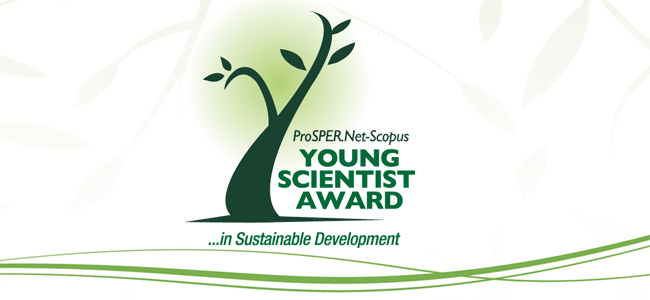 The ProSPER.Net-Scopus Young Scientist Award in Sustainable Development is given annually to young scientists or researchers, based in the Asia-Pacific region, who have made significant contributions in the area of Sustainable Development. The award is open to those researchers who completed their Ph.D. recently (within a span of 5 years) and are engaged in graduate education and research activities that emphasize sustainable development.
For 2011, awards were given in each of three areas: ICT for Sustainable Development, Biodiversity and Natural Resource Management and Science & Technology with a Focus on Poverty Eradication.
The three winners and six runners-up presented their research at a symposium held at the University of the Philippines Diliman, Quezon City, Philippines, on 13 July 2011, and were honoured with awards the same day.
The list of winners and runners-up
CATEGORY: ICT FOR SUSTAINABLE DEVELOPMENT
Winner: Arul I Chib
Nanyang Technological University, Singapore
Research area: ICT as a tool to support marginalized poor communities' needs, especially in health and education
First runner up: Qixin Chen
Tsinghua University, China
Research area: Power systems management and optimization with particular focus on decarbonization of the power sector
Second runner up: Sapna A. Narula
TERI University, India
Research area: Communications applied to problems in agriculture and food security in poor rural populations in India
CATEGORY: BIODIVERSITY AND NATURAL RESOURCE MANAGEMENT
Winner: Junguo Liu
Beijing Forestry University, China
Research area: Water, ecosystem service and river restoration
First runner up: Jeff Powell
University of Western Sydney, Australia
Research Area: Biodiversity and ecosystem functioning in microbial communities
Second runner up: Hongchen Jiang
China University of Geosciences, China
Research area: Geomicrobiology and biogeochemistry in extreme environments
CATEGORY: SCIENCE & TECHONOLOGY WITH A FOCUS ON POVERTY ERADICATION
Winner: Rajeev Bhat
Universiti Sains Malaysia, Malaysia
Research area: Exploring underutilized and wild legumes as alternatives to enhance food security and self-sufficiency in developing countries
First runner up: Yunfeng Lin
Sichuan University, China
Research area: Adipose stem cells and tissue regeneration
Second runner up: Quansheng Chen
Jiangsu University, China
Research area: Application of NIR spectroscopy technique in rapid detection of agri-product quality
Winners are chosen on the basis of 3 criteria: number of citations, number and quality of publications and patents, and documented social impact. They receive a cash award and are offered a fellowship from the International Bureau of the German Ministry of Education which provides travel and living expenses to spend up to a year collaborating with any research group of the recipient's choosing in Germany.