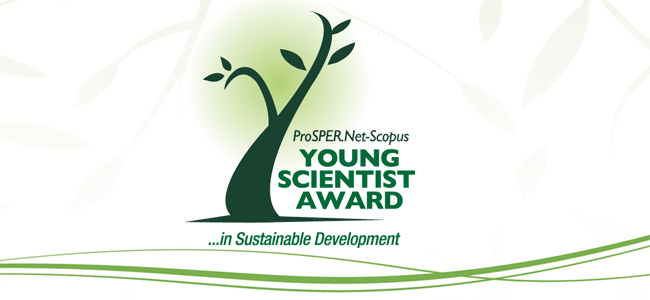 The ProSPER.Net-Scopus Young Scientist Award in Sustainable Development is given annually to young scientists or researchers, based in the Asia-Pacific region, who have made significant contributions in the area of Sustainable Development.
For 2010, awards were given in each of four areas: Energy, Water, Agriculture & Food Security, and Economics, Business, & Management.
There were five winners in 2010. The winners and runners-up presented their research at a symposium held at Tongji University, Shanghai, China, on 5 July 2010, and were honoured with awards the same day. 

The list of winners and runners-up
CATEGORY: BUSINESS, ECONOMICS AND MANAGEMENT
Winner: Zhou Peng
Nanjing University of Aeronautics and Astronautics (NUAA), China
Research area: Benchmarking energy and environmental performance for a low-carbon future
CATEGORY: AGRICULTURE AND FOOD SECURITY
Winner 1: Chin Ping Tan
Department of Food Technology of the Universiti Putra Malaysia
Research area: Production of healthful lipids from the oil palm
Winner 2: Zhengqiang Jiang
China Agricultural University
Research Area: Enzymes, particularly xylanases, with industrial application in food preservation
Runner up: Markus Riegler
Centre for Plants and the Environment, University of Western Sydney
Research area: Lessons learned from insects applicable to the sustainability of agro and forest ecosystems
CATEGORY: ENERGY
Winner: S. Venkata Mohan
Indian Institute of Chemical Technology (IICT) Tarnaka, Hyderabad
Research area: Using waste or waste water to generate clean bio fuels
First runner up: Zahangiralam
Department of Biotechnology Engineering Faculty of Engineering, International Islamic University Malaysia, Gombak, Kuala Lumpur
Research area: Bioenergy, particularly the production of bioethanol from fruit and plant based waste, and biodiesel from palm oil sludge.
Second runner up: Cesare Soci
School of Physical and Mathematical Sciences, Nanyang Technological University, Singapore
Research area: Third generation solar cells
CATEGORY: WATER
Winner: Bingcai Pan
School of the Environment, Nanjing University, China
Research area: Development of polymer-based adsorbents
First runner up: Vimal Chandra Srivastava
Department of Chemical Engineering, Indian Institute of Technology Roorkee
Research area: Treatment of industrial wastes
Second runner up: Sheng Guo-Ping
Department of Chemistry, University of Science and Technology of China
Research area: Biological municipal wastewater treatment, particularly the technique of using aerobic granules in treatment
Winners are chosen on the basis of 3 criteria: number of citations, number and quality of publications and patents, and documented social impact. They receive a cash award and are offered a fellowship from the International Bureau of the German Ministry of Education which provides travel and living expenses to spend up to a year collaborating with any research group of the recipient's choosing in Germany.