Western Sydney University
is pursuing a sustainability agenda by integrating sustainability into postgraduate courses, curricula and programmes.  This is evident in the Education for Sustainable Development (ESD) focus in post graduate programs across six schools covering business, education, engineering, law, and science and health, social science and psychology.  The programmes with this ESD focus include different Master degrees, for example among others the Master of Business Administration, the Master/Grad Dip/Grad Cert Social Ecology and the Master of Laws (International Governance).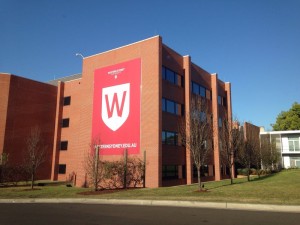 Hawkesbury Institute for the Environment: climate change, ecosystems, plants and animals, soil biology
Centre for Educational Research: ESD, equity and globalisation
Centre for Infrastructure Engineering: sustainability, structures and materials
Centre for Health Research: global health, systems and policy, Aboriginal health and wellbeing
WISER Network: collaboration between local government authorities, the university, water dependant businesses, government agencies and community groups addressing sustainability issues
Hosting a United Nations Regional Centre of Expertise on Education for Sustainable development (RCE), one of five in Australia.
Signing on to the SDGs through its support for the Sustainable Development Solutions Network Australia/Pacific. The University of Western Sydney is committed through this initiative to undertake research that addresses sustainability issues, provides students with opportunities to acquire the skills and knowledge needed to promote sustainable development and continue to improve the sustainability of campuses and programmes.
Improving the sustainability through campus initiatives aimed at reducing the environmental impact of university facilities and operations through energy management and greenhouse gas reductions, water conservation, waste minimisation and recycling, biodiversity conservation and green procurement
For more information please visit their website.